Start of Main Content
Staff Member Receives Kellogg's Advancing DEI Award for Leadership in Allyship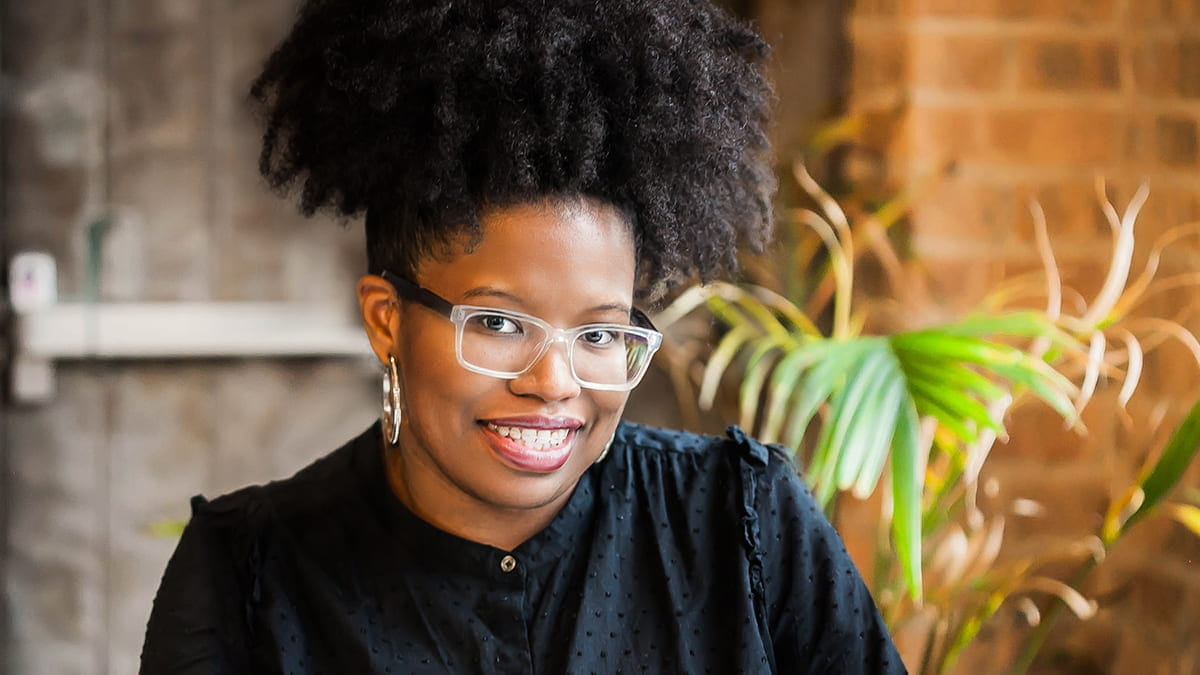 Kellogg's "Advancing DEI Award" is presented monthly to a staff member who is committed to, and active in, advancing the work of Diversity, Equity and Inclusion at Kellogg. Recent award recipient Raven Bedenfield, a digital designer for Kellogg's Integrated Marketing and Communications team, shared with us her journey in DEI, what sparked her to act and what she was able to accomplish — including her own growth.
Tell me a little about yourself and what you do at Kellogg.
Hi, my name is Raven Bedenfield. I am a digital designer on the Integrated Marketing & Communications team. I also co-lead the IMC Allyship Subcommittee.
Tell me about your journey in the DEI space.
In early June of 2020, when there was a wave of protests, riots and civil unrest sweeping across the world, I had a deep desire to help advocate for change. I didn't fully know how yet, so I figured I would start with service opportunities closest to me. I joined some neighborhood cleanup efforts that set out to help local business owners in my neighborhood recover from the wreckage left behind by looters. I also donated to causes and did more volunteer work. Although these actions were noble, I secretly felt as if I wasn't doing enough. I was also very concerned about my drive growing lukewarm once the unrest calmed. What I truly desired was to have a lasting social impact and to be steadily connected to the pulse of change. 
During a team meeting in late June, my former colleague, Aubyn Keefe, discussed starting an allyship group for our department. I joined forces with her and together we formed the IMC Allyship Subcommittee. 
Tell us about your work to advance DEI at Kellogg. What drove you to lead this work?
When Aubyn and I were forming the IMC Allyship Subcommittee last summer, we wanted to create a safe space for transparent discussion and learning. Due to the tough and heavy topics confronted in the DEI space, we were a little nervous about how that could be accomplished. So, we set out to be authentic and transparent ourselves and hoped that would provide safety for others to do the same. I'm so glad that the safe place we imagined became a reality.
The IMC Allyship Subcommittee was formed to facilitate DEI initiatives on a department level as part of Kellogg's broader DEI objective. Within the past year, the IMC Allyship Subcommittee has:
Held monthly committee meetings, where we share updates from the Kellogg Inclusion Coalition and share DEI- centered virtual events happening within the school and with external organizations
Participated in Northwestern University's One Book One Northwestern program as a group and facilitated a conversation discussing the disparities within the criminal justice system
Hosted and lead a Q&A/ info session with Professor Jennifer Lackey, where she answered questions about One Book and shared about her experience working as the director of the Northwestern Prison Education Program and opportunities to get involved

Worked closely with Bernard Banks, Kellogg's associate dean of leadership development and inclusion, to ensure that we are aligned with Kellogg's DEI actions and strategic objectives for our daily work as ambassadors of the school

Partnered with Northwestern's Social Justice Education department to host and coordinate their Bystander Intervention Training for IMC staff in May of 2021
As you reflect on your work, are there any lessons you learned or aspects of your work that you're particularly proud of?
Being active in DEI work has really expanded my knowledge of the layers of discrimination that affect a vast variety of marginalized target identities. I have also observed a mental transformation within myself, where I am naturally considerate or thoughtful of target entities that are not my own.