Start of Main Content
Share your story with us. Our Kellogg admissions team wants to get to know you, what drives you and why you think Kellogg is the right place for you to grow and thrive. Are you ready to grab ahold of all the special opportunities that come with joining Kellogg?
Applying to an MBA program
Looking to immerse yourself in a business program? Or maybe the flexibility to work and take classes at the same time is the right choice for you? Either way, you'll come away with the same education and training that make all our graduates ready to lead the next evolution of business.
Qualities we value
While test scores and work experience are an important part of the application, your candidacy isn't based on those elements alone. We take everything into account, including your values, goals and the impact you've had on your organization.
What we look for:
Intellectual ability, work experience, professional goals, leadership, impact, interpersonal skills.
We value individuals who:
Approach business challenges with a mix of technical skills and emotional intelligence
Seek to adapt to the evolving business world with open curiosity and innovation
Believe in strong, empathetic collaboration as a way to strengthen work, perspectives and outcomes
Embrace the power of diversity in your teams and networks
Apply to other Kellogg offerings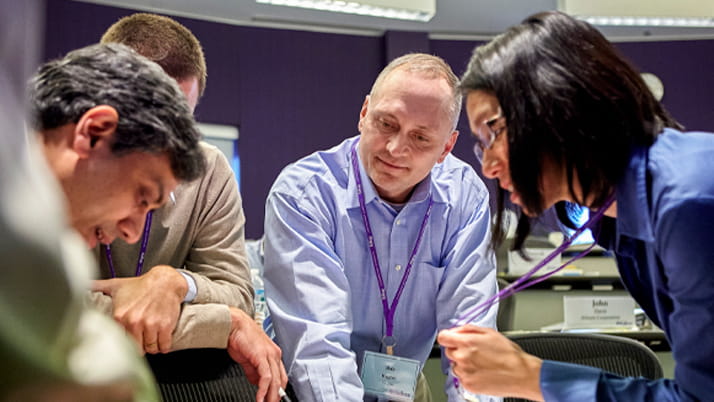 Non-degree program
Transform individuals and organizations with targeted executive programs from general management to accounting to technology.
Invest in your future
Did you know 62% of Kellogg students* have benefited from some form of financial aid, be it a loan or scholarship? We're here to help you navigate financing options and processes so you can invest in your future with a Kellogg MBA.

WHEN TO APPLY FOR AID
Merit scholarships to many of our programs are awarded when students are admitted. Other scholarships may require you to apply before you are admitted. You can also choose to apply for financial aid, including loans, once you have been admitted.
For specific details, please refer to each MBA program's financial aid process for important information, tips and deadlines.
*Full-Time MBA statistic