Start of Main Content
A year in review: MBA stories that bring the classroom & real world together
A look back on some of our alumni and current students who shared reflections on their MBA journey and how it's changed the trajectory of their lives.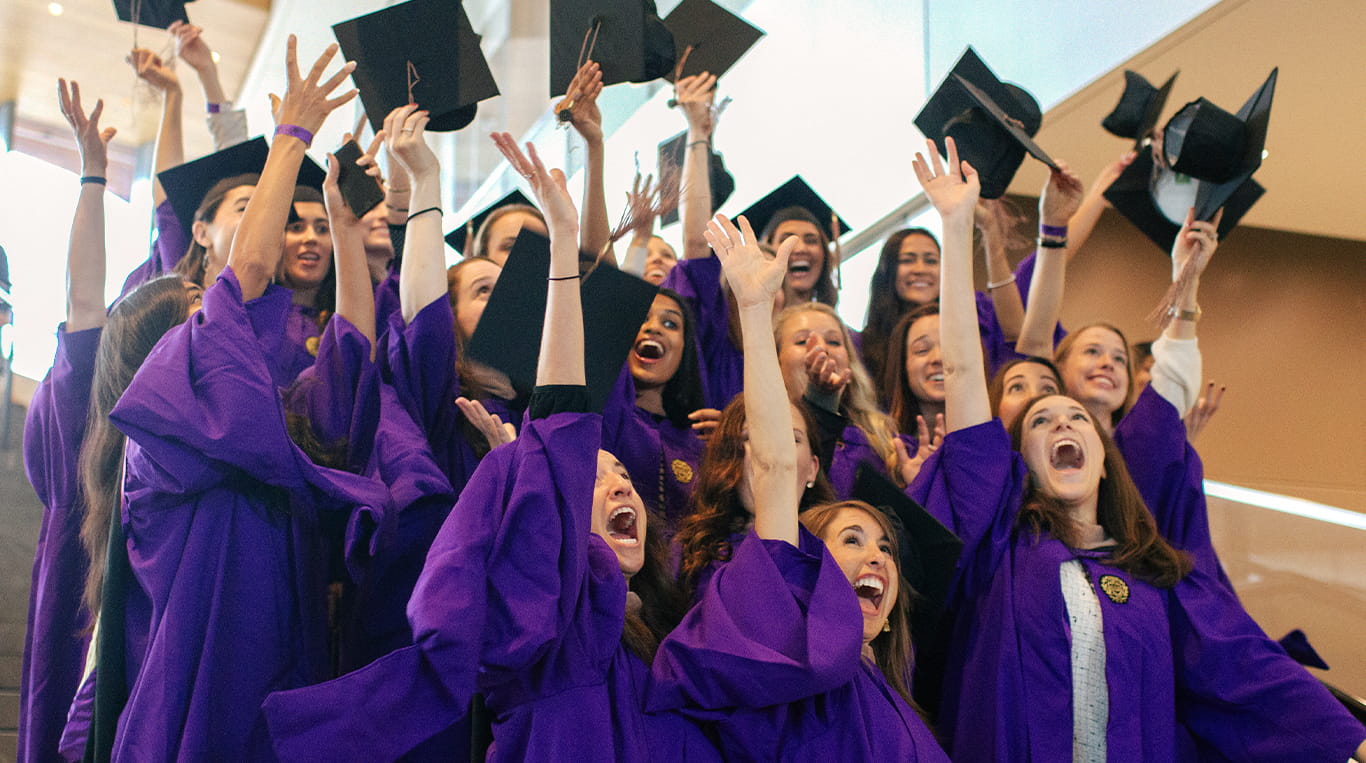 We'll soon be welcoming another class of Kellogg Leaders, and we are continually amazed at the tenacity that students exhibit. Their achievements during their time at Kellogg and after leave a footprint for the next generation of business leaders and are the fuel that empowers this collaborative community.

We are proud to celebrate the outgoing Class of 2023, and we celebrate some of the stories from this year that embody the vibrancy of our community and the leadership qualities of our students.
Creative + innovative
Creativity knows no boundaries, and the faculty, rigorous curriculum and hands-on learning opportunities at Kellogg give each student the possibility to think in different ways.
Alena Marovitz '23 MBA,
a Two-Year MBA student
, has taken her "ikigai" — a reason for being — and used it to explore the food and agriculture sector through a sustainable lens.
Her intentional approach to her academic experiences, club activities and internships while at Kellogg
has fueled her enthusiasm to continue redesigning the country's food system to make it more inclusive and accessible. Serving as the director of innovation with the U.S. Department of Veterans Affairs (VA),
Indra Sandal '17 MBA
is using her Kellogg education to
find new ways in improving health outcomes for veterans
. The
Executive MBA
graduate helped launch the VHA-Uber Health Connect Initiative (VUHC). Seeing as transportation is the largest barrier for veterans to get access to the healthcare they need, the innovative public-private partnership's purpose is to help veterans get to and from their appointments.
Collaborative + empathetic
Manny Adediran '23 MBA wants prospective students to know one thing: "if you are looking for a collaborative (literally, everything is done in groups), social-forward and inclusive community of business leaders Kellogg is the place for you." The One-Year MBA Program student encourages those who are deciding between business schools to reach out to current students — himself included — as they'll always be happy to tell you why Kellogg is the best place to be.
Being a student at Kellogg gives you access to the school's broader network including the Institute for Sustainability and Energy at Northwestern (ISEN). Collaborating within and across the school's ecosystem gives students maximum exposure to learning and development opportunities. "I never imagined that I would attend the United Nations Climate Change Conference of the Parties (COP) during my time at Kellogg," said
June Qian '23 MBA who attended this year's COP
. She experienced firsthand global convergence and collaboration efforts to address one of the world's most pressing issues: climate change.
Intentional + purpose-driven
Venturing beyond their comfort zone, our students embark on journeys to grow. And sometimes this means traveling 2,585 miles — give or take. During her Executive MBA program, Amanda Chawla '23 MBA traveled from San Francisco to the Kellogg campus in Miami. Why? "If I was going to get an MBA, it was only going to be at the very best institution with like-minded individuals from diverse backgrounds who share a common purpose of contributing and learning from one another." The rich learning environment and its flexibility has given her an unparalleled experience.
Connected + supportive
Together, we can accomplish more. Students and alumni support one another throughout their time at Kellogg. For
Luis Eduardo Cerro Chiang '23 MBA
, learning more about
mental health
innovations was one of his goals as he was completing his
MMM Program, a dual-degree program in business and design innovation
. He was able to kickstart this professional endeavor through bekome, a mental health startup co-founded by alumnae Shanna Traphoner-Liu '22 MS, MBA and Vanessa Gottlieb Laudette '22 MBA where he learned more about how to improve the matching process between therapists and patients, as well as the link between nutrition and anxiety relief.
High-impact + low-ego
The team-based learning that characterizes Kellogg welcomes a diversity of thought in an effort to reach the best possible solution in any given situation. "Our pitch benefitted from the expertise of our different backgrounds and the support from the real estate academic program. Without these, I'm not sure we would have made it to the final round of the competition," said
Michelle Kilgallon '23 MBA
of
the 2023 Kellogg Real Estate Venture Competition
where her team — a collaboration between students in the Full-Time and Evening & Weekend MBA Programs — won first place.
Drake Scholar and Evening & Weekend MBA student Emily Hawrysz
notes the Kellogg attribute of high impact + low ego as what attracted her to the school: "Throughout my career in mission-driven and service-oriented organizations, I've always tried to maintain a mindset of "let the work speak for itself." Knowing I would be among colleagues with similar mindsets, who I could share this journey with rather than compete with academically, was extremely appealing." Wishing all of this year's graduates continued success in all of their endeavors. And if you're in the process of choosing a business school,
check out what these MBA students had to say as to why Kellogg was the right choice for them.