Start of Main Content
Finish your MBA faster
Our One-Year MBA Program is your fastest path to a Kellogg MBA. It is designed to build upon your business fundamentals and get you back in the workforce with new skills and knowledge that will propel your career forward. From June to June, you'll immerse yourself in the rigorous curriculum, learn from world-class faculty and build leadership experience and a supportive network that will help you immediately and throughout your career.
Our proven success
50 years of transforming business
As one of the first One-Year MBA Programs in the country, more than 3,500 of our graduates have made an indelible mark on business and the world, with many of our alumni leading some of the most notable companies in the world, including:
Robert Eckert '77, Former Chairman & CEO, Mattel
Richard Lenny '77, Former Chairman & CEO, The Hershey Company
Thomas Wilson '80, Chairman & CEO, The Allstate Company
Emmanuel Kostas '84, CMO, Symantec
Ivan Menezes '85, CEO, Diageo
James Keane '87, President & CEO, Stealcase
John Wood '89, Founder, Room to Read
William Sickles '94, Team Lead of Retail, Google
Vijay Karnani '98, Managing Director, Goldman Sachs
Martin Lau '98, President, Tencent
Edmund Lin '98, Partner & Global Head of Financial Services, Bain
Garrick Rice '99, Managing Director, Sterling Partners
Kelly Darin Rainko '04, Managing Director & Head of Next Generation, BDT & Company, LLC
Liz Goodman Williams '04, CFO, Taco Bell
Superior curriculum
Unlike other One-Year MBA programs that consolidate two years of classes into one, our program builds on your business experience and gives you the option to bypass core classes so you can focus on the electives that are pertinent to your personal and professional goals.
Best return on investment
If you have focused career goals and are not seeking to make a major career switch, the One-Year MBA Program builds on your experience and gets you back in the workforce quickly with new skills to propel your career forward.
Program highlights
Start in June
The program kicks off in the summer to get you accustomed to the rigorous academic pace of MBA studies while completing three to five courses. In September, you'll join the second-year Full-Time Program class and complete the electives that match your interests and enhance your career goals.
Choose from among 200 courses
Bypass core courses and focus on the electives that best meet your career goals. Delve into a select number of disciplines or go as broad as you like.
Experience the Kellogg difference
Finish faster
After completing the required 15.5 course credits, you'll receive your MBA degree in June — one year after you started.
Flexibility and choice across disciplines
Unlike other programs, our One-Year MBA allows you to bypass core classes and immediately dive into advanced studies that are customized to your career goals. At the same time, you still will be able to take advantage of the vast experiential learning opportunities; world-renowned faculty, and distinct cross-disciplinary thought leadership model that makes Kellogg stand out. Start exploring to see if our One-Year MBA Program is right for you.
Pre-enrollment courses
Kellogg is designed to build on your business fundamentals with courses in Statistics, Economics, Marketing, and Operations. The pre-enrollment courses need to be completed before the start of the summer quarter.
It is most typical, but not required, for our students to have Undergraduate business degrees to meet these course requirements. Please see the following PDF files with the required content:
For the above courses, the transcript graduation date must fall within 10 years of application submission and the course must be completed with a grade of B or better. Work experience, AP credits, CFA certifications, or courses previously completed in an online format are not accepted.
Verify which classes you have completed and which are outstanding by completing the Eligibility Form. Please allow a week for our team to contact you with your evaluation.
Academics
Kellogg One-Year students enroll with business fundamentals and immediately build on this foundation. The summer quarter begins with required courses in Strategy and Management and Organization and is supplemented with courses in Accounting and Finance appropriate for your level. Accounting and Finance courses may be waived with successful completion of an exam. The remainder of your academic journey at Kellogg is focused on advanced electives to accelerate your career. We offer a flexible curriculum to fit your needs and future plans. Our catalog contains more than 200 courses, and like the business landscape, our offerings constantly evolve.
Majors and pathways
Kellogg's approach to majors gives you the flexibility and guidance you need to carve out a unique intellectual experience that is relevant to your specific educational and career goals.
You may opt to choose from eight majors: Accounting, Economics, Finance, Marketing, Operations, Strategy, Managing Organizations, and Management Science. A major requires that you complete the core course for the major and a minimum of four electives.
If you choose not to elect a major, "General Management" will be noted on your transcript.
In addition to majors, Kellogg provides "pathways" to our students who are interested in building expertise in emerging areas and evolving industries.
A pathway is an integrated, cross-functional sequence of courses designed to address a particular skill set or industry for which there is an active student and recruiter demand. You have the flexibility to pursue any number of pathways and go as deep as you'd like into each one.
Explore pathways for Data Analytics, Diversity, Equity and Inclusion, Entrepreneurship, Growth and Scaling, Healthcare at Kellogg, Real Estate, Social Impact, Venture Capital & Private Equity, and more.
This applies to full-time students who matriculate in June 2015 or after.
Student Stories
"Kellogg has been a catalyst for growth as I've had the time to reflect and be more intentional about what I want the next five years to look like."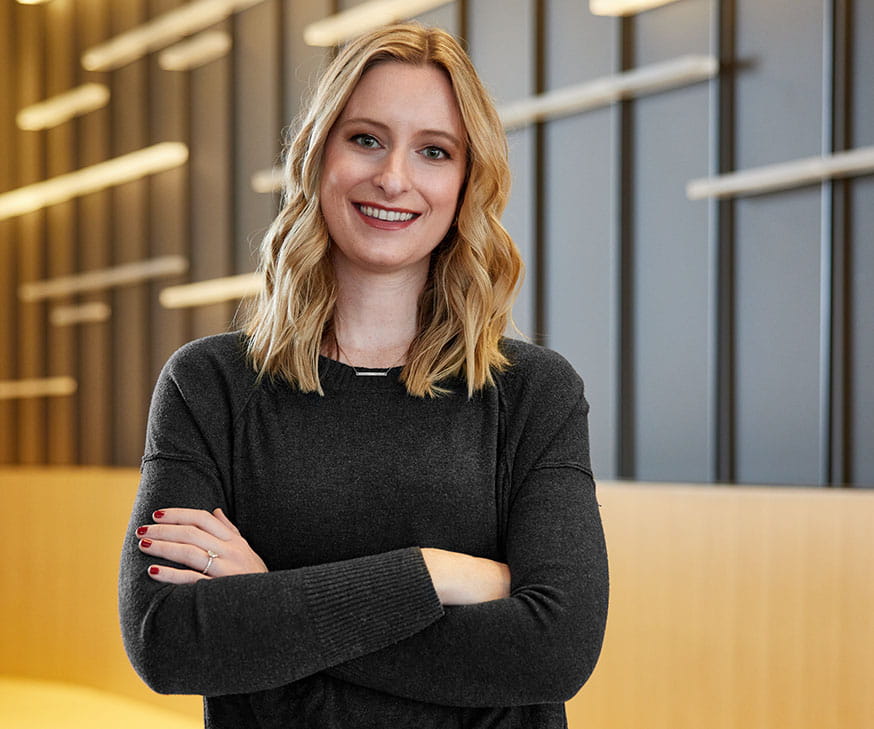 Contact us about the Full-Time MBA Program at Kellogg
Full-Time MBA Application Deadlines
Round 1: Sept. 13, 2023
Round 2: Jan. 10, 2024
Round 3: April 3, 2024