Start of Main Content
Shifting mindsets from goals to solutions at COP27
Northwestern University sponsored a group of faculty and students to attend including a Full-Time Kellogg MBA student. Read more about her experience in connecting with global leaders who are addressing climate change.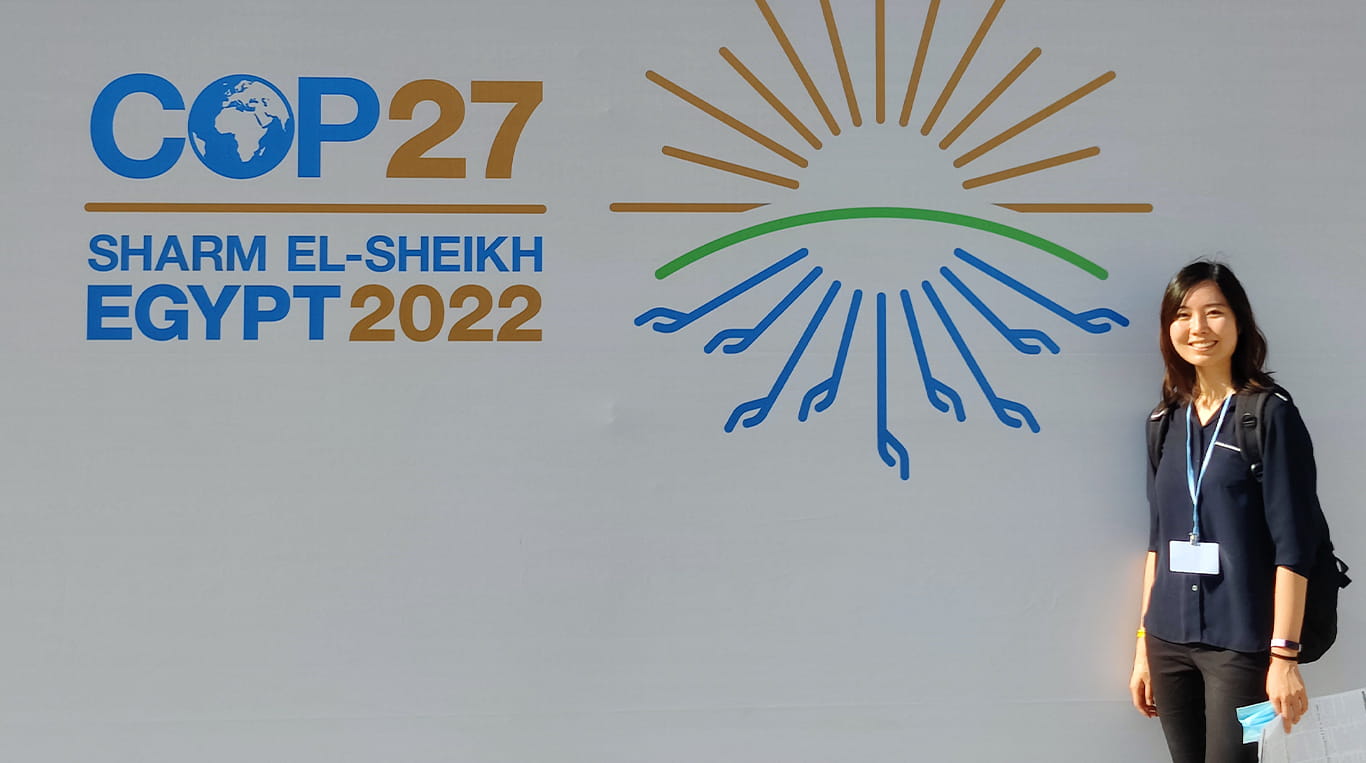 By June Qian '23, aTwo-Year MBA student
I never imagined that I would attend the United Nations Climate Change Conference of the Parties (COP) during my time at Kellogg.

COP is where governments from across the globe convene to discuss and negotiate solutions to the world's most pressing climate issues. At COP27, the 27th annual U.N. meeting on climate held in Sharm El-Sheikh, Egypt from Nov. 6 - 20, participants focused on implementing climate action solutions rather than goal setting, which had been the main topic of previous conferences.

Northwestern University sent a delegation of twelve faculty members and graduate students from eight different schools and departments to COP for the second year in a row. The delegation was supported by the Northwestern Roberta Buffett Institute for Global Affairs with help from the Institute for Sustainability and Energy at Northwestern (ISEN). As the only Kellogg student, I was thrilled to meet others from the broader Northwestern community who share my passion for sustainability. It was an incredible opportunity to connect with a diverse group of people who are committed to combatting climate change.
Kicking off COP27
I arrived at four in the morning. Though exhausted, I was excited for my first COP experience and my first time traveling to the Middle East and North Africa (MENA) region. Known as the "African COP," many attendees including myself looked forward to seeing African communities at the forefront of climate solution conversations. Despite only being able to attend the first few days of the conference, I was determined to make the most of my time by learning from various global leaders and experts.
Introducing a new sustainability concept of "Loss and Damage"

The first day of COP27 started with the open plenaries, where I joined several other Northwestern delegates in an enormous conference hall to watch Sameh Shoukry, President of COP27, take the stage. He set the tone for the conference as one that should shift from negotiations and pledges to the implementation of solutions.

He also announced a groundbreaking new agenda item on "Loss and Damage" which is a topic discussing potential compensation from developed countries that have been the main contributors to climate change to developing countries that are often the most affected. It was inspiring to hear such a call for action for developed countries to take responsibility and support those most affected by climate change.
COP27: A space to connect with an eco-minded, driven community
Our day began with a meeting with other members of Research and Independent Non-Governmental Organizations (RINGOs). RINGOs is one of the nine NGO constituencies recognized by the United Nations Framework Convention on Climate Change (UNFCCC). Members of this constituency conduct research to develop strategies that address the causes and consequences of global climate change. It was an enlightening experience to meet other students and faculty from different universities worldwide who shared passions for finding solutions to climate change.

Later, we attended the reading of national statements from the heads of state or government officials. During this session, representatives presented their country's position on climate change including progress overviews, current commitments and plans for mitigation and adaptation and any priorities or concerns for the conference negotiations. It was insightful to hear the various perspectives from government leaders on each country's issues and priorities. As a side note, it was fun to see French President Emmanuel Macron surrounded by a huge crowd – he was quite popular with the press!
Curious learning: Understanding how others approach climate change
Several Northwestern delegates and I spent our time exploring the Climate Action Innovation Zone and various pavilions and booths set up by countries or organizations that showcase their climate change initiatives.
At the Innovation Zone, a public space dedicated to showcasing innovative solutions and technologies to tackle climate change, we witnessed an announcement from U.S. Special Presidential Envoy for Climate John Kerry. Alongside Brad Smith, president and vice-chair of Microsoft; Mads Nipper, chief executive officer of Ørsted and Fernando González, chief executive officer of CEMEX, Kerry announced the expansion of the First Movers Coalition, a coalition of global companies pledged to commit $12 billion in 2030 purchase commitments for green technologies to decarbonize the cement and concrete industry and other hard-to-abate sectors.
Overall, it was interesting to see how private sector initiatives compared to those in the public sector, which we saw from the country pavilions. However, it also reinforced the notion that addressing issues on sustainability requires both private and public sector engagement.
Climate finance takes center stage at COP27
My last day at the conference was one of the themed days: Finance. In addition to visiting the Green Zone, a public space dedicated to showcasing sustainable practices, ideas, and technologies, I sat in on various panels and negotiations regarding financing for climate change mitigation and adaptation. Climate finance proved to be a key topic during COP27, and by the end of the conference, a historic agreement was made to provide "loss and damage" funding for vulnerable countries hit hard by climate disasters.
Overall, attending the conference was a transformative experience. It was truly inspiring to witness so many people united in working towards a common goal. As someone who previously worked in the oil & gas industry, I came to Kellogg with a strong desire to deepen my knowledge on sustainability.

Throughout my Kellogg journey, I have taken insightful courses such as The Economics of Energy Markets and the Environment with Professor Meghan Busse and attended fantastic events hosted by the Kellogg Energy & Sustainability Club. While my time at COP was brief, it proved to be a valuable learning experience that provided me with a deeper understanding of the global efforts to address climate change. I left the conference feeling motivated and energized. I plan to leverage all that I have learned at Kellogg and COP27 in my career to help businesses navigate the energy transition toward a more sustainable future.

Read next: How Kellogg is cultivating a more sustainable future