Start of Main Content
How Kellogg is cultivating a more sustainable future
Kellogg Leaders look at problems from different angles to create solutions. Learn more about our robust offering of courses, scholarships, programs and more that are empowering the next generation of leaders in sustainability.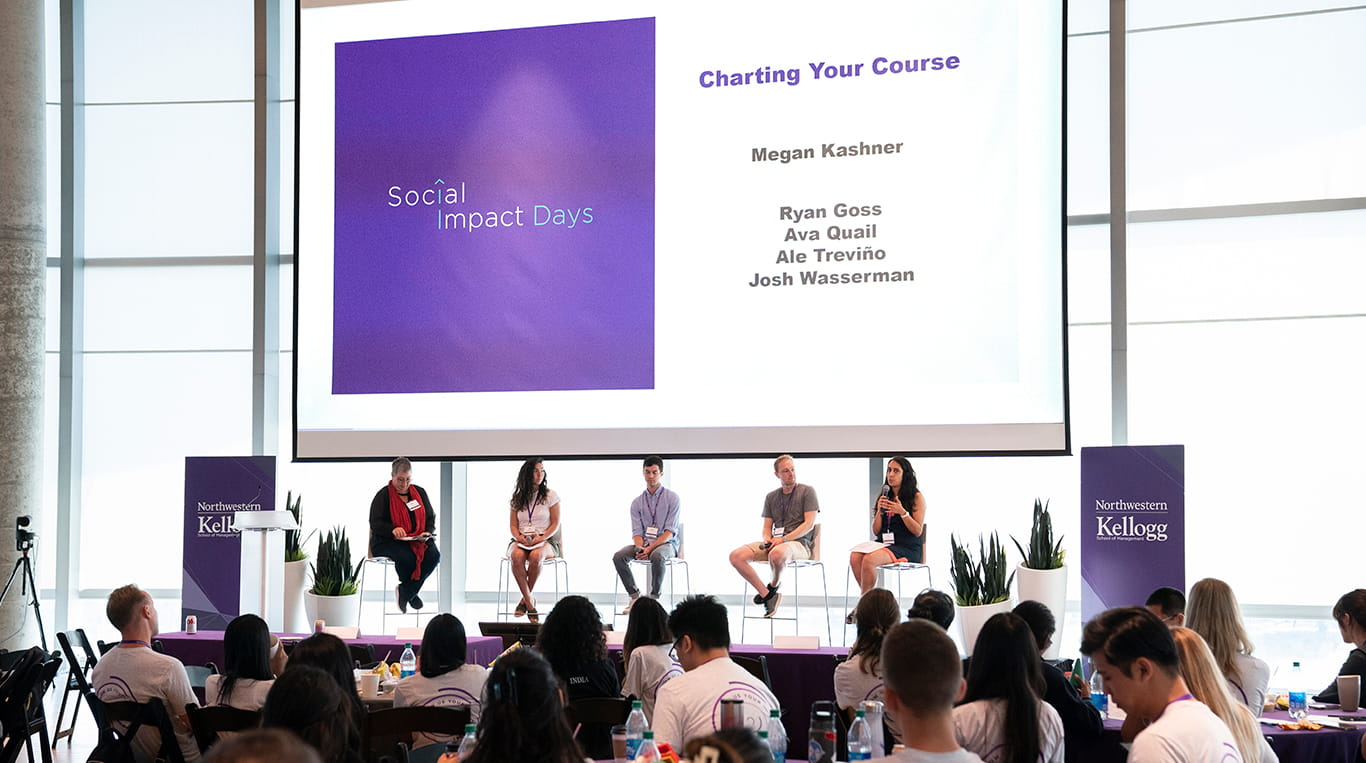 Leaders across industries are navigating risks and opportunities arising from the complexities of our ever-growing, interconnected society. They are also confronting some of the biggest environmental issues our world has ever seen. Facing our global environmental challenges requires business leaders who can create solutions anchored in sustainability to drive positive and significant impact. Kellogg is deeply dedicated to protecting and improving sustainable development. Here are some of the many ways we are furthering our commitment to help ensure the coexistence of our natural environment and the ever-evolving business landscape.
As part of its commitment to sustainability, Kellogg has pledged to achieve carbon neutrality across its operations by the year 2030. In partnership with Northwestern University, we will pursue a number of strategies to achieve this goal, including reducing energy consumption in our facilities, exploring opportunities for green power procurement, and pursuing high quality carbon offsets when needed. Any future Kellogg facilities will be built with an all-electric future in mind and designed to maximize energy efficiency. We are also committed to the regular assessment of our building and organizational emissions to identify further opportunities for carbon reduction.
A host of bright minds and depth of resources
Kellogg has been at the forefront of teaching sustainable innovation, equipping our students with frameworks and toolkits to develop business strategies that address climate change. Our world-class faculty and curriculum serve as the backbone of our community and provide students with an understanding of the impacts that business practices have on the environment.
Our faculty are staunch proponents of environmental and business innovation. Their courses look directly at some of the world's major environmental issues and challenge students to find the root causes and effects in order to create better solutions. "In the United States, about three-quarters of greenhouse gas emissions are produced by electricity generation, transportation or industrial processes. This means that anyone who is interested in energy must understand its implications for climate change," says associate professor of strategy Meghan Busse. "It also means that anyone who is interested in addressing climate change has to understand how energy markets work. The Economics of Energy Markets and the Environment makes this link, and it draws students with a wide variety of backgrounds and interests. Some want to work in traditional energy sectors while others in clean tech, energy finance, ESG investing or corporate sustainability. Among the sustainability-related courses at Kellogg, this course is the one that is foundational for understanding energy and climate."
With more than 20 courses grounded in climate, environment and energy — including the newly introduced course Managing Sustainability Transformations that explores the paradigm shift in corporate sustainability as no longer just a matter of compliance or social responsibility but as becoming a material imperative for the future viability of the business — the curriculum is designed to support Kellogg Leaders in better decision-making to improve sustainability within business. "The train has left the station, the world is changing around us, and not just in a very abstract way. It directly impacts the business," says professor of management and organizations Klaus Weber. "Consumers are making different demands. Regulation is on the way. The entire industry's going to change, and that's a business transformation. That's an organizational transformation, and it's a massive undertaking. It's a major transformation, and how do we navigate that?"
Other key courses include Decision Making for Sustainable Business, Sustainability Across the Enterprise, The Economics of Energy Markets and GIM: Sustainable Ventures.
Our Energy & Sustainability Pathway gives students an opportunity to develop a deep expertise in the economics and strategy of energy markets, corporate sustainability and sustainable investing and entrepreneurship. Students can expect to learn from different approaches including conceptual frameworks in academic courses, experiential learning and interdisciplinary collaboration opportunities. Additionally, students can also elect to take courses from Northwestern's Institute for Energy and Sustainability (ISEN). Currently, there are more than 25 courses on the topics of sustainability and energy ranging from physical sciences and engineering to social science, business, communication and law.
We are also dedicated to supporting faculty who are advancing the field through research, and each year we award the Moskowitz Prize. Now entering its 27th year, it is recognized as one of the most prestigious awards in sustainable finance research.
The Impact & Sustainable Finance Faculty Consortium welcomes a growing network of 365 impact finance experts across 210 universities representing more than 39 countries.
Recent donor support
Generous support from donors expands opportunities for Kellogg students and advances the sustainability field.
Thomas K. Montag Senior Fellowship in Sustainable Finance: In honor of Thomas Montag '82 MBA and his contributions to sustainable finance, this fellowship aims to unite prestigious leaders in the field with Kellogg students and faculty to develop industry leaders in this area, advancing topics such as addressing climate change and promoting the circular economy as well as improving inclusive development practices.
Wendy Abrams '90 MBA and James Abrams gift: This generous $1 million gift will expand curricular and co-curricular opportunities for our MBA students through a conference, curriculum development and expanded case studies.
Student fellowship and funding opportunities
Kellogg students interested in sustainability can access an array of resources designed to support their ambitions.
The Social Impact Loan Assistance Awards: This financial support awards up to $75,000 and is provided to selected graduating students who are planning to work in the social impact space to help substantially and quickly (over two years) pay down a significant portion of their Kellogg student debt.
Zell Fellows Program: An intensive incubator for a select number of MBA candidates interested in starting a new venture or acquiring an existing one. Several past participants have launched startups in the sustainability space.
Youn Impact Scholars: A program that recognizes, fosters and supports graduating students and alumni who demonstrate exceptional commitment to driving impact in the most critical social and environmental domains.
Students can apply for funding from the Social Impact department within two broad categories during the academic year including Social Entrepreneurship and Social Impact Learning Experiences. Eligible students have an opportunity to receive various funding opportunities for their educational discovery, whether it be attending conferences or pursuing a professional endeavor. Financial support is made possible through a generous gift from Christopher and Courtney Combe.
$2,500 per year for two years to pay for educational impact experiences like conferences and competitions.
$5,000 per quarter (up to seven quarters) for expenses incurred pursuing a social venture.
Students can continue building their career experience with additional summer stipends for qualifying internships and ventures including:
Up to $7,000 summer stipend for students working social impact internships.
Up to $10,000 summer stipend for founders to work on a social venture over the summer.
Conferences and events
Kellogg is at the epicenter of some of the most important industry gatherings, helping to build networks of eco-minded business leaders.
The Kellogg Morgan Stanley Sustainable Investing Challenge:In partnership with Morgan Stanley, we bring together future leaders who are seeking to help address today's toughest sustainability issues through innovative financial solutions. It is the oldest impact finance competition for students and has served more than 1,000 students around the world.
Social Impact Days: A two-day event welcoming impact-oriented incoming students to hear speakers discuss social impact across the Kellogg spectrum of courses, experiences and career paths, culminating with a team-based competition.
This year the Global Hub at Kellogg served as the 2022 host for ClimateCAP, the Global MBA Summit on Climate, Capital, & Business. The annual event brings MBA students and industry leaders together to discuss the business implications of climate change.
Sustainable, innovative architecture: The Global Hub
Completed in 2017, the Global Hub is our five-story, 415,000-square-foot campus building in Evanston. Its thoughtful planning, design and construction reflect our school's dedication to creating an open, collaborative space while upholding high environmental standards. The Global Hub boasts a Leadership in Energy and Environmental Design (LEED) Platinum certification, earning the U.S. Green Building Council's highest green building rating. Learn more about how planners used sustainable features and building practices in the Global Hub's construction.
Continuing our commitment to sustainability in business
Sustainability is a never-ending journey and requires a responsible approach on all levels. We will continue to shape business leaders who support and maximize the protection of Earth's natural resources while advancing economic growth.

Check out how some of our Kellogg community members are making a difference: