Start of Main Content
Do you have what it takes to become a Kellogg Leader?
Hear from alumni, who share in their own words how Kellogg prepared them for a lifetime of success.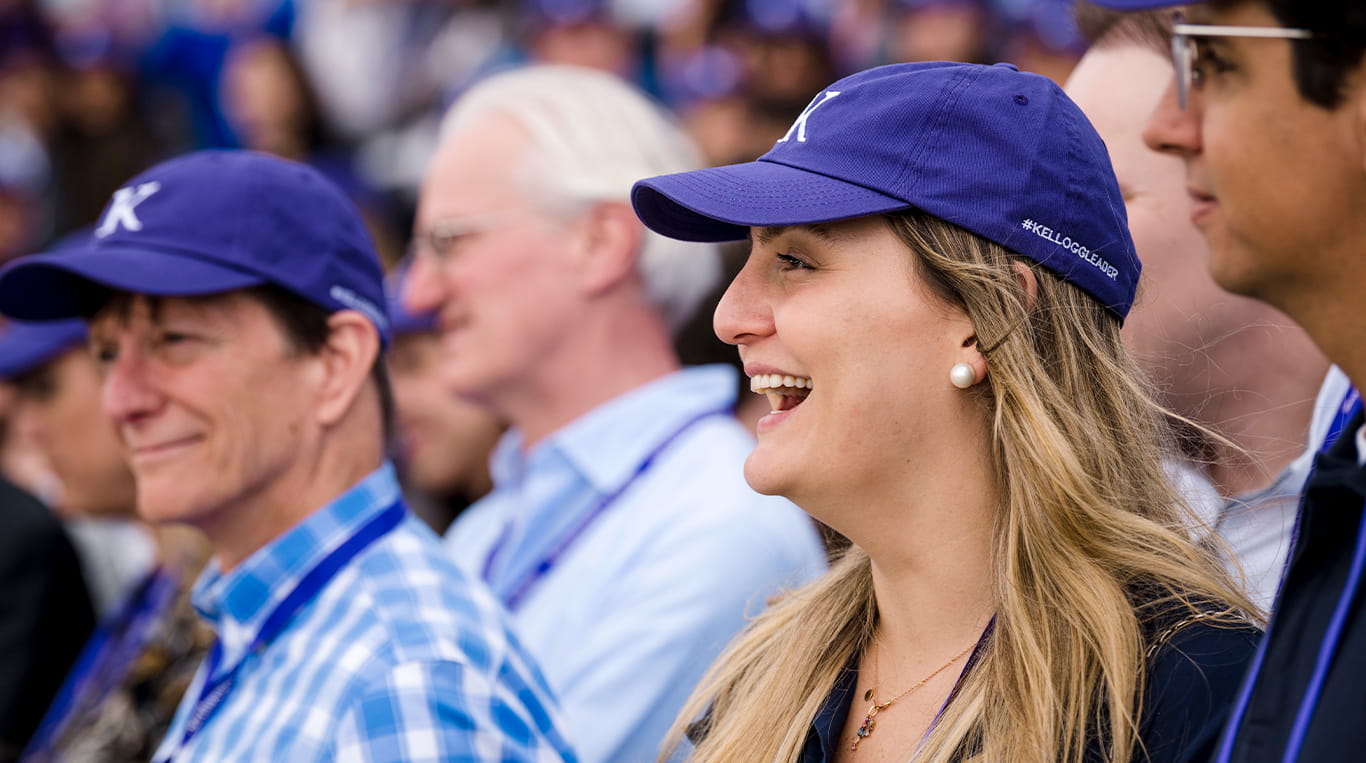 What makes an effective business leader? And how are the demands of a fast-changing world changing our ideas of what leadership should mean?
The most impactful leaders can not only solve a complex problem, but also think creatively and deftly rally a team to bring the solution to life. At Kellogg, we believe combining strong analytical skills with compassion to connect with consumers and employees is the cornerstone of what it really means to be a leader today.
To advance a vision, business leaders must have a multifaceted set of skills, enabling them to deeply understand how to lead with empathy, collaboration, agility and data-driven analysis. For decades, our unique approach to business education has been equipping students with this powerful combination of traits. It's in our DNA. And it's what our alumni say sets Kellogg apart.
Our commitment to continually evolving our curriculum gives students a multitude of opportunities to gain the skills that tomorrow's leaders will need. Examples of courses include Leading with Empathy, Fundamentals of Inclusive Leadership: The Science and Strategy of Bias Reduction, and Social Innovation: Designing for Change. We offer innovative degree programs like MBAi, which teaches ways to unlock innovative business solutions through complex disciplines like machine learning, data science, artificial intelligence and computational thinking for business. In addition, a variety of cocurricular experiences and cutting-edge pathways focus on in-demand areas such as DEI, sustainability and social impact.
Become a Kellogg leader. Over the next few months, you'll meet many such leaders from across our community — from our esteemed, innovative faculty, our collaborative student body and our powerful network of 65,000+ alumni in more than 120 countries.
Here are just a few Kellogg Leaders, sharing in their own words how their experience here prepared them for not only their next job, but for a lifetime of success:
Daniel Gamba '97, Co-head of Fundamental Equities, BlackRock (New York)
"What Kellogg really gave me was the experiential learning to become an expert, combined with the soft skills to connect, and the personal culture skills that are fundamental in this global world."
Ukonwa Ojo '05, Global CMO, Prime Video & Amazon Studios (New York)
"Kellogg really prepared me to be a multifaceted leader. … To be successful at Amazon Prime Video as a marketer, you have to be both a left-brained and a right-brained leader. It's as much math as it is magic."
Sam Shank '04, CEO, HotelTonight (San Francisco)
"It's that combination of the hard business skills with the empathy for the customer and the empathy for the employee that will really make a strong leader for tomorrow."
Joey Wat '00, CEO, Yum China (Shanghai)
"No matter how smart you are, you can never solve the problem on your own. It takes empathy, it takes humility. Teamwork is the core skill I learned from Kellogg — nothing is more powerful."
Andrew Youn '06, CEO, One Acre Fund (Kigali City, Rwanda)
"You can't just be strong on business, technical skills and navigating by numbers. You also have to have the emotional skills required to lead a team. … Kellogg recognizes that tomorrow's leader needs to be the whole package."
What's your #KelloggLeader story?
Follow Kellogg on Instagram, LinkedIn, Twitter and YouTube to learn even more about our community and share your own #KelloggLeader story.