Start of Main Content
VentureCat 2022 showcases entrepreneurial spirit at Kellogg
Kellogg MBA students place in two of the top three spots at VentureCat 2022, a highly ranked entrepreneurship competition.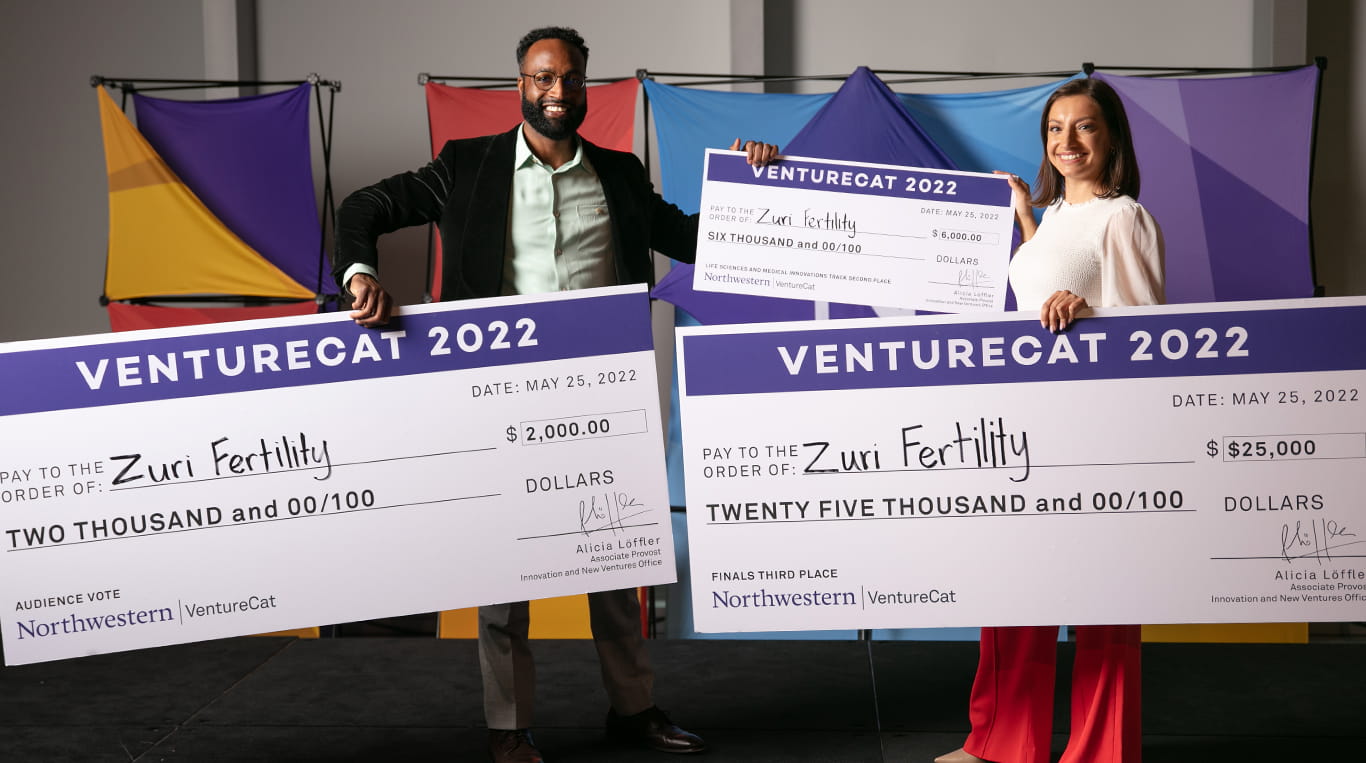 By Lou Carlozo
For several weeks, the VentureCat 2022 startup competition involved a tremendous amount of pitching, coaching and prepping outside of the public eye. Behind closed doors, judges selected six finalists. A few hours later, those teams took their best presenting and persuasion skills to a live stage. VentureCat's May 25 public showcase, held at the Kellogg School of Management's Global Hub, played to several hundred in-person attendees and a live stream audience. Learn more about the Kellogg student anchoring teams who took two of the top three spots.

Beni, a browser extension that finds secondhand clothing swaps while users shop their favorite brands, finished in second place to earn $50,000 in prize money. Beni founder Sarah Pinner '22, a student in the MMM Program, describes it as "Honey meets Expedia for recommerce."

Pinner was absolutely exuberant after winning. "Since starting Beni in the fall of my first year at Kellogg, it has been quite a journey," she said. "I could not think of a better capstone to my journey building Beni while at Kellogg."
Now comes the challenging part: using that prize money to leap from the beta version to full marketplace activity. "Our next big milestone is to release the Beni browser extension out of the currently closed beta phase and expand user access," Pinner said. "The funding from VentureCat will go to fund our product development and accelerate feature improvements so that we can reach this milestone more quickly."

As far as this year's finalists, Giuliana Zaccardelli '22 may qualify as the most ambitious — or at the very least, the most outstanding time manager. Not only did she graduate this year from the MD-MBA Program with degrees from both Kellogg and the Northwestern University Feinberg School of Medicine, but she also continued her startup journey as the CEO of Zuri Fertility. Zuri captured the third-place prize of $25,000; Zaccardelli co-founded it in March 2021 with Blair Matthews '22, a student at the Northwestern University Pritzker School of Law.

Zuri is a digital fertility app that gives patients vital information and resources to plan families. "Blair and I met through the NUVention Medical class, where he shared his and his wife's struggles with infertility," Zaccardelli recalled. "I could empathize, having worked in Northwestern's fertility clinic."

Their discussions spawned a vision of supplementing medical treatments with an informed, focused approach that patients could direct via digital app. "We both saw an opportunity to improve the fertility process, specifically by helping couples navigate their treatment journey."

Audience members at the VentureCat finals were also drawn in by the company's story, voting to give Zuri the audience favorite award and an additional $2,000. Their success in the competition "validates that there's a real need for improvement in the fertility space and proves our solution can help many people," Zaccardelli said. "It shows this problem and our company's mission resonate with people."
Post-graduation, Zaccardelli is putting her medical residency on hold to devote her time and energy to Zuri. The prize money, she said, will go towards accelerating the launch of Zuri's minimum viable product (MVP) to prove its value to customers and potential investors.

The Beni and Zuri teams join a proud legacy of Kellogg-affiliated VentureCat winners. Ben Preston '21, a Zell Fellow and Evening & Weekend Program graduate, used resources at Kellogg to launch Gearflow, an online marketplace for construction equipment. He and co-founder Luke Powers won VentureCat in 2020 and have recently secured $4.8 million in funding including a $3 million seed round last June.

VentureCat 2021 winner Solvento (formerly Por Adela) also has Kellogg roots. The Mexico-based fintech startup in the logistics and trucking space was founded by Executive MBA student Jaime Tabachnik '22 and raised a $4.5M round last December after only five months of operation.
In all, VentureCat 2022 attracted more than 50 applications from across seven Northwestern schools including Kellogg. Of the hopefuls, 25 semifinalist startup teams were selected — about half of whom had a Kellogg tie. VentureCat distributed more than $325,000 in non-dilutive capital, with Kellogg serving as one of four host organizations, along with the Farley Center for Entrepreneurship and Innovation, the Donald Pritzker Entrepreneurship Law Center, and The Garage.
Entrants were divided into five tracks — business products and services; consumer products and services; life sciences and medical devices; energy and sustainability; and social impact. The semifinalists then entered into a six-week Pitch Prep Program that coached on presentations and assigned advisors and teamed them with a graphic design firm to build pitch decks.
Much of the action took place within the confines of The Garage, a dedicated Northwestern space for experimentation and innovation that has had a hand in some 1,000 startups to date. "All the pitch coaches, judges and track advisors are typically faculty — either at Kellogg or at the Farley Center — or they're investors and founders out in the real world that we have relationships with," said Michael Rabb, The Garage's interim director. "Many of them are also Kellogg or Northwestern alumni, people invested in the Northwestern entrepreneurship ecosystem."

One of the advisors is Carter Cast '92, the Michael S. and Mary Sue Shannon clinical professor of entrepreneurship at Kellogg and an operating partner at Pritzker Group Venture Capital. Having seen so many pitches within and beyond VentureCat, Cast said one key characteristic informs the very best ones.

"Eight times out of 10, the founder has identified the problem through their own experiences," Cast said. "They have an advantage because they're living the problem or close to the customer or consumer who is experiencing it."

Beyond this — and Cast saw this with all the VentureCat finalists — a smart startup founder "makes sure that the addressable market is big enough and well defined enough that they understand who their customers will be. When it comes time to develop, market and sell the product, they're really clear on who they're selling to and through what channels."

Another trait shared by many of this year's entrants was "a component that's really wrapped around social good, whether environmental or healthcare good," he said. "They're ideas that have real depth to them in terms of the societal benefit."

That was true of first-place winner InfernoGuard, a company developing a digital solution to provide prompt wildfire detection and notify large-scale landowners through devices that attach to trees. Presented by McCormick School of Engineering student Kevin Kaspar '24, InfernoGard was an entrant in the energy and sustainability category. In addressing a costly pain point, Kaspar's startup has the added benefit of urgency, as wildfires continue to burn at a record pace in an era of accelerating climate change.

As Cast put it, "Northwestern, in general, is a wonderful place to have a competition like this because it's a research school." And it's also a place where Kellogg students promise to innovate and originate for many years to come. As to next year's VentureCat Hopefuls, Cast said it's never too early to explore and experiment.

Cast advised: "Go do discovery research by talking to people in this market and finding out if your idea has merit. The point we make in class is to get out of the building you're in."