Start of Main Content
Master the changing business of healthcare
The MD-MBA Program equips you with proficiencies in management and medicine to become an influential leader in the ever-changing healthcare industry. Through this joint-degree program with the Northwestern University Feinberg School of Medicine, you'll supplement an extensive background in medicine with an MBA from Kellogg to become part of the next generation of industry leaders equipped to deliver meaningful business results. You are eligible to apply for the MD-MBA program during your third year of medical school at Feinberg. To apply, please start an application through the Full-Time MBA program and then select "MD-MBA".
Our proven success
Dynamic skillset
Our MD-MBA Program builds on a doctorate of medicine with a rigorous MBA curriculum. It applies a world-class business education within contexts of unique strategic and managerial challenges in healthcare, and equips you with a skill set that truly differentiates you from others.
Competitive advantage
The Kellogg approach to healthcare management is based on the crucial understanding that healthcare in the modern era is, at its core, a business. Expertly proficient in management and medicine, MD-MBA students gain flexibility in career, credibility across disciplines and unprecedented opportunities to transform any career path in the healthcare sector.
Program highlights
Earn two prestigious degrees
With an MBA from Kellogg and an MD from Feinberg, you'll receive a rigorous education that equips you for success in medical management.
Gain foundation, depth, and expertise
Select courses from the
Healthcare at Kellogg (HCAK) pathway
. Building on the established strength of a core curriculum, the HCAK pathway is a uniquely integrated, cross-functional sequence of courses designed with healthcare management in mind. Foundational HCAK courses integrate fundamental managerial disciplines with deep exposure to industries in the healthcare sector; advanced courses apply core concepts to specific challenges in life sciences and payer/provider sectors.
Build a stellar network
Kellogg maximizes opportunities in healthcare through executive partnerships across a wide range of industries. You will have the opportunity to gain valuable insights into leadership, as well as exposure to new networks, companies and industries.

Integrate business leadership and medical expertise
Eligibility
If you are a student at Feinberg, you are eligible to apply to the MD-MBA program during your third year of medical school. MD-MBA students complete their core courses during the summer quarter through the Full-Time and Evening Weekend Programs. In order to apply, please start an application through the Full-Time MBA program and then select "MD-MBA."
Academics
After completing your third year at Feinberg, you will enroll at Kellogg at the start of the summer quarter and spend approximately one-year completing courses on the Evanston campus. MD-MBA students take core coursework alongside full-time MBAs in the Kellogg Global Hub and have access to the full catalog of program coursework.
Meet an Alumnus
Han-Wei Wu '19 is dedicated to integrating business and medical capabilities to increase access to quality healthcare for all pediatric patients and their families.
Currently, he is working with Lurie Children's Hospital to investigate and evaluate the impact of Chicago Youth Programs on the communities they serve. As an MD-MBA, he looks forward to creating further impact in healthcare by leveraging medical/public health training and business skillsets to solve challenges across divisions within a hospital system as well the greater healthcare system.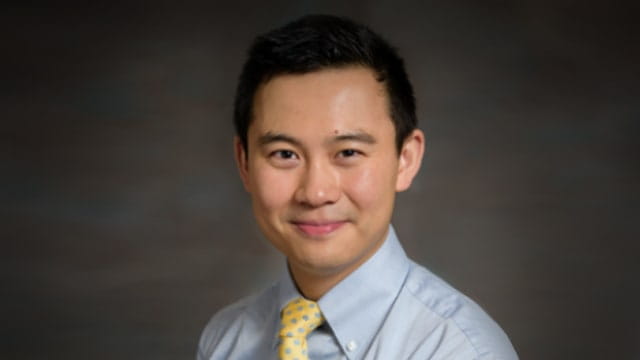 Contact us about the MD-MBA Program at Kellogg
MD-MBA Application Deadlines
Round 1: Nov 7, 2022
Round 2: Feb 20, 2023
Round 3: April 24, 2023