Start of Main Content
E&W Co-Founder on Entrepreneurship & Closing a $3M Seed Round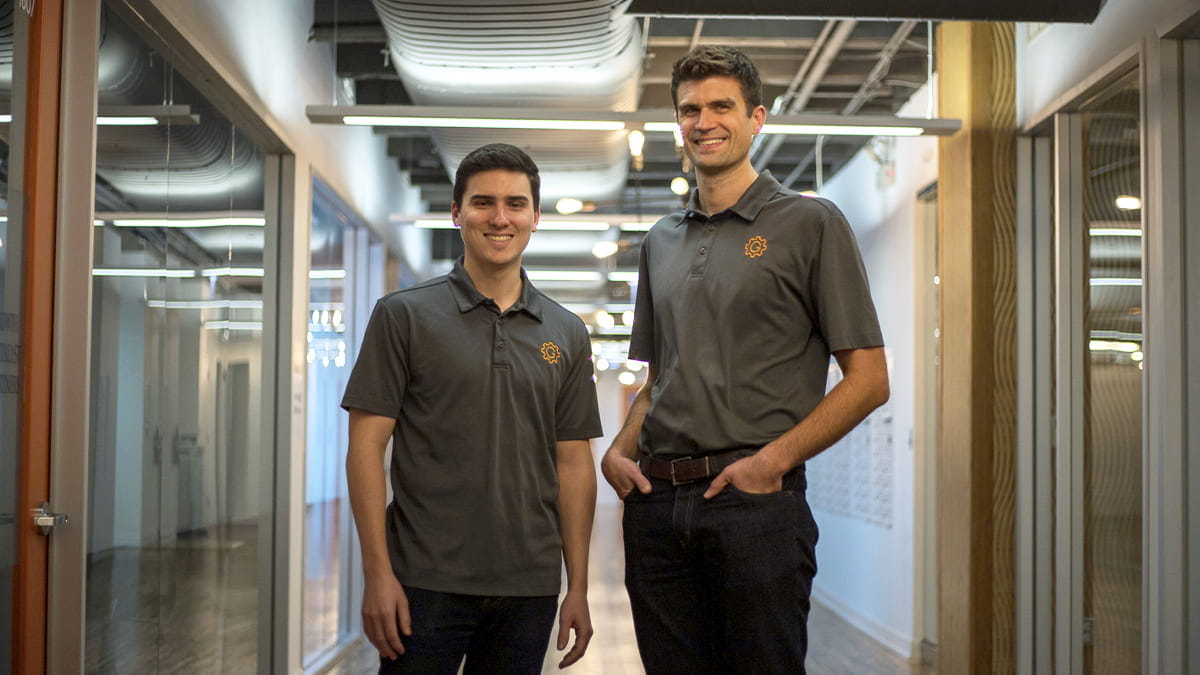 Zell Fellow Ben Preston (E&W 2021), co-founder of Gearflow, shared with us his path in entrepreneurship, the recent closing a $3 Seed Round, and the Kellogg resources he leveraged to grow Gearflow. Here's what he had to say.
Tell us a little about yourself and path in entrepreneurship.
My path to entrepreneurship is not one that started at a young age like you often read about. I did not start a lawn care business or go door to door selling magazines as a kid. I also didn't have an entrepreneurial neighbor that I aspired to be someday. I grew up with a very normal, happy life. I was always outside, playing sports, and with friends. I didn't have any particular career-oriented drive until my undergrad.
I went to school at Northeastern University in Boston. Two major things happened while I was in school there that inspired me to pursue an entrepreneurial path.
As part of Northeastern's curriculum, you have to complete three co-ops. A co-op was a six-month long, full-time internship. During my second co-op, I found myself at a fintech startup in Cambridge where I was the first co-op ever hired. My manager, Greg, became my first mentor. He pushed me to do things outside of my school curriculum that I would have not done on my own. He had me read books on business and iconoclasts, as well as get heavily involved with a new program at Northeastern called IDEA. As a college student I learned how to be independently motivated beyond what was being asked of me at school or at work. Greg awoke a sense of curiosity in me and instilled a drive and fervor to learn that has shaped my entire life since.
IDEA, Northeastern's student-run venture accelerator, was a life-altering experience. The program, which at the time was in its third year, provided entrepreneurs affiliated with Northeastern resources, coaching, and funding to jump start their businesses. I became the "Head Coach" at IDEA, which meant I grew and managed a team of 40 coaches who worked individually with the ventures that were part of the program. This was my first exposure to entrepreneurship and I fell in love with it. The people I met through that program, both entrepreneurs as well as mentors, made entrepreneurship feel attainable. It no longer felt like a high risk path that had to start with me dropping out of college and learning to code in my garage. Instead, entrepreneurship represented the ultimate challenge, an opportunity to learn at a hyper-accelerated pace, and access to a self selecting group of incredibly driven individuals that had an infectious energy about them.  I learned more in that program than I could in any classroom. I caught the entrepreneurial itch.
From that point on, I set a goal to be a part of a founding team by 30.
After graduation, I figured the best thing I could do was to get into sales considering it is a skill that cannot be learned in a classroom. So, I spent five years in sales at an advertising tech company which led me to Chicago, to meet my partner Luke, and to discover Kellogg. I am now two and a half years into Gearflow and three months removed from my 30th birthday.
Tell us about Gearflow and how it's grown.
My partner, Luke Powers, and I got together about the original idea for Gearflow in February of 2018.
Luke was working for his family's construction equipment dealership and rental business, USM ReRents, at the time. The thing that struck Luke while working for his family business were the number of amazing suppliers out there, from parts to rentals to equipment sales, that were locked offline.
The original idea for Gearflow was to connect contractors with all of the suppliers they could need through a single marketplace. We used our savings to launch an outsourced test site at the end of 2018 to prove that there was demand for a marketplace to aggregate all of these different suppliers.
We learned a very valuable insight. Our customers were all coming to us with the same problem. Their equipment was down and they desperately needed a part so they could go back to work. The cost of downtime was a massive stress on these businesses. We realized that there are massive productivity problems stemming from today's parts procurement process which significantly adds to the cost of downtime. That was the true pain that needed to be addressed.
It became abundantly clear that we needed to go all in on solving this parts problem, raise a round of money, and rebuild our platform in house with this sole mission in mind. We raised our pre-seed round at the end of 2019 which afforded us our core in-house team we have today. We launched the first version of our platform in Q2 of 2020 and have grown 6x since.
There are two insights that make this growth even more exciting:
That growth was done off of only 5% of our committed supply, we couldn't keep up with the amount of interest from suppliers.
A power buyer dynamic is occurring. Contractors aren't just treating Gearflow as another source of parts, but they are using us as their parts purchasing platform.
It became clear that we needed to raise a seed round to scale our engineering team in order to deliver a marketplace that truly empowers the industrial entrepreneurs we serve:
A marketplace where vetted part suppliers can easily become an e-commerce enabled business and build their business's brand online.
A marketplace where equipment owners can find the parts they need from suppliers they can trust so they can get back to work.
Our belief is that solving the productivity problem construction is facing starts with streamlining parts procurement and the litany of productivity pains that come with it.
Gearflow just closed its $3M seed round! Tell us about that process and how your Kellogg connections/experience influenced this round.
Our fundraising process perfectly aligned with Kellogg's Zell Fellows Program which wound up being instrumental to our fundraising efforts. Connections to our lead investor, several of our angel investors, and our newest board member were all facilitated through the Zell Fellows network.
Our strategic investor as part of this round, CNH, was also a connection made through Northwestern. Daniele Maggiolini, head of mergers and acquisitions for the Americas, took part in Kellogg's Executive Scholar Program. Our relationship started after he came across Gearflow while watching our pitch at Northwestern's VentureCat 2020.
You just graduated from Kellogg. Any reflections on your experience?
I had trouble articulating how I was feeling during my graduation and spent a lot of time reflecting why that was. There was no feeling of triumph while crossing the finish line like many people feel when finishing a race. Instead, I equate my experience at Kellogg to making a sports team. You work so hard to put yourself in a position to make that team. After making the team, you feel a massive sense of relief and accomplishment because you have given yourself an opportunity to compete with the best. Once you're a part of that team, you are surrounded by people that push you to be your best. You have coaching, training facilities, and resources to enable success. The team is a part of your identity until your final game. It's a bittersweet feeling. You will miss being in it but are proud of what you have accomplished. The people you have met, the drive you have developed, and things you have learned will stick with you forever.
Graduation for me was like that last game of my senior year. I have this sense of bittersweet accomplishment. I am no longer an active part of the team but now have a network of people, an education, and drive that will stay with me forever as we continue to push the business forward.
Any words of advice to those interested in entrepreneurship at Kellogg?
My advice for those interested in entrepreneurship, for those considering an MBA, or those torn between both:
It is true, you do not need an MBA to start a company. Nor can you learn how to be an entrepreneur in a classroom. Entrepreneurship is ultimately about risk mitigation, not risk taking. Kellogg filled in holes in my education, surrounded me with mentors and peers that advised every aspect of the business, granted me access to a network that has led to countless investor and employee relationships, provided resources like office space and market research databases, and access to capital including $161k from VentureCat and grant money through the Zell Fellows.
I realized that the bittersweet feeling I had at graduation was because my pursuit of a Kellogg MBA was not the means to an end. My goal wasn't to cross the finish line. Instead, Kellogg acted as an incredible entrepreneurial support system for me, drastically reducing our risk of failure. Kellogg's Evening & Weekend Program was the ultimate risk mitigator for Gearflow.
Now that I have graduated, I know my experience will continue to pay massive dividends.
When you think about it that way, the ROI is self-evident.
The diploma is pretty sweet too.