Start of Main Content
Reasons why these students opted for Kellogg Future Leaders
Soon to be Kellogg MBA students Anthony Fleri & Ericka Woods share what drew them to the school's deferred MBA program and how they've stacked their professional and academic experiences while they await to enroll in 2024.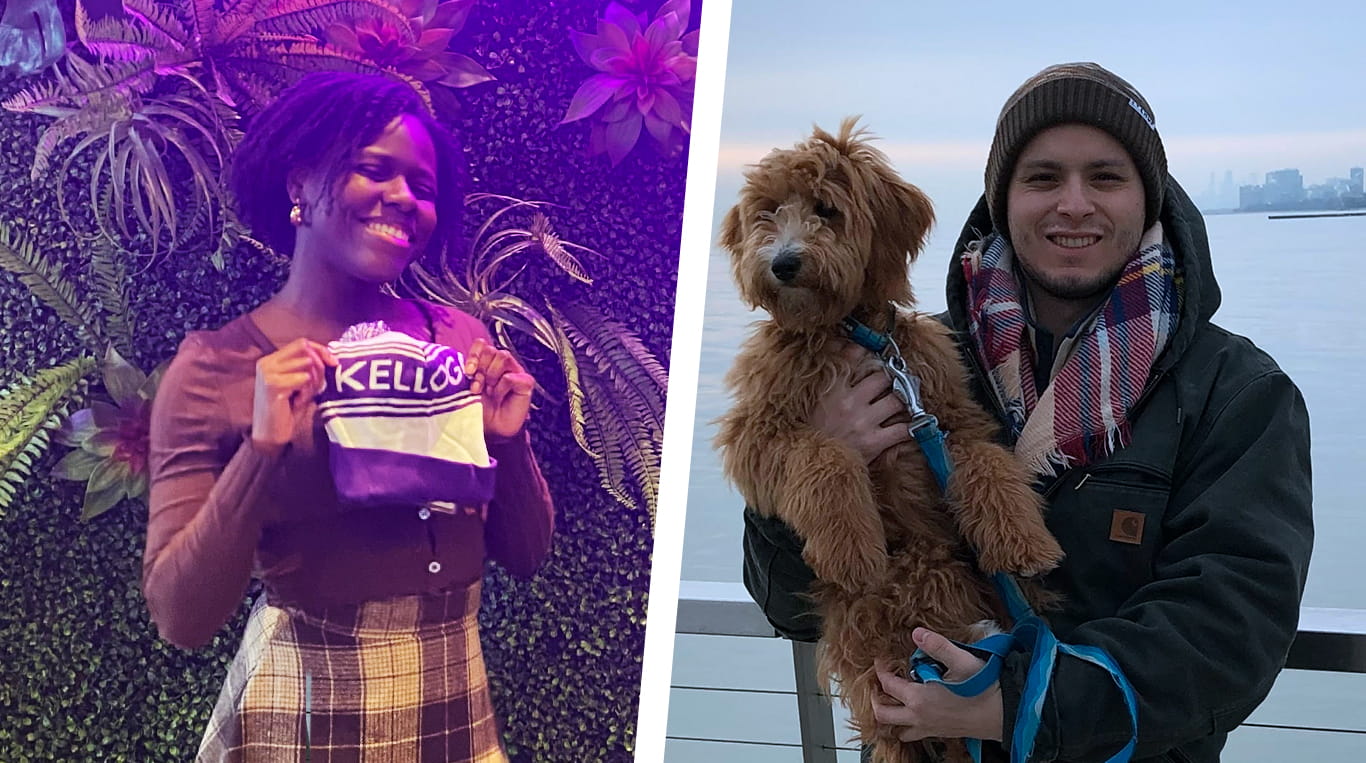 Anthony Fleri '25 Two-Year MBA via Kellogg Future Leaders Program (KFL), who currently works in management consulting, and Ericka Woods '25 Two-Year MBA via KFL, a consultant at a non-profit, knew they wanted to continue their education post their respective undergraduate programs. Read to learn more about how they intend to put Kellogg and their future MBA to use as well as important considerations for investing in your future self.
Kellogg: It's never too early to start planning for an MBA, after all, you were already planning for it as undergrads. What experiences/extracurriculars in or before your undergraduate experience did you participate in that you feel helped you when applying to the Kellogg Future Leaders (KFL) Program?
Anthony Fleri (AF): I'd like to emphasize the importance of articulating quality work experience before undergraduate and during. During school, I was lucky enough to land two formal summer internships and a year-long university-sponsored internship. All of these experiences put me in roles where I got to work in cross-functional teams, solve pressing problems for the business and learn to communicate to different audiences. In addition to that, I talked a lot about my pre-undergraduate military career. Taking a non-linear route to business school, I made it a point to highlight how those experiences shaped the type of leader I am today. The coupling of my global internship and military experiences allowed me to shape my story during the application process and helped me to build a narrative around the 'why an MBA' question.

Ericka Woods (EW): I would be considered a "non-traditional" MBA student. I majored in social policy and double-minored in African American studies and business institutions. At the time of my application, my work experience mainly consisted of impact and public sector work from completing a practicum with Chicago Public Schools to interning at Emerson Collective, a civic and social organization.
I think my non-traditional experiences combined with how I was able to explain my future career goals and align them with the mission and values at Kellogg definitely helped my application. I believe Kellogg prides itself on having a wide diversity of students from various backgrounds, identities and experiences as all of these contribute to rich discussions and innovative ideas.
Kellogg: What motivated you to apply to the KFL program, and what about the opportunity was most appealing?
(AF): One of the most appealing aspects of KFL was knowing that I could fully dedicate myself to the application process. I knew that if I applied three to four years down the road, I would have to juggle test prep, essay prep and all the other time-intensive activities that go into a good application. Applying during my last semester of college seemed like a no-brainer!

(EW): As a senior in college, I knew I was interested in pursuing a graduate degree, but I also knew I wanted to obtain career experience before I started a program. In 2020, KFL was actually at its inception. I remember seeing a flyer about it at an info session Kellogg was having about the new deferred enrollment program and that definitely piqued my interest.
At the time, I was not sure if an MBA was right for me; however, after learning about the school's program during the info session and through independent research, I was sure I wanted to join the program. Being able to secure a spot in a future class and focus the next few years of my career on making the most of my professional and personal growth was a huge draw.
Kellogg: Is there a particular area you're looking to develop professionally through the KFL program?
(AF): I am looking forward to taking classes in the school's industry-specific pathways. A few areas that come to mind are the healthcare and venture capital coursework. I'm very interested in learning more about health tech start ups and what it takes to bring a new product to market.

(EW): I'm looking to continue to build my foundational business knowledge, especially in finance. I do not come from a finance or quantitative background, so I think this presents the perfect opportunity to strengthen those skills and build my professional toolkit.
Kellogg: Is there a mindset you adopted knowing you had secured a seat in one of the world's leading MBA programs and/or how have you approached your career as you were waiting to enroll at Kellogg? Did you set out with any specific intentions or goals during this "gap" time?
(AF): The best part about being admitted through KFL was knowing that I had that security in my future! It has allowed me to take career risks that I otherwise may not have taken. Going into my gap years, I wanted to get as much cross-industry exposure as possible so that when it came time for MBA recruiting, I would have a lot of different opportunities open to me. Because I was able to get into the program early, I've been able to spend my time leading up to matriculation focused on other valuable activities such as researching MBA employers, applying for additional scholarships and getting ready to make the move to Chicago.

(EW): Knowing I had a spot secured at Kellogg inspired me to be even more intentional in goal setting and seeking out professional development opportunities at work. Since graduating in 2020, I have worked at Civic Consulting Alliance, a nonprofit consulting firm in Chicago that provides pro bono consulting services to public sector and nonprofit organizations in the region, alongside partnering with top firms and corporations who also provide pro bono services and lend their expertise to our clients. With the support of my manager and the various teams I have worked on, I have been able to sharpen my strengths and target opportunities for continued growth.
Over the past few years, I have had the pleasure to work across all of my organization's platforms, build my operational and functional skills through organization-facing teams, and take on several leadership roles. I did this knowing they would all benefit me in the long run, especially once I matriculated.
Kellogg: What are you most excited about in starting your journey at Kellogg?
(AF): I started to leverage the Kellogg community almost immediately after I was admitted. I can't say enough about the alumni network and the people I've met in the program so far throughout the application process. It's only fitting that I'm most excited about the international KWEST trip to meet my future classmates and to explore a new part of the world. Expanding my network and building lifelong connections is one of the most exciting parts about starting the Kellogg experience.

(EW): I had the pleasure to attend Day at Kellogg (DAK) with the round 1 admits, which was really fun and made me look forward to the fall even more! It was a great opportunity to meet current students as well as potential soon-to-be classmates and to get a taste of the culture at Kellogg. Everyone I met absolutely raved about Kellogg Worldwide Experiences & Service Trips (KWEST), so I'm super excited about that. Also, really looking forward to exploring opportunities for social impact in the business world and the intersection of value and values. As a Northwestern University alumnae, I'm also excited to add new purple pieces to my wardrobe!
Kellogg: How do you feel the KFL program will help advance your career?
(AF): I'm most interested in getting new types of business exposure through the clubs and interactive learning experiences at Kellogg such as the Venture Capital Lab. Being able to challenge and expose myself to areas that I may not have traditionally been able to break into is really big for me. I have a goal of leaving no stone unturned during the next two years, so that I can confidently take on the next chapter of my life and career.

(EW): Ultimately, I am really interested in cross-sector collaboration, specifically advocating for public-private sector collaboration to leverage all parties' expertise and resources to generate social impact. As the next step in my career, I am looking forward to taking advantage of my time at Kellogg through classes and academic experiences, internships, and, of course, my fellow classmates and the vast Kellogg alumni network to develop connections and experiences in the private sector. I believe these connections and experiences will be incredibly valuable for my long-term career goals.
Kellogg: Is there anything you'd like to tell undergrads who are looking to set themselves up for career success? What are some ways they can invest in their development?
(AF): Take the time to explore your career options during undergrad through internships or university programs. Kellogg sets you up to career pivot into nearly any industry/function, so don't worry if everything isn't exactly how you imagined. I recommend networking with people with career paths similar to yours and seeing if they are willing to share their stories. Lastly, be your own best advocate. There may be times where you find yourself working in a space that doesn't always align with your long-term goals, in terms of career development, and that's okay. I would encourage you to take on new projects and stretch roles but at the end of the day, always come back to your north star and re-evaluate your path from time to time.

(EW): I think one of the best things you can do is be able to talk about you. Your goals and aspirations, your passions, your skills (the ones you're best at and the ones you most enjoy utilizing, which may or may not be the same). Whether you are a business major or a social policy major, you have valuable experiences and perspectives to share.
I somewhat mentioned this earlier, but I'll say it again: classes and campuses — and all types of settings — benefit from diversity of all kinds. You just need to be sure to clearly articulate your story. You don't need to know exactly what you want to do for the next few decades — I definitely did not during undergrad, and my career goals may continue to shift as life goes on — but it is important to reflect on where you are, where you have been, and generally where you want to be. This will make it much easier to communicate how something can benefit you, and vice versa whether it is an internship, a job, or the KFL program itself.
Read next: Five MBA students share why Kellogg was the right match