Start of Main Content
"It's the people who ultimately won me over," says a Full-Time MBA student
Anais Marguerite Engel '24 was over the moon when she found out she had been accepted to her number-one b-school. As she wraps up her first quarter, she shares how Kellogg has exceeded her expectations and how she plans on furthering her career in sustainability with the school's support and guidance.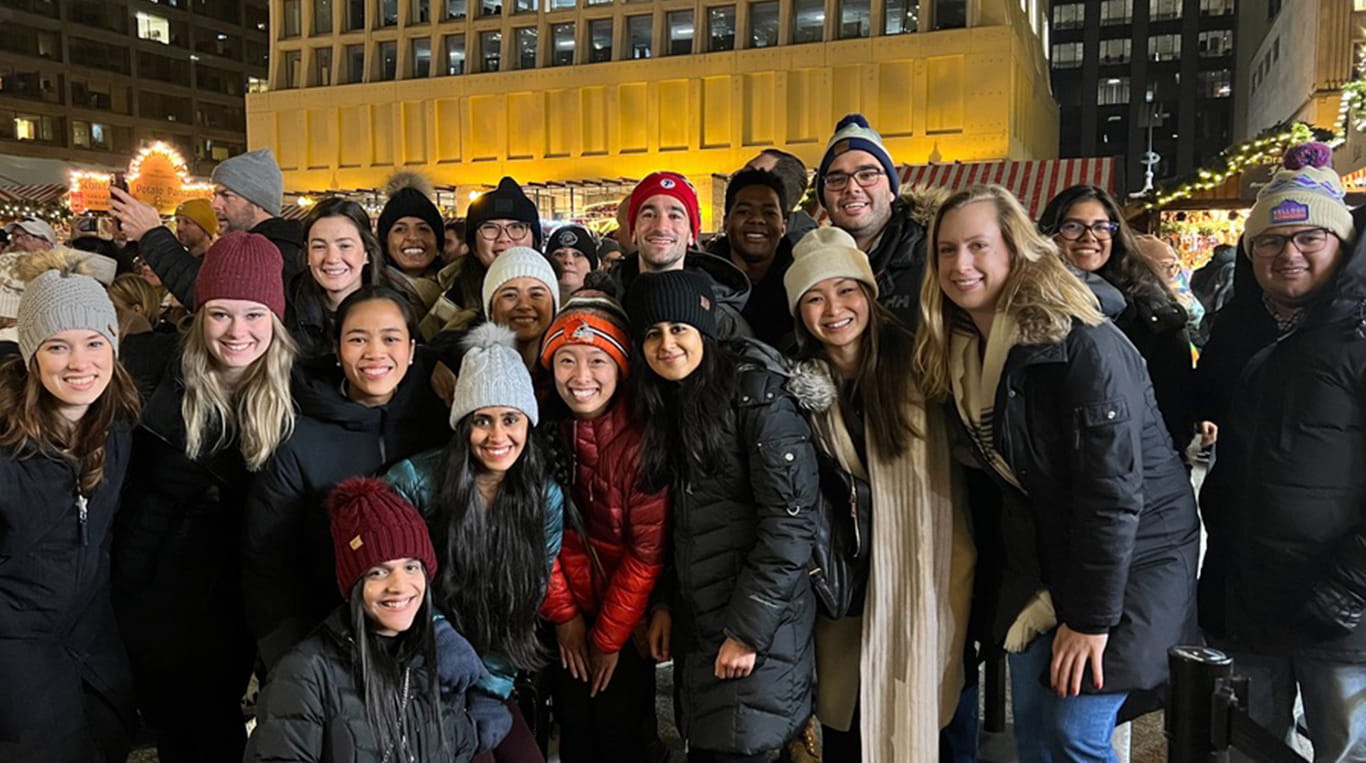 By Anais Marguerite Engel '24, a student in the Two-Year MBA Program
I grew up in Manila, Philippines and moved to the United States just before high school. Growing up in the Philippines, I've witnessed incredible typhoons, and while my family has always been fortunate enough to be safe, it was always the same people who were affected by these disasters. In 2006, "An Inconvenient Truth" came out, and I realized that things were only going to get worse if our generation didn't do anything. These events inspired me to dedicate my career to the sustainability field.
After majoring in Environmental Science at UCLA, I worked at a non-profit business incubator committed to creating a green economy for the people of Los Angeles. This role cultivated my love for sustainable buildings which propelled me to my next role as a sustainability consultant for architecture and construction. My experience in sustainability and countless mentors have taught me that sustainable solutions won't get adopted if they don't make business sense. Prior to Kellogg, I learned how to speak sustainability, and I came to Kellogg to learn how to speak the language of business to help accelerate the adoption of sustainable solutions.
The road to Kellogg started with my family
The road to admissions at Kellogg was a long time coming. I grew up hearing about how amazing Kellogg was from my aunt and uncle, who met at Kellogg during their second year in the '90s. After an arduous process filled with multiple GMAT attempts, I was overjoyed when I gained admission to my number-one choice.
Having heard of Kellogg and spoken with alumni and current students, it was important to meet Kellogg in person, and Day at Kellogg (DAK) allowed me to make an informed decision about where to attend school.
My experience at DAK was nothing short of amazing. I was inspired by every single faculty and alumni speaker and impressed by the other admits—I even met one of my best friends at Kellogg during DAK. I felt fortunate to have had such a positive DAK experience that I wanted to help create that for the next class by serving on the DAK Executive Committee. Our goal is to ensure that every "DAKee" comes out of the weekend feeling like they can see themselves at Kellogg and feel empowered by the right information.
A collaborative and low-ego student culture
When I got to Kellogg, I was really excited about pursuing a career in consulting and joining a firm that is both strong in sustainability but also general management. In my pursuit of this goal, I've felt incredibly supported by second-year students. From my K-Bud (student buddy) to my Interview Prep Group leaders, to the members of the Kellogg Consulting Club and countless others, the second-year students have been so generous with their time and support in a way I did not expect coming to Kellogg—and this is true for both consulting and other recruiting paths. Everyone here is ready to give back in one way or another whether it's prepping for case interviews and planning trips for the broader community or hosting large conferences, the students are always ready to return and improve upon the experiences they've had.
A connected, supportive community
Just before orientation, I participated in Social Impact Days, where groups of five students were tasked to present new business ideas across the corporate innovation, climate, healthcare and education sectors. This was an incredible experience because it put a face to the social impact and sustainability community at Kellogg and introduced me to some of my favorite people.
A few days later, my JV and I embarked on KWEST in Austin, Texas, and we couldn't believe what an amazing crew of people we had. From rainstorms in Lake Travis to dancing in Honky Tonks and enjoying the most amazing BBQ and tacos, this group really leaned into the meaning of KWEST: forgetting about labels, hometowns and jobs, and simply enjoying each other's company; no questions asked.
Shortly after that, I met my section, the Bots (beep bop boop!) where I met many of my best friends. I still remember that first day—the Bots, unlike the other sections in regular classrooms, were stationed in the White Auditorium, the most sought-after venue at the Hub. At first, we thought it was strange taking classes, but the unique location actually allowed us to speak with different groups of people every day.

After meeting my KWEST group and section, I thought to myself, "there's no way I've been getting this lucky, being placed into random groups of people and enjoying all their company. How is this possible?" But that's Kellogg for you.
It's about the people
Wrapping up this first quarter, I continue to be impressed by how amazing the people at Kellogg are. The people here are goal-oriented yet community grounded, impactful but not egotistical, purposeful but also spontaneous.
It's the people who ultimately won me over during DAK and who continue to make this experience incredible, and I can't wait to see where the next two years take us.
Read next: Empowering connections boost an international student's MBA journey