Start of Main Content
Diving headfirst into the MBA experience via Social Impact Days
A two-year Full-Time MBA student shares her experience during Social Impact Days at Kellogg and how it helped her ease back into an academic setting after years of being outside of the classroom.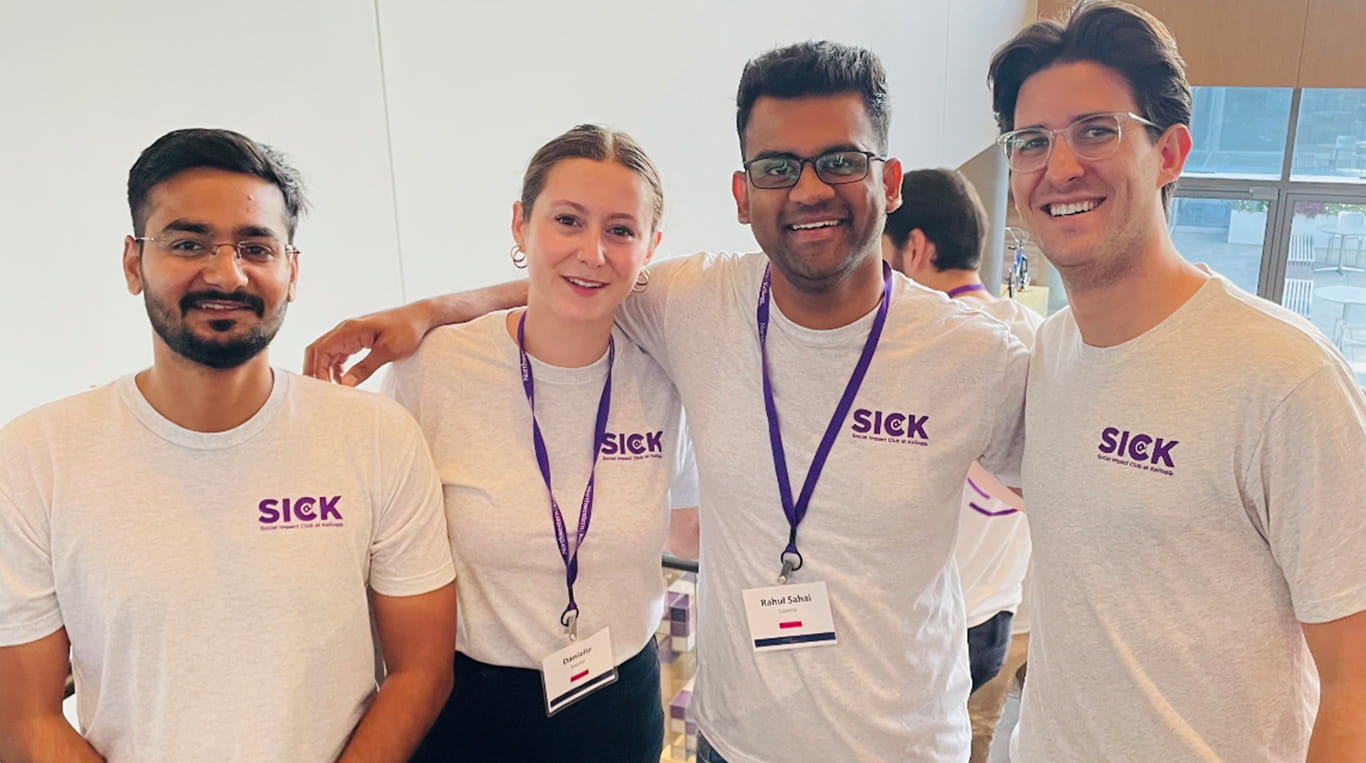 By Danielle Kaplan '24 MBA
Prior to Kellogg, my professional life centered around the Boston nonprofit scene. In my time between undergrad and Kellogg, I was working for InnerCity Weightlifting (ICW), an organization that works with individuals impacted by street violence and mass incarceration through a career-track/enterprise model in personal fitness training. I worked across a variety of functions, most recently running operations and finance as COO. I also joined the board of Speak for the Trees (SFTT), a Boston-based tree equity organization.

My interest in working with people impacted by the carceral system began when I was about fifteen. Growing up in a predominantly white, upper-middle-class town, incarceration was not top of mind – the epitome of "out of sight, out of mind." When a friend became deeply involved in the system, I was exposed to its harsh realities, particularly for those with mental health challenges. And when I became involved with ICW at 20, I was exposed to an entire other side of the system: racial inequity – a topic also not frequently discussed in my hometown. And finally, a lot of these concepts came together for me when I made the connection between racial justice and climate change, another social issue I am passionate about. The intersectional environmental justice movement seeks to disrupt the patterns of climate change disproportionately impacting people of color. This discovery of a movement so important is what led me to get involved in Speak for the Trees.
My involvement in nonprofits has left me both fulfilled by the opportunity for direct impact while also excited and curious about other possible business models for social change. I began exploring one for-profit model through a start-up line of up-cycled cosmetic cases with the mission of salvaging pounds of textile waste from ending up in a landfill. I sold my inventory DTC through e-commerce and two brick-and-mortar retailers.
My next phase of for-profit impact exploration is, of course, Kellogg!
I came to Kellogg to acquire the knowledge, skills and network to support a pivot into other modalities for effecting change in the world. Luckily for me, my first time at the Kellogg Global Hub building as a fully matriculated student was at Social Impact Days, a full immersion into impact at Kellogg including a group-based competition to solve a challenge within one of four tracks (climate, education, healthcare and corporate responsibility).
The programming far exceeded my expectations in terms of the value one could get in such a short amount of time. The most exciting part was the chance to work with a small group of peers in such an intensive way, and the opportunity to get to know classmates through this shared experience so early on was a game-changer in my transition back to school. I found it valuable to kick off my MBA experience and to help me build connections with individuals who care about the same issues and who are also completely different from me in many ways.
Finally, the chance to think through an idea from start to finish and present it in front of my peers and professors was a great way to shake off the nerves of being back in a classroom and prepare for the many group assignments and presentations to come. I would recommend this experience to absolutely every Kellogg student whether or not they are interested in social impact as a career. That is the beauty of social impact at Kellogg: there is no template or "right" way to do things. There is room for growth, change and exploration. I have already expanded the way I look at impact in my short time here, and I cannot wait to continue the journey.
Read Next: A great power in words: An MBA student's mental health journey