Start of Main Content
Why get an MBA: Skills and support to last a lifetime
Learn why the academic excellence and supportive network at Kellogg offer an unmatched experience for getting your MBA.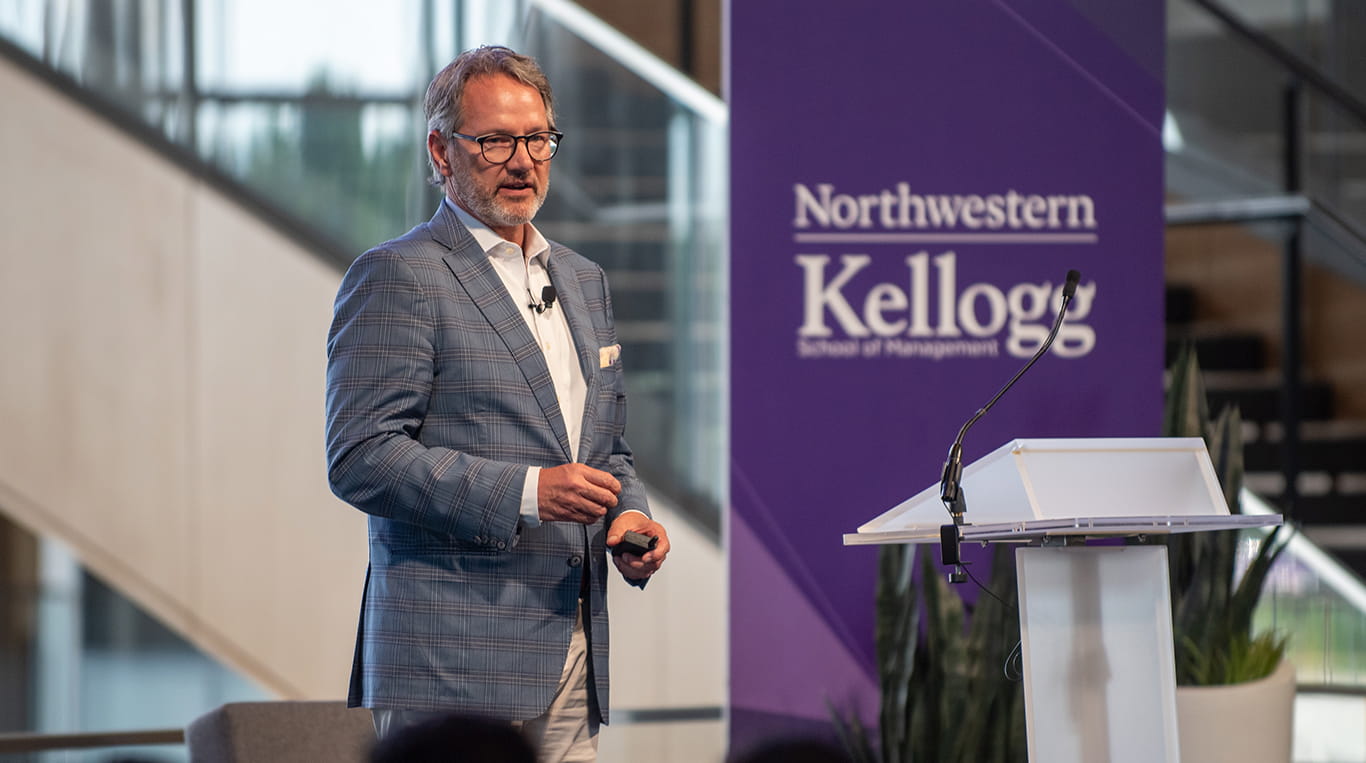 By Greg Hanifee, associate dean, degree programs & operations

What makes Kellogg such a special place? It's a question I often come back to this time each year, as I welcome new students who are eager to make their mark and make the most of the incredible opportunities before them. It's truly inspiring to see the new energy and ideas on campus every fall.
But what sets Kellogg apart can't be reduced to just one or two factors. Rather, it's a spirit that runs through everything we do and informs our many diverse strengths, all of which are evidenced by our school's steady presence at the top of key business school rankings. As we begin a new academic year, I'd like to talk about three parts of getting your MBA at Kellogg that I think make this institution so unique.
At Kellogg, we are constantly motivated and inspired by our community. The intellectual curiosity and collaboration that defines our student body is truly remarkable. It's something you feel when you walk into the Global Hub, when you see and hear firsthand the richness of our campus culture and engaged student life, when you meet an alum, who is taking the role of a Kellogg Leader to help others.
We are proud to see each incoming class consistently push forward what it means to be an impactful business leader, while maintaining the high levels of academic achievement Kellogg is known for. There is a common thread that binds our students together, and it goes beyond their applications and the admission process.
Kellogg Leaders think and act intentionally and with integrity.
They lead with empathy, and they know how to combine their natural ability for analytical thinking with the people skills it takes to solve real-world problems.
Our students are just as invested in showing an authentic care for one another as they are in creating business outcomes. Our admissions process and our school culture are committed to
furthering an inclusive environment
where all students can bring their full selves. We recognize the importance that a well-developed social intelligence plays in cultivating adept leaders, and we offer students the chance to get involved in more than 100 student-led clubs representing a range of interests and affinity groups.
World-class instruction

Our
faculty
lead with academic rigor, and our students know they will learn and take away powerful academic frameworks that will serve them their whole career long, no matter how quickly the business landscape changes.
Our faculty members are some of the brightest minds from around the world, and their
top-notch research
earns accolades in their respective fields. Their research spans our core strengths in subjects such as marketing, organizations and finance, but also reaches into the realms of psychology, sociology and ethics — all to deliver students the well-rounded knowledge base that future business leaders need.
The courses and curriculum at Kellogg allow students to lead boldly and help drive growth in their organizations. Students learn to think in new and different ways, challenged by
a wide range of majors and pathways
that encompass in-demand topics including energy and sustainability, DEI, social impact and much more.
Support for your entire career

Kellogg graduates are renowned for their "pay-it-forward" ethos and their unending support for one another. And that starts as soon as students begin their MBA journey — whether it's supporting each other through interview prep groups or immersing themselves in groundbreaking courses led by our world-class faculty
—
our interconnected community instills a strong sense of confidence that helps build successful teams while shaping business leaders.
After graduation, alumni continue to engage with Kellogg, mentoring current students, recruiting and hiring fellow Kellogg grads, supporting one another in their lives and careers, and coming back to campus to participate in reunions, events and classroom or non-curricular activities.
All the while, our talented and dedicated
Career Management Center
team supports students and alumni wherever their careers take them, with personalized coaching, industry research and an unmatched employment ecosystem that includes job postings from top employers and industries.
If you're ready to become a Kellogg Leader, I invite you to take the next step by
learning more about our programs
or
attending an admissions event
.
Read Next:
Kellogg application tips: Written and video essays