Start of Main Content
Preview the Kellogg Experience
Immerse yourself in our vibrant community and academic culture at our upcoming Kellogg Preview Days. Experience what makes Kellogg unique by participating in an academic session taught by our world-class faculty, engaging with current students to learn more about campus life and further connecting with Admissions Officers from Kellogg's Full-Time MBA programs.
Each of our Preview Days will create a distinctive experience with each date being co-hosted by Kellogg student clubs, showcasing how their pathways and perspectives led them to becoming a Kellogg student. Kellogg Preview Days are open and inclusive to everyone, regardless of the day you choose to attend.
What To Expect
Academic session
The best way to understand Kellogg's rigorous, innovative curriculum is experiencing it for yourself. Academic sessions at our Preview Days are designed to immerse you in our classroom culture, showcase Kellogg's cross-functional instruction and connect with our faculty.
Career presentation
Whether you're looking to make a career switch, advance in your current industry or launch something new, the Kellogg Career Management Center partners with you to find the right connections, insights and opportunities. Preview Day sessions with the Career Management Center will show you how Kellogg prepares students to meet their personal and professional goals.
Multiple events to connect with current students and alumni
Fellow students are such a crucial part of the Kellogg community. That's why we co-host each Preview Day session with one or more of our student clubs. Current students host multiple sessions each Preview Day to answer questions as well as share their firsthand experiences as a Kellogg student. Additionally, those attending in-person Preview Day sessions will get the opportunity to hear insights from Kellogg alumni and tour the Global Hub to learn more about how our elite facility fosters student connection, professional development and collaboration.
Kellogg Veterans Association Programming
For those who were unable to attend the spring Kellogg Veterans Association Preview Day, join KVA members during the Preview Days co-sponsored by the KSA on October 13 and 20 to learn more about life as a veteran MBA student. Have questions about the application process, career paths, the GI Bill and veterans benefits? We'll have a member of our team available throughout the day.
Career Journeys
A look back on some of our alumni and current students who shared reflections on their MBA journey and how it's changed the trajectory of their lives.
5 minute read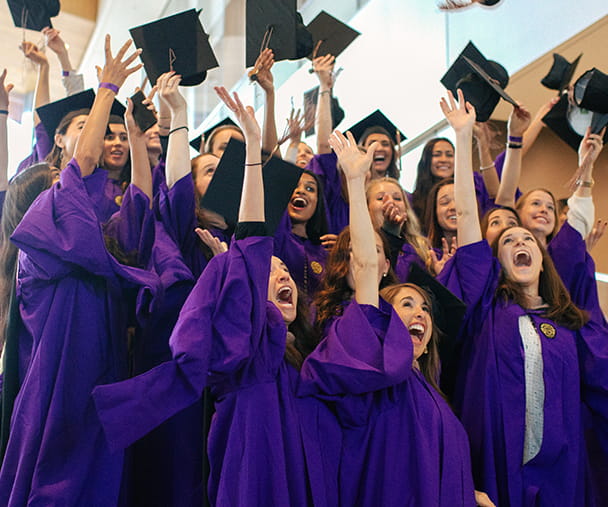 Airbnb

Airbnb has listings for rent throughout Evanston and Chicago

Graduate Evanston

1625 Hinman Ave, Evanston, IL 60201

Phone: 847.475.3300

Hilton Garden Inn The Hilton

1818 Maple Ave, Evanston, IL 60201

Phone: 847.475.6400 or 1.877.STAYHGI

Hilton Orrington/Evanston

1710 Orrington Ave, Evanston, IL 60201

Phone: 888.677.4648

Holiday Inn Chicago: North-Evanston

1501 Sherman Ave, Evanston, IL 60201

Phone: 847.491.6400

Hyatt House Chicago/Evanston

1515 Chicago Ave, Evanston, IL 60201

Phone: 847.864.2300

North Shore Doubletree Hotel

9599 Skokie Blvd, Skokie, IL 60077

Phone: 847.679.7000

Air

Major airlines fly into both O'Hare International Airport and Midway International Airport. O'Hare Airport is approximately a 45 minute drive from Kellogg and Midway Airport is approximately 60 minutes, but you may want to allow more time for traffic.

Private Transportation Services

Taxi services from both airports can be arranged in advance of your visit for a reduced fare. For up-to-date fare information, please contact a taxi service directly.

For drop off at the Global Hub enter the address 2211 Campus Drive, Evanston, IL 60208.

Parking

The closest garage to The Global Hub is the North Campus Parking Garage (2311 North Campus Drive).

The Chicago Transit Authority (CTA) maintains an extensive system of elevated trains (also known as "the L") and buses throughout Chicago and Evanston. Be advised that while inexpensive, taking the CTA from the airport can take up to 90 minutes and requires transferring trains.

The train that runs through Evanston is the Purple Line. The closest stops to Kellogg are the Foster and Noyes Street stops. Both are about a 15 minute walk to the Global Hub.

The closest bus stop to Kellogg is the 201 bus stop on Lincoln and Sheridan. The 201 Route begins at the Howard St. Terminal and makes several pick-ups and drop-offs in Evanston.
Frequently Asked Questions
Many Preview Day attendees submit their application prior to attending one of our Preview Days. In the past, these participants have felt that the event provided them the opportunity to experience the Kellogg culture firsthand, to engage with our current students and alumni and to experience what matriculating at Kellogg would feel like if offered a seat in the class.

Yes. We know that it may take time to decide if an MBA is right for you. We also know that gathering information is critical when you are trying to decide which schools you'll apply to. This event can provide much of the information that you need about Kellogg and the programs that we offer.

No, we do not cover the cost of transportation, parking and lodging for our Preview Days. Kellogg will provide meals throughout the day.

The attire for Preview Days is business casual.
Contact us about the Full-Time MBA Program at Kellogg
Full-Time MBA Application Deadlines
Round 1: Sept. 13, 2023
Round 2: Jan. 10, 2024
Round 3: April 3, 2024