Start of Main Content
Career Management Center
By taking a personalized approach to your professional development, the Career Management Center (CMC) is here to support your ambitions — whether that means transitioning careers, advancing within your industry or launching a business.
As an Evening & Weekend MBA student, you will have access to a variety of exclusive services and resources, including one-on-one coaching with the most seasoned career support team in the industry, self-assessment tools, career workshops, online resources and on-campus recruiting for both immediate and future opportunities. You'll receive everything you need to launch, shift or amplify your career path. Best of all, with evening and weekend availability, our career resources are accessible for working professionals.
Partner with us to realize your potential
No matter your priorities, we work with you to identify a strategy to execute your goals. See the impact - and outcomes - of pursuing a Kellogg Evening & Weekend MBA, partnering with the CMC and investing in your career growth.
Firsthand insights from a career coach
Wondering where a Kellogg Evening & Weekend MBA can take your career? Hear from career coach Mary Burns as she discusses our unique suite of resources, as well as how the CMC team partners with students to achieve their goals.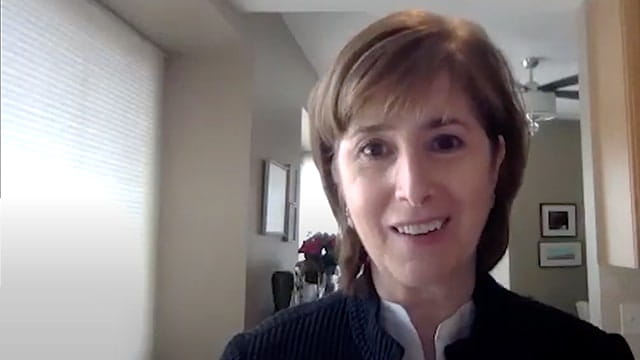 Best-in-class resources
With deep knowledge from leadership roles in their respective industries, our career coaches serve as an invaluable resource for students seeking one-on-one career support. The CMC is staffed with a team of coaches exclusively dedicated to Evening & Weekend MBA students, ensuring that every student has access to a coach who understands the nuances and challenges of earning an MBA while working full time.
Your career coach can help you set career strategies, navigate challenges at your current job, fine-tune your interviewing skills, expand your network, evaluate employment offers and more. Each coaching session is tailored to your specific needs.
Find a wealth of resources on the CMC website, from interactive tools that streamline your career management to subscription databases that provide information on top companies. You can also access a variety of self-assessment tools and then meet with a CMC coach to discuss the results.
Kellogg maintains an active network of top employers who routinely post open positions to the school's internal job board. You have free, immediate access to this password-protected site and can search for jobs by industry, location or company.
Gain advice from career management professionals through the CMC's interactive workshops, tutorials and programs. Or tap into on-demand videos that cover industry-specific topics, management tips and more. Some recent workshops offered through the CMC include:
Three Steps to Interview Success
The Balancing Act: Managing the Overlap Between Current Job and New Job
Preparing for Your Performance Review
Experiential learning courses
Since Evening & Weekend MBA students do not participate in internships, these hands-on courses, labs and practicums provide opportunities for students to work with companies on real business cases. These courses are also ideal for exploring new industries or functions that pique your interest.
Top employers from across industries and geographies regularly visit Kellogg to meet with and recruit students from the Evening & Weekend MBA Program. Eligible Evening & Weekend students may participate in the on-campus recruiting process with Full-Time student participants. Additionally, many students prefer to pursue a more customized and targeted approach, working closely with a career coach to identify opportunities better suited to their individual needs and aspirations.
All Evening & Weekend MBA students have immediate access to the Kellogg Alumni Directory, an invaluable resource for networking and connecting with individuals from different geographies, companies and industries.
The Kellogg MBA is STEM-designated
Kellogg's Full-Time MBA and Evening/Weekend MBA programs are STEM-designated degree programs. Therefore, Kellogg graduates on F1 student visas and approved F-1 12-month post-completion Optional Practical Training (OPT) may be eligible to apply for the F-1 24-month STEM-OPT extension for possibly up to three years of U.S. work authorization before requiring employer sponsorship for employment-based nonimmigrant or immigrant visas. For more information on eligibility and process, please visit the Northwestern Office of International Student and Scholar Services (OISS).
Contact us about the Evening & Weekend MBA program
Evening & Weekend Application Deadlines
Spring 2024: Jan 3, 2024
Summer 2024: March 27, 2024
Fall 2024: June 5, 2024
Winter 2025: Sept 25, 2024