Start of Main Content
Embracing their queerness, an MBA student sets out on a transformational journey
For Eden Powell '23 MBA, her time at Kellogg has given her a greater sense of confidence, a wealth of resources and opportunity to effect change.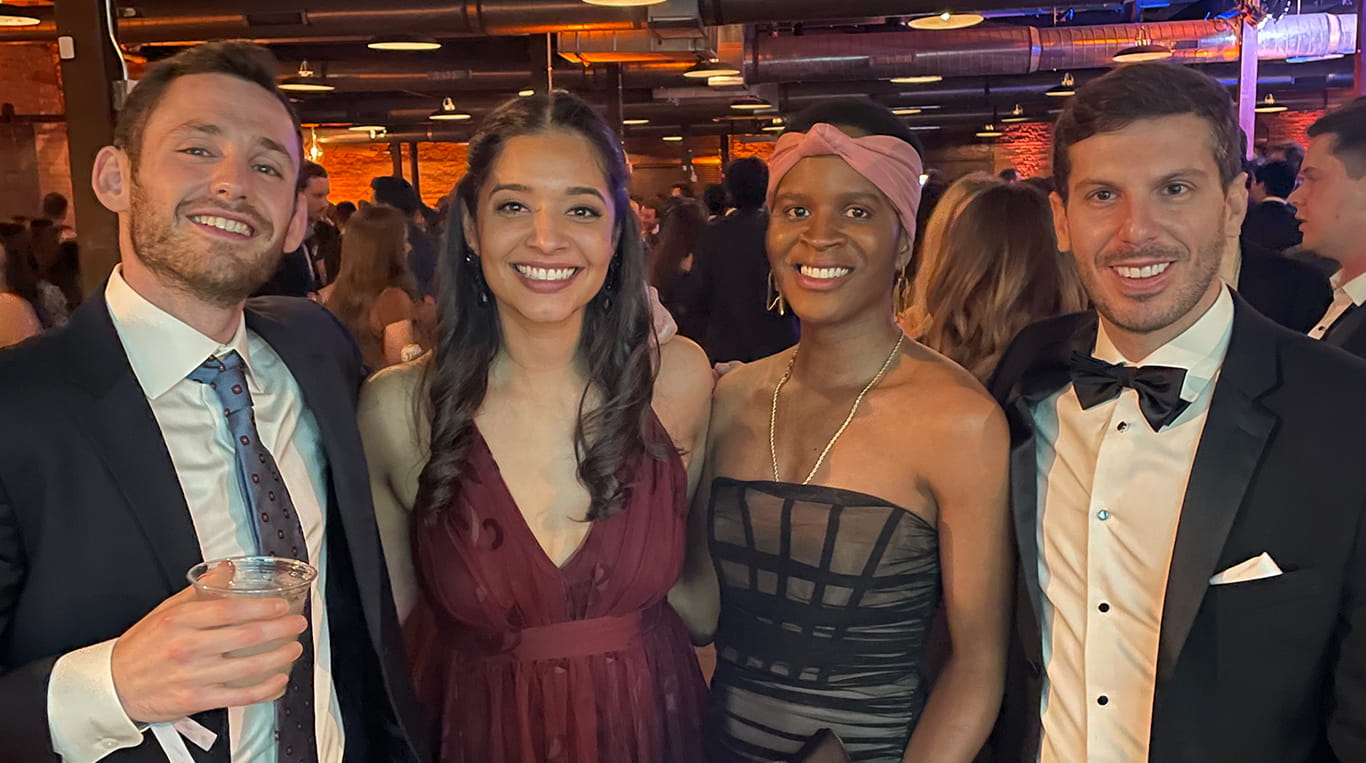 Written by Eden Powell '23 MBA, Full-Time MBA program
I grew up in a housing-insecure environment and attending five different high schools. One defining moment in my life was when my family and I had to live in a shelter. This experience made me determined to work hard and rise above the challenging circumstances of my upbringing. Fortunately, I graduated from college (the first in my family), achieved my professional goals, and eventually found my place at Kellogg; which has been the perfect fit for me.
My upbringing sparked my interest in politics and financial services and has profoundly influenced my career. Before Kellogg, I had customer success and business development roles in the civic and fintech industries. I pursued these roles because I believe these industries have the potential to meaningfully improve the lives of people who are in disadvantaged economic circumstances. Contemplating the kind of career and impact I'd like to make in my life, I knew that pursuing an MBA would equip me with the skills to achieve my goals.
The Kellogg factors: reputation, faculty and culture
I decided to pursue an MBA because I wanted to become a more effective leader, gain a network of accomplished peers and acquire a comprehensive skillset that would allow me to accelerate my career. Kellogg consistently ranked at the top of my list of MBA programs I was interested in, and the more I learned about the school, the more I knew it was the place for me. While I was being interviewed at another business school, my interviewer advised me to go to a program where the alumni are the kind leaders I hope to be. It was my "ah-ha" moment, and I knew that Kellogg was the program for me. The Kellogg alumni that I spoke to about the program demonstrated the qualities of a Kellogg Leader: high-impact and low-ego, supportive and intentional. These are the traits I admire in the business leaders I look up to.
Another motivating factor for me was the school's renowned marketing program. The professors, coursework, and various programming and competitions all showcased the comprehensive training the program offers. It hit me that I was in the big league when I took marketing management, a core marketing class with Professor Julie Hennessey. Professor Hennessey is a powerhouse with decades of marketing experience, and it shows. I gained a strong foundation in marketing management that helped me with every marketing class I had thereafter. In line with my desire to grow my skill set, I took marketing research and analytics with Professor Chethana Achar.
Initially, I was nervous about taking a data analytics class, but Professor Achar crafted a stellar course and made the subject matter approachable. She always made herself available to students outside of class, and I'll always appreciate the time she took to help me master the material. She's also hilarious.
I grew the most in personal leadership insights with Dr. Paul Corona. Paul is an award-winning leadership coach who helps leaders understand their needs, strengths, values, and helps you apply these learnings to your career and personal life. He's someone I intend to stay in touch with long after my time at Kellogg. It's because of his coaching and encouragement of deep self-reflection that I look to the future with a clear vision of who I am as a business leader and the impact I hope to make throughout my career.
Making the most of my time as a student: From competitions to getting involved in the community
I participated in the 26th Annual Kellogg Marketing Competition where teams collaborated to plan and execute marketing campaigns for consumer-packaged goods provided by top brands. The competition culminated in a sales day during which we showcased our products and sold them to our peers. Our team was excited to learn that we won first place.
The Kellogg experience extends beyond academics and competitions. At Kellogg, I actively participate in Black Management Association (BMA) and Pride@Kellogg (P@K) — two groups where I have gained a supportive network and lifelong friends.

A highlight of BMA is its application buddy program where current students support applicants by offering resume reviews, admission essay reads and interview prep. There are a lot of fun social activities to enjoy too. Every year, P@K hosts the Drag Showcase, a drag competition where sections battle it out with choreographed dance routines.
Tapping into courage and a supportive peer network
A profound moment for me occurred at the end of my first year at Kellogg when I spoke at "Hear My Story." The event focused on the theme of "the me you haven't met yet," and it was during this occasion that I publicly shared my identity as a trans woman for the first time. Speaking about this aspect of myself to an audience of my peers was frightening, exciting and empowering. I've been blown away by how accepting and encouraging the community has been. It's made my transition a bit easier than I thought it would be. As future business leaders, we must collaborate with individuals from diverse backgrounds and experiences. I hope to contribute to humanizing the trans experience amongst my peers and future colleagues. To advance this goal, I created a TikTok account to share my transition journey and experiences as a queer black trans woman in an MBA program. This has opened the door to conversations, and I've been fortunate enough to connect with other queer people who are interested in getting an MBA. The representation of prominent trans figures in the business world remains limited which hinders our progress. Empowerment comes from having a voice and influence, and until trans people attain positions of power in business, politics, and medicine, our humanity will be determined by others.
Kellogg has been a transformational experience. I look forward to building a life with the personal and professional growth I've experienced, the close friends I've made and the opportunities I will have because of my time here. Kellogg has been instrumental in my pursuit of the American Dream.

You can find Eden on LinkedIn and on TikTok at @finallyeden.
Read next: More than a degree, an MBA gives you a Chosen Family