Start of Main Content
Kellogg announces 2023 Youn Impact Scholars—here's what they have to say
The new cohort brings the Scholar network to 100 change makers.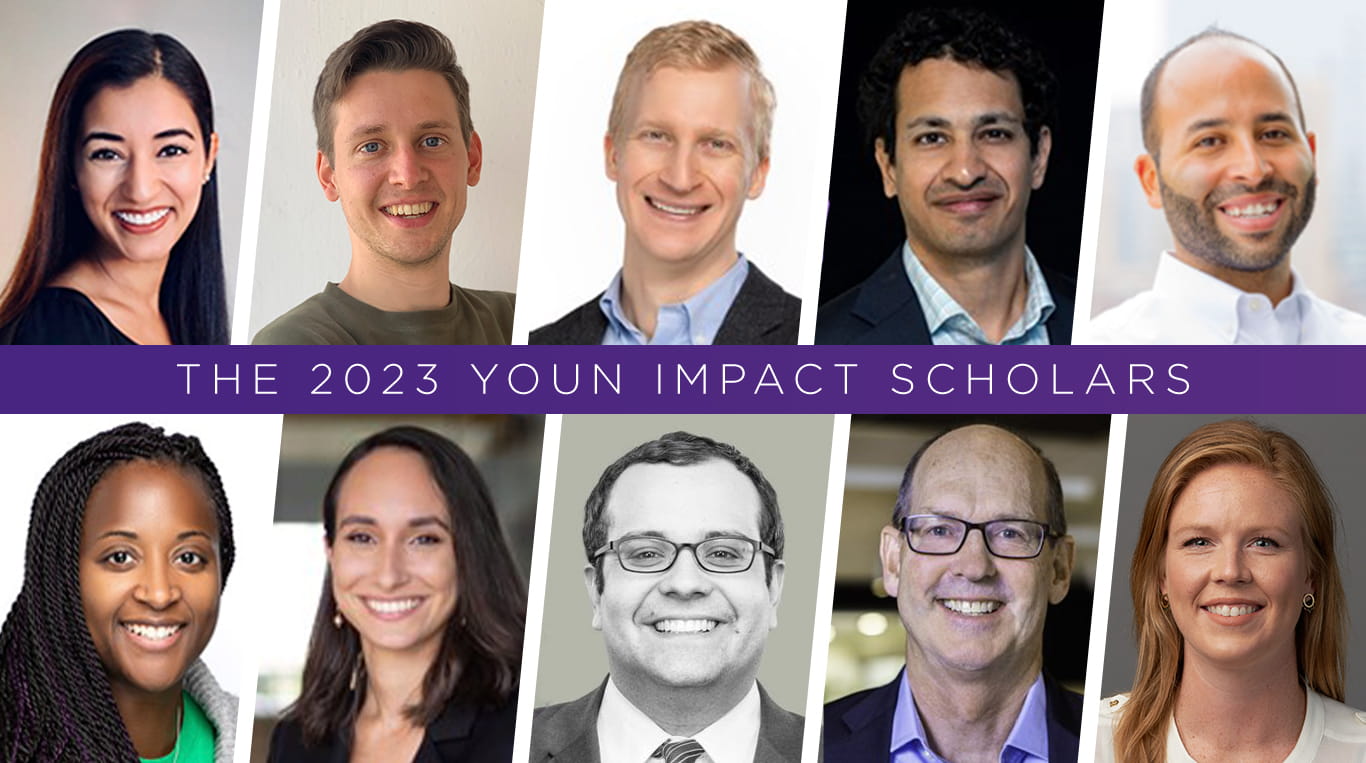 By Sachin Waikar
Kellogg is proud to announce the newest cohort of Youn Impact Scholars: five "Emerging Changemakers" and five "Impact Leaders" who have demonstrated meaningful past impact and promising potential and vision. The program, now in its tenth year, recognizes, supports and brings together recent graduates and senior alumni with exceptional commitment to making impact in the social and environmental domains that need it most.
The Youn Impact Scholars program is named after Andrew Youn '06 MBA, co-founder of the One Acre Fund, a nonprofit that provides smallholder farmers based in developing economies critical resources to grow crops and support their livelihoods.
Each Impact Scholar becomes part of a growing community of leaders who exemplify the school's commitment to meaningful, sustainable and global social change. The Scholars now number 100 in all with years of graduation from Kellogg spanning '81 to '23. The whole group meets in-person biannually in the Global Hub, along with current students and faculty; the next convening of Scholars is scheduled for spring 2024.
We caught up with the newest cohort of Impact Scholars and asked them to share thoughts on how Kellogg has influenced and supported their vision—whether through classes, clubs, mentorship, values, or other resources—and what being an effective business leader means to them. Here's what they had to say.
Impact Leaders
Jonathan Chaparro '22 MBA serves as executive director of innovation & head of Chicago for Braven, a leading national EdTech nonprofit supporting the academic and professional journeys of first-generation college students. He is also on the national board of directors for BES, which trains high-capacity individuals to lead high-achieving schools.
"I share the school's commitment to sustainability in several ways. In my current role I work to provide First-Generation/Pell-Eligible college students with the resources to succeed, with the hope of creating more equitable and sustainable labor markets. Second, as a member of the Federal Reserve Bank of Chicago Advisory Council on Small Business, Community and Economic Development, Agriculture and Labor, I support initiatives that promote sustainable economic growth and job creation across Illinois, Indiana, Michigan, Wisconsin, and Iowa and address systemic barriers to entrepreneurship and small business development. I believe sustainability should be integrated into all aspects of business."
Preeth Gowdar '10 MBA has more than 20 years of experience across private equity investing, transaction design advisory and strategy consulting. Most recently, he has focused on using financial innovation and transaction engineering to mobilize capital to address some of the largest social and climate challenges facing developing global regions.
"Kellogg has offered me a surprisingly wide-ranging network of alumni working in the field of social enterprise and impact investing. Throughout my career, I've run into extremely accomplished alumni who are building social enterprises, managing high-impact investment funds and leading philanthropies' investment strategies. I feel privileged to have such close access to this network and community."

Soenda Howell '20 MBA is a partner at Charter School Growth Fund, a nonprofit that identifies the country's best charter schools, funds their expansion, and works to amplify their impact. Soenda leads the team responsible for sourcing, investing in, and supporting a national portfolio of early-stage charter networks with a focus on those led by entrepreneurs of color and operating in underserved communities.
"While I believe talent is evenly distributed, resources, power and opportunity to realize it are not. My impact journey focuses on public education and ensuring that this particular pathway to opportunity and power is accessible to those who historically have not and presently do not have access. I envision a world where all communities, particularly those most in need, have equitable access to resources and power. I strive to live the Kellogg values of self-determination and collective well-being by listening and being of service to others so that those closest to the challenges who have the wisdom to create sustainable solutions are able to do so."


Thomas Keleher '94 MBA is a global equity director and an executive committee member of Oikocredit, a pioneering social impact investor with assets over $1 billion. He heads the organization's global private equity investment activities across five continents, and has served on the boards of many companies focused on financial inclusion and renewable energy.
"The model of leadership at Kellogg resonated deeply with me when I applied many years ago. I truly believe the best way to accomplish something is to approach it collaboratively. When I attended the Kellogg Private Equity and Venture Capital Conference last year, I felt the same 'team' energy and low-ego attitude I appreciated when I was a student 30 years ago. I've worked to share the school's leadership values with my global impact investment team: I review Kellogg professors' articles with my management team and have promoted conversations among the entire team about empathy. I believe in the power of listening and putting yourself in the shoes of others to produce a better outcome for all involved."
Mike Monteleone '12 JD-MBA is the economic growth division chief for Asia at the U.S. Agency for International Development (USAID), where he has led the design and management of innovative development projects focused on agriculture, trade, infrastructure, entrepreneurship, and other areas.
"One of the things Kellogg taught me about leadership is that addressing complex problems not only requires careful analysis, but also the simple compassion and humility to listen to others. Across my career, I've found that to have real impact, you need to listen to a diverse set of stakeholders–government, business, civil society, and community members, among others—to truly understand all sides of an issue. Taking the time to seek out, be present, and learn from people with different perspectives is something I strive for every day, and something I've taken away from my time at Northwestern."
Emerging Changemakers
Nicole Cuervo '22 MBA founded Springrose, a social startup with the mission to improve the quality of life for women with limited mobility. The business develops adaptive intimate apparel that women can put on painlessly and independently, helping them regain their time, dignity, confidence and independence.
"Kellogg was instrumental to the development and continued success of my startup, which champions women with limited mobility or disabilities. The faculty and administration were teachers, mentors, and connectors for me, and many of those relationships continue to this day. The classes taught me how to think more strategically, and the student community made the journey less lonely. Thanks to Kellogg, I can have a big vision where we improve the quality of life for millions of people."

Bjorn De Groote '23 Two Year MBA Program is passionate about positive climate impact. As current co-president of the Kellogg Energy & Sustainability Club, he encourages classmates to integrate sustainability into their careers. Past work with P&G and internships with a climate-tech accelerator and others sharpened his knowledge and perspective at the intersection of climate, entrepreneurship, and social impact to co-found a carbon-removal startup.
"My first class at Kellogg—Leadership in Organizations—prompted us to document our life's purpose, to act with more intent. Mine is 'To build a greener world and inspire others to do so.' I've often revisited that statement, which has guided decisions on where to spend my time: taking a leadership role in the school's Energy and Sustainability Club, interning within climate-focused startups, mentoring climate-interested peers, and now co-founding a carbon removal startup. Kellogg has not only afforded me the education, resources, and access to pursue my life's mission, but has more importantly provided me the space and time to continuously reflect on what that is."

Clay Holk '20 MBA is director of the grants management office for the State of Oklahoma, a role in which he helped state and local governments handle the COVID-19 pandemic and stood up the State's first Broadband Office. Along with graduating from Kellogg he completed a Master's in Public Policy at the Harvard Kennedy School, where he chaired the Social Enterprise Conference.
"My two years at Kellogg gave me an invaluable opportunity to marry theory and practice in driving change. In the classroom, Jillian Chown's Leading the Strategic Change Process and Johan Chu's Corporate Entrepreneurship courses gave me models and modes of thinking that I still draw from frequently. The practicums I took with Betsy Ziegler at 1871 and Will Garrett as part of the Dean's Consulting Alliance allowed me to 'road test' my ideas, and put me in front of a client expecting results. These experiences would prove crucial as I led response efforts to the COVID-19 pandemic on behalf of the State of Oklahoma while addressing inequities exacerbated by that crisis. Kellogg prepared me to meet the moment."


Zareen Khan '23, a student in the part-time Evening & Weekend MBA Program, is managing director of sustainability at startup accelerator gener8tor, where she invests in and supports early-stage climate-technology companies. Previously, Zareen served in the Pritzker gubernatorial administration as Chief of Staff to the Illinois First Lady, leading the office's portfolio of women's justice and reproductive health initiatives.
"The school's model of leadership and emphasis on empathy, integrity and consistency has helped uncover, shape and reinforce my purpose and desire to build an impactful career and meaningfully live out my values. My time at Kellogg has been filled with growth and self-reflection, as I explore how to combine my skills, talents, and passion to build a career in service of others. Through Kellogg's growing impact ecosystem, including an increasing number of resources, impact-focused courses, and experiential opportunities, I feel better-equipped with the perspectives, tools, and connections to make meaningful change and deliver impact at scale."


Sara Lamb '19 MBA is a private sector advisor for USAID Kenya/East Africa, forging partnerships for the regional mission to achieve sustainable, locally-driven development outcomes, including increased trade from and within the continent, job creation—particularly for women and youth—and agriculture-led growth.
"When I arrived at Kellogg, I found what I had hoped for: a group of like-minded peers who not only wanted to improve themselves but the world around them. What I didn't expect was the lifelong community and support that has followed me after graduation. From the various loan assistance programs which enabled my move to East Africa, to the Net Impact friends who have been my sounding boards, mentors, and cheerleaders, The social impact community at Kellogg has been instrumental in my success. I am honored to join this incredible fellowship and am looking forward to learning and growing with these individuals in the years to come."
We congratulate all the Impact Scholars and wish them the best of luck on their professional and personal journeys.
Read next: Kellogg rises to #2 in U.S. News & World Report's best business school rankings