Start of Main Content
Kellogg rises to #2 in U.S. News & World Report's best business school rankings
Premier faculty, successful students and supportive alumni community contribute to Kellogg leadership in business education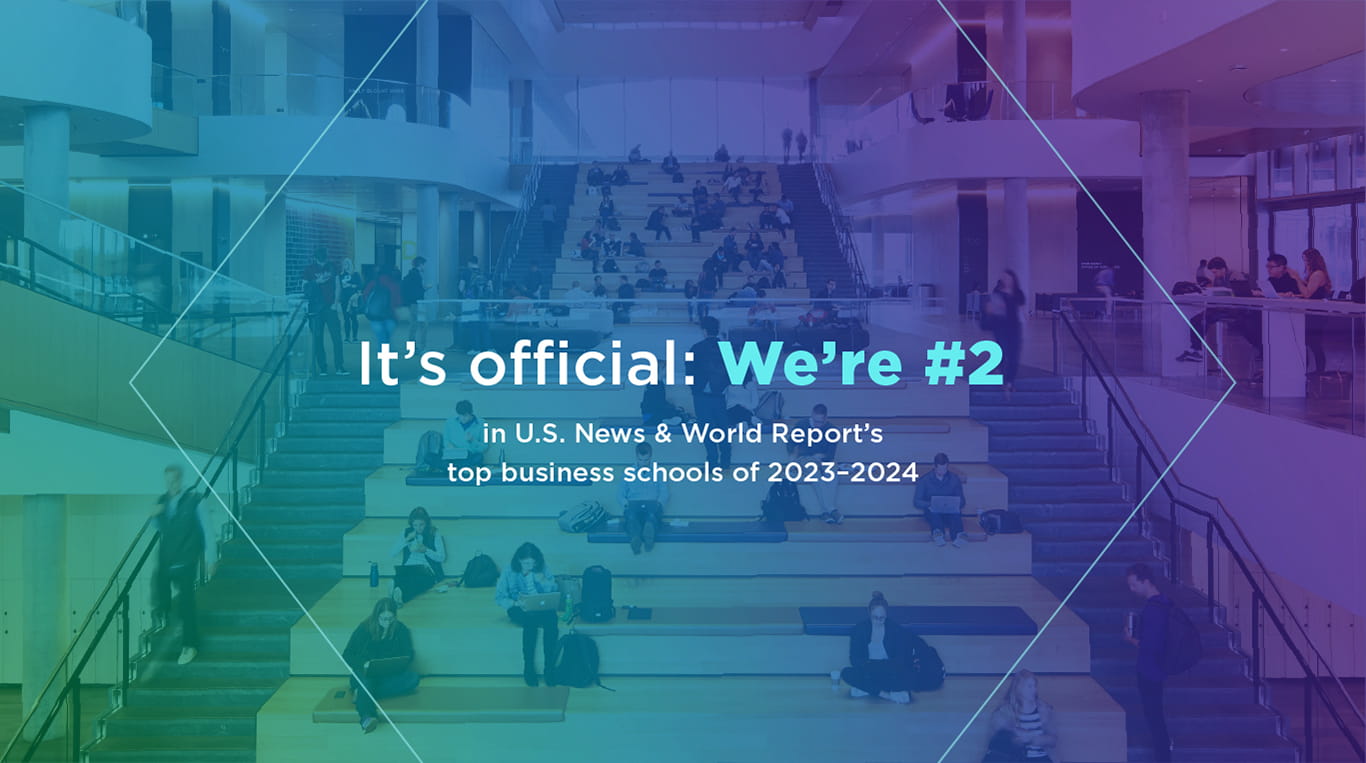 By Greg Hanifee, associate dean, degree programs & operations

U.S. News & World Report released its 2023 - 2024 business schools rankings putting Kellogg at #2 on its list of best full-time MBA programs in the country. This year's rankings placed an increased emphasis on employment outcomes as a determining factor for how a school fared, and Kellogg's performance is a testament to the incredible caliber of our students and the demand for Kellogg talent. In addition to our Full-Time MBA ranking, our school's Evening & Weekend MBA Program and Executive MBA ranked at #3 and #2 in the publication's part-time and executive MBA programs, respectively.

The rankings underscore the tremendous value our program delivers for our students, particularly in light of the heightened focus on students' career success. Our students leave Kellogg to become leaders across industries with financial services, consulting and healthcare being top destinations for our graduates. Of our Two-Year MBA Class of 2022, 99 percent received job offers for full-time roles within three months of graduation.
Our highly supportive and connected alumni network of more than 67,000 is an essential component of this success. Our alumni mentor hundreds of current students, return to the classroom to share their expertise, and meet with students traveling around the world as part of their Kellogg experience. Our alums also demonstrate strong participation in the annual fund, which helps drive progress for students and faculty – including supporting impactful research that moves the needle in business practice and ensures that Kellogg remains a place where groundbreaking research happens.
Excellence at Kellogg is also due to our world-class faculty, who bring to the classroom – and to broader business practice – important research in novel fields like the science of innovation and dispute-resolution. They create innovative programming in fields of growing interest among students, like entrepreneurship, private equity and artificial intelligence. Further, they have a passion for connecting with students and a reputation for their accessibility. Their work to shape the business leaders of tomorrow and equip them with a combination of analytical, technical, social and creative skills is evident in these rankings.

If you're considering a different job or new career path, an MBA could help enhance your leadership skills and amplify your professional network. Education is not a one-size-fits-all, and our MBA programs are reflective of that. Our MBA portfolio is designed to meet you where you are in your life and where you want to go. Learn more about our degree programs.