Start of Main Content
Celebrating Women's History Month 2023
Check out the events planned this month throughout the Kellogg community in honor of this special month.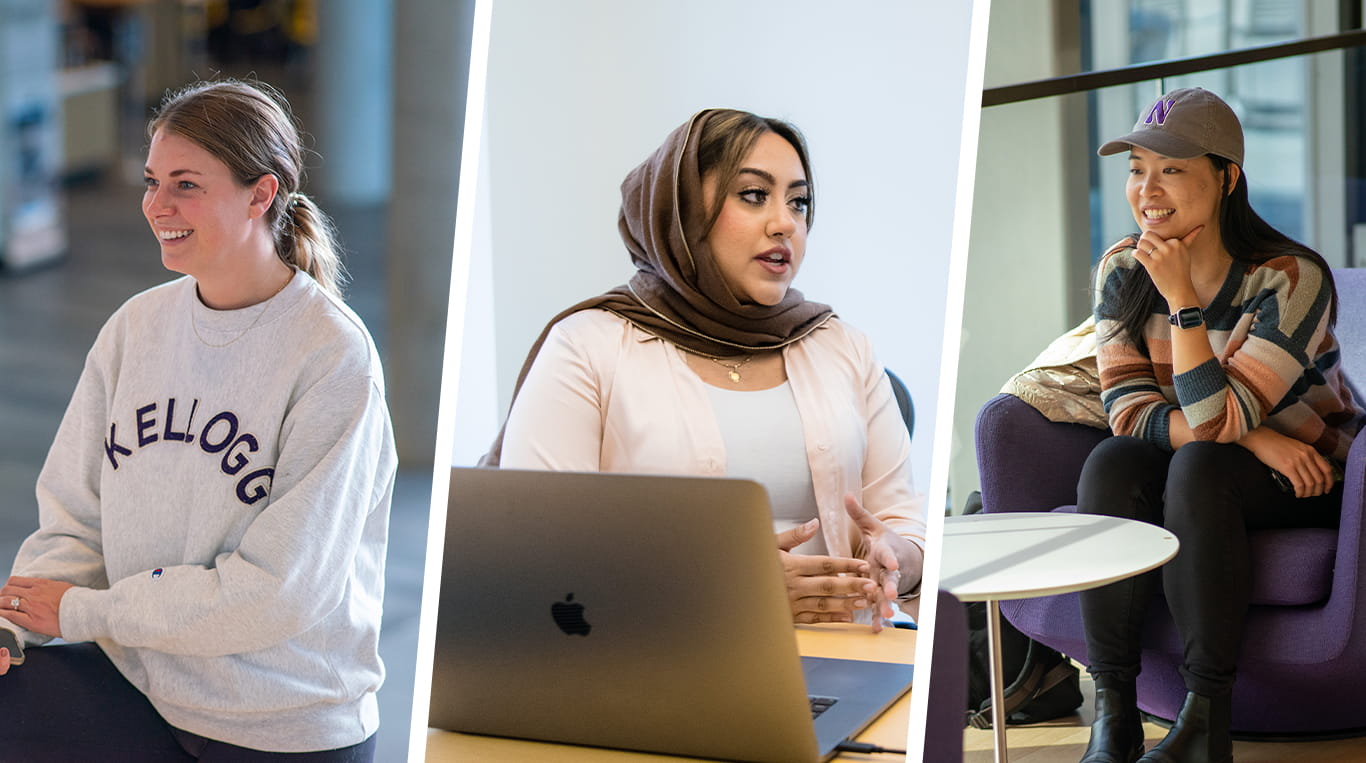 This month as we celebrate Women's History Month at Kellogg, we'd like to highlight the various events, resources and networks dedicated to advancing women at every stage of their personal and professional journeys.

Our longstanding commitment to nurturing women in business and providing lifelong opportunities is one of our school's pillars for ensuring we develop future leaders across organizations and communities.

Learn more about the groups on campus that champion women at Kellogg and explore the events taking place throughout this month.
Student and employee groups
Women's Business Association (Full-Time)
The full-time WBA's mission is to build a supportive community of women that drives critical conversations, advocates for themselves and others, and empowers women of all identities and experiences to be change makers at Kellogg and beyond.

Visit the club website for more information.
Women's Business Association (Part-Time)
The part-time WBA is an organization that strives to facilitate and support the academic, professional, philanthropic and social development of women in the Kellogg Part-Time MBA Program. The WBA is committed to working with students, faculty, administrators, alumnae and the greater business community to create opportunities for women in business.
Visit the club website for more information.
Women@EMBA
Women@EMBA is a student run and led affinity group that serves as a catalyst for the strategic advancement of women in business and society.
Visit the club's LinkedIn page. Note: Must be a current Kellogg student or graduate to join the group.
IGNITE
A resource group for Kellogg staff, IGNITE promotes women's development and leadership with the intention of empowering and supporting their professional and personal growth.

Visit the Kellogg staff intranet for more information.


Events honoring Women's History Month 2023
March 4 — Women's History Month volunteer event

Students are invited to join the Evening & Weekend WBA for a volunteer event during Kellogg Table to write letters to a nursing home.

March 6–10 – Gender Equity Week

Join the Full-Time Women's Business Association for this annual celebration, including a variety of events open to the Kellogg community. Contact the club or visit Campus Groups for event registration and details.
All week – Gender Equity Week: Together We Can Campaign
Strong women lift each other up. Join the Kellogg Together We Can Campaign and help a Kellogg woman dream big and succeed with the power of her fellow community. The rules are simple: dream big and write your biggest ambition on a card. Next, pick up a different card and do your very best to try and help that woman with her goal (your network, connections, resources). Show us the strength and power of the #kelloggwomencommunity!

March 6 — Trailblazers Trivia: Celebrating Women of Color
Together with the Black Management Association (BMA) and the Hispanic Management Association (HMA), test your knowledge of women's history through a fun game of trivia! With a focus on women of color, work in teams to learn about and celebrate all these amazing women.

March 6 — Hear My Story: Stories of Mobilization

Join the WBA and the Gender Equity Network for Hear My Story: Stories of Mobilization, featuring inspiring Kellogg speakers talking about a time when they felt mobilized (or immobilized), when they helped mobilize a community, or were mobilized by a woman.

March 7 — Keynote: How to Be a Gender Equality Superhero with Romy Newman '02 MBA

The Gender Equity Week Keynote features alumna Romy Newman '02 MBA, chief revenue officer of Real, a startup working to bring effective, affordable mental health care to more Americans. In her keynote, she will share more about the business case for gender equality, how to advocate for yourself, how to negotiate compensation, and how to work with allies to advocate for change. All faculty, staff, administration, Kellogg students and JVs of any gender are welcome to attend.

March 8 — WBA Families Pottery Painting

Need a study break? Need another mug to fill caffeine with? Get your WBA Family together to paint pottery and reflect on the women have inspired change. You will get to paint a mug that will be yours to keep! This event is intended for participants in the WBA Families program.

March 9 — Her Personal Finance, with Eryn Schultz

Join us for an informative session led by Eryn Schultz of Her Personal Finance to learn more about personal investing and common mistakes to avoid. As we look at now and beyond Kellogg, the role our financial decisions will take in enabling our success will increase. Whether we're mobilizing through starting our own businesses or managing towards future financial freedom, sound personal investing could not be more important.
March 8 — IGNITE presents Hear My Story with Lorraine Goffe

Join the Kellogg employee resource group IGNITE for a special "Hear My Story" event with Lorraine Goffe, Northwestern University's vice president for human resources and chief human resource officer.

April 1 — Kellogg and Booth International Women's Day Reception

Please join the Evening & Weekend WBA in celebrating International Women's Day with our counterparts from Chicago Booth. This event features alumna keynote speaker Dorri McWhorter '09 MBA, president & CEO of YMCA of Metropolitan Chicago, and entrepreneurs from Breedlove Entrepreneurship Center. Your ticket includes beverages, hors d'oeuvres, raffle prizes, networking and more! Proceeds from raffles and ticket sales will benefit Breedlove Entrepreneurship Center.

Further reading
Read more about our community and discover faculty research on gender equity through this selection of essays and thought leadership articles.
Reflections from the Women in Finance Dinner — The event's co-chairs share why they decided to get involved as well as this year's event's goals and highlights.
Poker Power: Teaching women executives how to bet on themselves — Can a card game help build leadership skills for women in business? An innovative program between Kellogg and Poker Power is going all in on "yes."
Building connections among women in business — Read about two students' experience during Women's Leadership Seminar (WLS), a uniquely designed program that helps Kellogg students navigate strategies for female-specific professional challenges and develop an effective leadership style throughout their careers.
Gender-balanced teams do better work — New research found that when it comes to teams of scientists, "men and women are both part of the recipe for success."
Companies are adding more women to their boards. What's driving the change? — A team of researchers explores "the Big Three's" influence on boardroom-diversity and why companies may be slow to appoint female board members.
How one tax reform led to more women in the workforce decades later — A study of a major fiscal change in Italy shows how much individual lives are affected when governments get more efficient.
Check back for new posts and follow Kellogg on social (Facebook, LinkedIn, Instagram and Twitter) as we share stories from the Kellogg community all month long.