Start of Main Content
Building connections among women in business
"Getting to know the women in my pod was such a rewarding experience — it gave me the opportunity to not only hear other women's stories and advice but also to make incredible new friends," says Carli Chovick (2Y, 2022).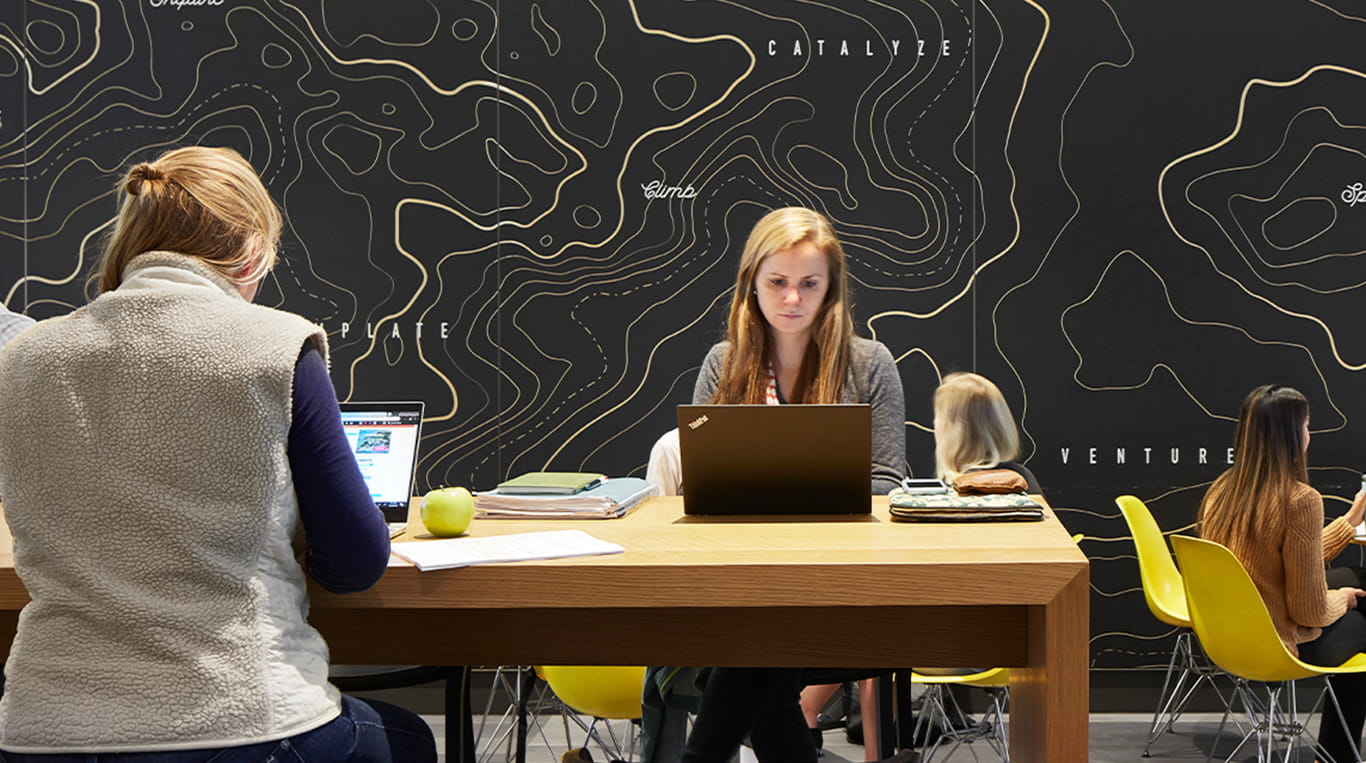 In honor of Women's History Month and Gender Equity Week at Kellogg, we're spotlighting the Women's Leadership Seminar (WLS), a uniquely designed program that helps Kellogg students navigate strategies for female-specific professional challenges and develop an effective leadership style throughout their careers. Led by Professor Ellen Taaffe, WLS includes lectures, alumnae panels and small group discussions to foster connections and insights. We caught up with recent participants Maddie Chivi and Carli Chovick (both 2Y, 2022) to hear about their experience in the program:
What drew you to participate in WLS?
Chivi: Before Kellogg, I spent seven years in New York building my marketing career in fashion — a female-dominated industry, which is uncommon for corporate America. In fashion, most of my bosses and direct reports were women, and I've learned that many of my female peers at Kellogg have had vastly different experiences in their previous careers. I joined the seminar to gain a better understanding of how women navigate their trek to the C-Suite in less diverse industries, as I pivot to retail tech. I wanted to learn from successful women who also graduated from Kellogg about how they navigated through their companies, to set myself up to empower women in all industries.
Chovick: I first heard about WLS three years ago in a Ask Me Anything session hosted by the Women's Business Association, which I attended while I was considering Kellogg. I distinctly remember thinking, "This is exactly what I am looking for in an MBA program. This is what I want to be learning!" Once I joined the Full-Time MBA Program, I was interested in joining WLS because it was a program that was designed explicitly for female-identifying persons and the challenges that we are more likely to face throughout the course of our careers. I have consistently faced sexism throughout my career, and one of the main reasons I wanted to pursue an MBA was to learn how to be more effective in these types of environments and situations.
What have been some highlights of the experience for you?
Chovick: Our session with Professor Victoria Medvec titled "Negotiating for Yourself" was by far my favorite session. There were so many incredible nuggets of wisdom throughout the session, but there was one moment that really stuck with me: We were talking about the importance of raising one's hand for opportunities, and Professor Medvec said, "Never take yourself out of the running. It is someone else's job to evaluate if you are qualified; it is your job to express interest." It is such an important lesson to learn, and it really drove home the point that we should never be asking ourselves "Am I qualified?" It is simply not our job to determine that!
Chivi: The alumnae panel session was great. The content ranged from specific career insights to the challenges and opportunities women face when balancing our personal and professional lives. Hearing firsthand accounts from successful women emphasized to me that owe it to ourselves and to future female business leaders to embody the kind of strong, healthy, strategic leadership styles that people of all genders will want to emulate.
Carli, you participated in a "learning pods" portion of WLS. What was that like?
Chovick: This was a group of five or six of us, and we would meet periodically to discuss the sessions. Getting to know the women in my pod was such a rewarding experience — it gave me the opportunity to not only hear other women's stories and advice but also to make incredible new friends.
What are some of the biggest things you've gained from WLS?
Chivi: I've learned to not be afraid to ask for what you want and to ask for what you deserve, because you do. Also, ensure your boss and leadership knows your career goals for the next five or ten years and not just for today, so they don't make assumptions about the path you want to take.
Chovick: I am walking away from WLS with a wealth of new knowledge and a few new friends, and I am unbelievably grateful for both!
Learn more about Kellogg's commitment to women business leaders >