Start of Main Content
Experience Kellogg Preview Days
Join us to get a feel for life as a student in the Kellogg Full-Time MBA Program. You'll also get the chance to make meaningful connections with students, faculty and admission staff.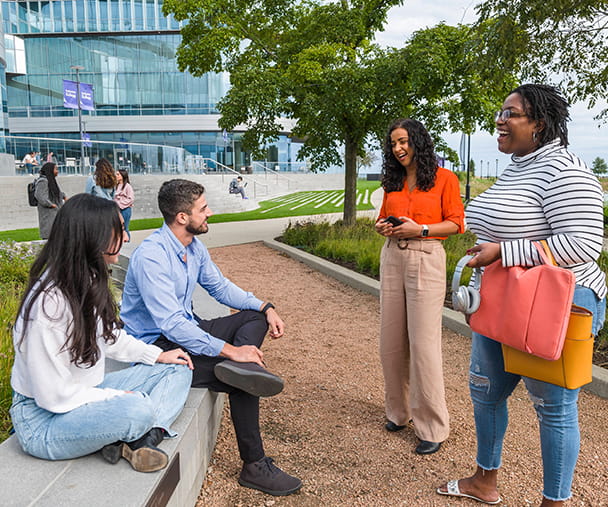 By: The Kellogg Full-Time Admissions Team

If you've ever wondered what student life at the Global Hub is really like, come see for yourself!

We're hosting several Preview Days this fall where you can immerse yourself in the Kellogg community for the day. No matter where you are in your application journey when it comes to envisioning what your life as a Kellogg student could be like, there's just nothing like directly connecting with current students, esteemed alumni and world-class faculty at the Global Hub.

What are the different Kellogg Preview Days and when do they take place?

This year we are co-hosting each of our Preview Days with one or more student organizations. While each day is open to anyone who would like to attend, these co-sponsored events are a unique opportunity to hear about the Kellogg student experience directly from the students in each host organization.
Why attend a Kellogg Preview Day?

Preview Days let you experience life as a Kellogg student for just a day. We've designed these events with curated programming so you can hear from and connect with students, faculty and admissions staff.

We know hearing from current students is a big part of why Preview Days are valuable to those considering an MBA. That's why we are co-sponsoring all events with student organizations. Through hearing current student's stories and getting to know them on a deeper level throughout the day, you will hopefully feel empowered to take the next step in telling your own story for your application.

What should I expect?

Academic experience: Academic sessions at our Preview Days are designed to immerse you in our classroom culture, showcase Kellogg's cross-functional instruction, and connect with faculty.

Alumni panel: Kellogg is the only business school whose career management center has been able to land in the top 20th percentile in MBA graduate satisfaction for each of BusinessWeek's 24-year span. Our Preview Day alumni panel hosted by the Career Management Center will show you how Kellogg prepares students to meet their personal and professional goals.

Connections with current students: Fellow students are such a crucial part of the Kellogg culture. Students host multiple sessions throughout each Preview Day to answer questions and share their first-hand experiences as a Kellogg student.

Each Preview Day will also have opportunities to connect with admissions and financial aid staff.

Should I attend Preview Days if I already applied to Kellogg? What about if I am not sure yet if I want to get my MBA?

We have heard from attendees at all points of the applicant journey that experiencing Kellogg's Preview Day helped them gather information first-hand about our community, academics and culture. For those still considering whether an MBA is right for them, this event is also a great opportunity to hear in-depth information about our programs and what makes a Kellogg leader. And for those who have applied, this is a great opportunity to experience the culture and community you could be part of.

What if I cannot attend a Preview Day but still want to visit The Global Hub?

Our campus visit program runs through December with more dates to be added in 2023. If you cannot make our Preview Day programming, attending a campus visit is another way to experience life at Kellogg.

Whether you join us for Preview Day, campus visits, or one of our many online events, we look forward to meeting you soon!