Start of Main Content
MBA in social impact, what to know & what to ask
Tara Bereche '23 MBA talks about her journey in finding a social impact internship and shares advice for those looking to pivot toward purpose-driven careers.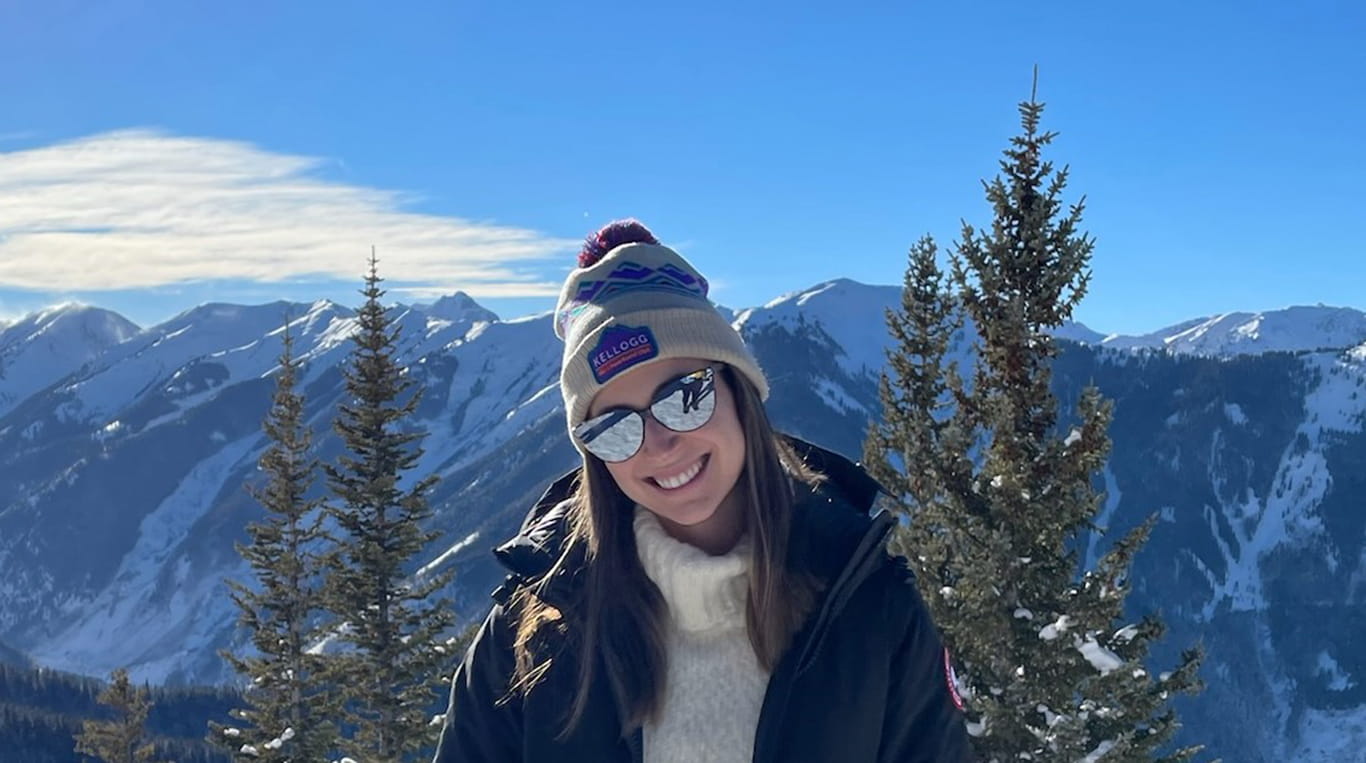 Social impact is deeply ingrained in our community, and we aim to inspire our students to become leaders of sustainable, positive change in the world. Here, two-year Full-Time program student Tara Bereche discusses her journey from the financial sector into the social impact space and gives advice for how to explore a career in social impact.
Inspired to learn, but where to start?
My Kellogg social impact journey started right when I arrived on campus at Social Impact Days, a two-day event dedicated to brainstorming social impact innovation with 100 of my new classmates. I could feel the sheer collective excitement to learn how to lead with impact throughout our time at Kellogg and our careers. With less than 48 hours in Evanston, I had already found a like-minded community of purpose-driven students that would later become core to my Kellogg experience.
Like many of my fellow classmates charting their own new career journeys, candidly, I was nervous to make a career "pivot." With a professional background in finance, I was new to the world of social impact. I knew that I wanted to pursue a purposeful career (inspired both by leading CSR initiatives at my prior employers and embarking on a transformational trip to Ghana), but identifying a specific function, industry, and company seemed a daunting task without having prior experience from which to draw from. How does one narrow a broad aspiration to pursue a purpose-driven career to a specific summer internship search?

Getting tactical

For those new to the industry (as I was), the abundance of resources and affiliations at Kellogg are key to learning about recruiting as well as navigating it. The social impact interview preparation groups (recruiting strategy coaching sessions led by second years), the Social Impact Club (a student-led group to host events and connect students with impact employers), and the Golub Capital Board Fellows program (a local non-profit board placement program) are just a few of the great opportunities available for students looking to explore various avenues of impact and prepare to recruit.
Recruiting for MBA internships in social impact can be challenging since many roles are offered "off-campus" — meaning that the application process exists outside of formal Kellogg employer connections. Although this can require more proactive employer outreach, it gives you the opportunity to be strategic in an impact internship search.

I found that a helpful approach in social impact recruiting is to take time to reflect: What causes do I feel most strongly about? What skills am I trying to develop? What company stage would best fit my work style? Answering these questions can help narrow an otherwise broad search and make navigating the long recruiting season more approachable. For me, I chose to focus my search on three causes – education, financial inclusion, and philanthropy – and functional roles in strategy and operations at an early-stage company to maximize my impact and develop new professional skills. That's what led me to B Generous.

Making an impact

This summer, I'm interning for a philanthropy fintech start-up called B Generous – an incredible complement to the social impact education I've had at Kellogg. The opportunity to learn from experienced founders, work in a scrappy start-up environment and understand how to enact impactful strategy at a social enterprise has been an amazing next step in my social impact journey.
Through my summer internship, I'm helping launch a first-of-its-kind philanthropic credit product to help drive more significant donations and solve nonprofit liquidity issues. B Generous will offer donors a "Donate Now, Pay Later" option for nonprofit donations where the organization receives the donation up front, but the donor pays in interest-free installments over time. This gives donors more financial freedom to support their favorite causes while unlocking millions of dollars for nonprofits (many of which are cash-constrained throughout the year). The product is launching mid-summer, so it's been a unique opportunity to learn how to take an impactful idea and bring it to reality in the market.

Today, I'm certainly still navigating my journey and learning how to lead a career in social impact. But, for anyone who is interested in exploring this career path, I hope to leave three pieces of advice from the experiences I've had:
Don't rush your process and don't compare your recruitment journey to others around you, though it may be difficult at times. So many of my peers were happy they didn't accept an offer earlier in their process just to secure an internship (myself included).
Dedicate time to explore (through conversations, classes, podcasts, in-semester internships, etc.) and be introspective (identify your strengths, areas you want to improve, passions, etc.).
Lean on your peers and alumni network for support, especially those pursuing impact roles as well. The social impact community at Kellogg is powerful, and I've found that everyone is eager to help one other succeed.
Read Next: Why choose Kellogg to pursue social impact? A 2Y explains.