Start of Main Content
Kellogg Leaders in action: It's okay if you don't have all the answers
Julie Kim '97 MBA knows a leader never stops learning nor do they have to know everything. Her "always learning" mindset is what allows her to build trust with her team, so that she can be a better leader.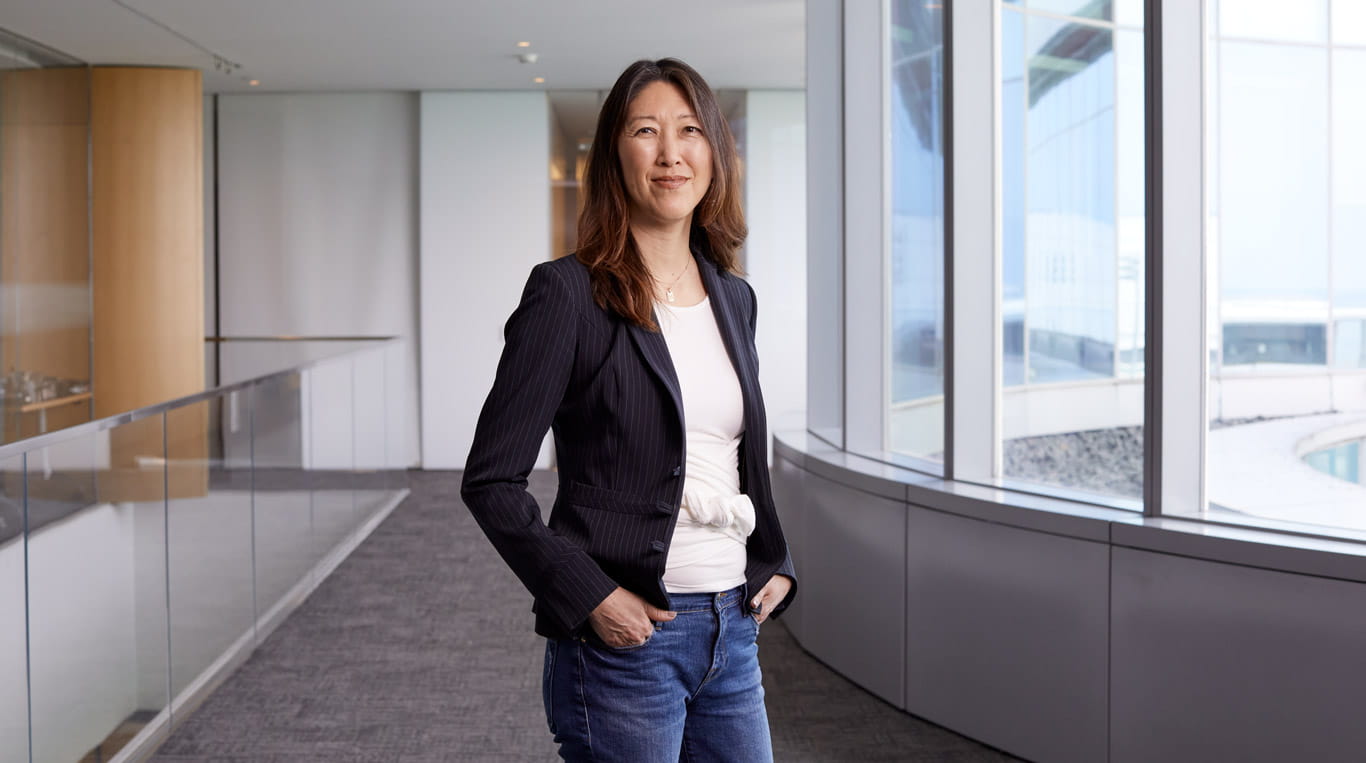 What makes Kellogg unique? In a rapidly changing world, we provide our students with fertile soil for fruitful leadership. Our students are planting seeds to become the leaders of tomorrow, and our community supports and challenges their growth. Whether in the classroom or through global opportunities, our MBA programs sharpen analytical skills while fostering creativity and social intelligence.

Our "Kellogg Leaders in Action" series highlights adaptive, empathetic leaders who are changing the global business landscape.

Meet Julie Kim, president U.S. Business Unit and U.S. Country Head at Takeda. She is a leader in a complex, challenging industry. Kim discusses the critical skill of effectively communicating and how it helped her reach the leadership position she currently holds. She explains why vulnerability is important to become a better leader.

Why do you think it's so easy to pick Kellogg alumni out of the crowd?

Many schools focus on the "what," and they make sure that students know how to deliver the what. As Kellogg graduates, we know how to deliver the what, and we also know how to do it in a way that brings other people along. And you see that in Kellogg graduates because that type of authenticity in caring about how you're doing something and the impact that it has on other individuals, that comes through. You can't fake that.

What personally do you think it means to be a Kellogg Leader?

You don't have to sacrifice high standards and results to create a sense of community and engagement — you can do both. And I think that's what it means to be a Kellogg Leader. You deliver results, but in the doing and delivering, you also build a sense of community … that connection, that engagement, that inspiration for people to want to do more.

As a leader, it's about creating a sense that everyone on the team cares about each other as much as we care about the results that we're delivering. When you look at topics that are important to the business world today, whether it's diversity and inclusion, psychological safety, sustainability, or any other subject, it all starts with having a fundamental sense of trust in your organization. That's what unleashes all the other good things because caring and trust are interlinked.

Can you share an example how you've used your Kellogg leadership skills in your own career?

To this day, as a leader, I'm comfortable with saying, 'I don't know. Let's get a bunch of people around the table and talk about it.' It's part of having a learning mindset and pushing yourself and your team into unknown territory. This is something that Kellogg helped me to develop. It takes humility and vulnerability to behave in this manner and it's a part of being a Kellogg Leader that is so important today.
What does it mean to you as an alumnus to be part of this incredible Kellogg alumni community?

At reunion weekend, I ran into some people who I hadn't seen for 25 years, and yet we easily struck up a conversation and felt like the years hadn't passed by, and that is truly special. Being part of the Kellogg alumni network is knowing that this community and network is always there. I know that if I were ever facing some sort of challenge, I could call up any one of my Kellogg classmates and they would help. They would not hesitate and that's powerful.

Is there a specific learning experience, be it a class, a project, a program at Kellogg that you still think about and still refer to today in your role?

Professor Martin Stoller's course on effective communication was a huge light-bulb moment for me. I had always been about numbers and data, but that course showed me how important it is to communicate well and the effect that communication can have. I will tell you that one of the hardest things to do well in business, especially if you work in an area that has a lot of complexity, is to make sure the message is heard and understood. Even today, I fall back on what I learned in that course time and time again. Communication is valuable for anyone, regardless of whether you want to start up a new business or you're working in a Fortune 100 company in any industry. The ability to effectively communicate is a clear hallmark of strong leadership.