Start of Main Content
At the environmental crossroads, Kellogg creates a climate for change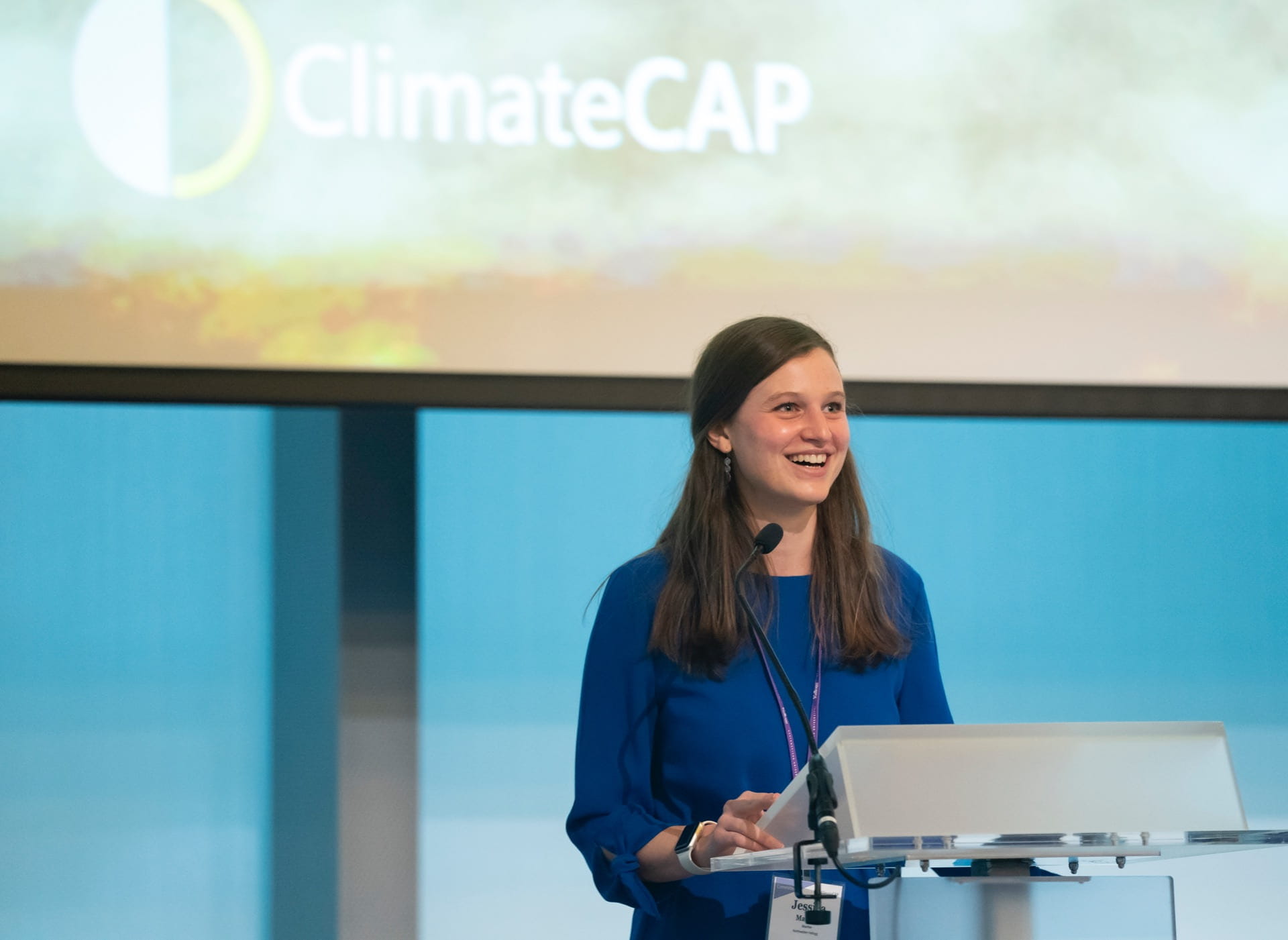 ClimateCAP, a summit at the intersection of business and climate change, took place at the Kellogg Global Hub this February, gathering MBA students and industry leaders dedicated to making an impact.
By Lou Carlozo
It's been just a few months since Northwestern faculty and students participated in COP26, the United Nations Climate Change Conference in Glasgow, but the need to continually engage in conversation and share ideas in the fight against climate disaster remains as urgent as ever. MBA students, as tomorrow's business leaders, have a powerful role to play in combating climate change at the corporate level, in unison with forwarding an environmental agenda. And judging by a national conference recently hosted by the Kellogg School of Management, they have the enthusiasm and drive to do it.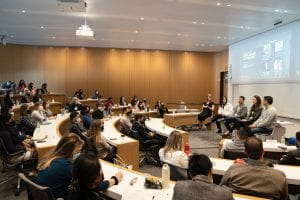 The third-ever ClimateCAP Summit, held Feb. 25 and 26 at the Kellogg Global Hub, drew more than 250 MBA students from 23 business schools across the U.S. to Evanston in the name of addressing the nexus of sustainability and business, and evaluating the challenges that face an imperiled planet from a business school perspective.
"Kellogg is about leadership, and this is a leadership challenge — the challenge of our lives," said Francesca Cornelli, Dean of the Kellogg School of Management in her remarks opening the summit. "It requires creativity, adaptation, flexibility and a different way of thinking. We know that earth's climate is changing, and in the absence of decisive action, we will have catastrophic consequences."
Indeed, climate change represents one of the 21st century's most important drivers of both value creation and destruction in the global economy. By 2030, global climate change impacts are projected to reach $700 billion annually, with trillions of dollars of coastal, urban and agricultural assets at risk, according to the presenters. Climate change also represents a multi-trillion-dollar business opportunity for forward-thinking business leaders, with massive new markets in technology and infrastructure solutions expanding throughout the world.
Cornelli encouraged the MBA students in attendance to think of themselves as the uniquely qualified agents of positive change for the planet—and to see and seize those business opportunities. "That's why it's amazing you're all here," she said. "I think it's now clear that the business community and business students will play a central role. We need you if we are to successfully tackle the challenge because we need your skills."
Kellogg faculty, teachable moments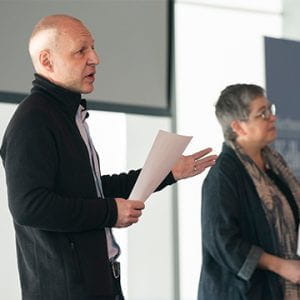 Two prominent Kellogg faculty served as co-hosts for ClimateCAP: Megan Kashner, clinical assistant professor and director of social impact, and leader of the global impact and sustainable finance faculty consortium; and Klaus Weber, professor of management and organizations, and deputy director of the Northwestern Buffett Institute for Global Affairs. Together they moderated many of the presentations and offered thoughtful commentary that reflected on climate change in personal as well as business terms.
As he invited the MBA hopefuls in attendance to get involved, Weber offered this forward-looking perspective: "How old will you be in 2050 and where will you find yourself? Many of you will have children, as I do, and they will look at you and say, 'Well, what did you do?'"
He paused and added: "My generation probably didn't do enough. Don't make that mistake."
But there is hope, Weber stressed — and he cited the statistics back it up. The share of green talent in the workforce worldwide increased by 38.5% between 2015 and 2021. In the same period of time, employment in renewables and environment-focused jobs in the U.S. has increased by 237%. "This is clearly not just something we like to teach, but something that is an opportunity for you," he told the attendees.
With the summit bringing those vocational and entrepreneurial dynamics into focus, ClimateCAP marked a watershed moment for Kellogg, MBA students, faculty and participating alumni. To that end, Kashner described a progression where the business world has seen the concerns progress over the years from seemingly fringe matters to critical, strategic tasks.
"The issues and challenges inherent to climate change have moved into the board room, into the investment committee, and into the norms and expectations for corporate and market strategy," Kashner said. "Today's MBA students know this full-well, and the students who attended ClimateCAP are putting this imperative into their future concepts for how they'll work and lead."
If the question is "how," then much of this stands as uncharted territory. But a theme repeated during ClimateCAP was that Kellogg students are trained at a foundational level to answer calls like this: to disrupt, innovate and collaborate. If solutions to advance change on a worldwide level remain works in progress, Kellogg students are learning the skills to problem solve and lead businesses.
A homecoming that hit home
Kellogg alumni who spoke at the summit discussed their boots-on-the-ground approaches to sustainability in business leadership. Participating graduates included Terry S. Thomas '91, MBA '97, executive vice president and chief customer officer of the North American division of consumer goods giant Unilever; and Andrew Fletcher '12, head of strategic planning at outdoor apparel maker Patagonia.
Thomas (who began his video remarks with a "Go 'Cats" banner on the screen) talked about his company's goal to achieve world leadership in sustainability practice, in a lightning round panel on climate's impact on business today during day one of the summit.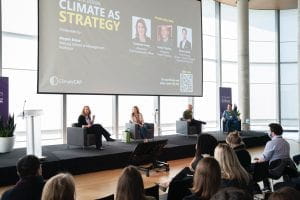 "You can count on Unilever to do its part," he told the students. "But we need you to please join us on this sustainability journey. There's never been a better time, and if we don't act now, we will not have the luxury of asking when."
This pervasive message and conference theme was amplified by Fletcher during the panel discussion he participated in, "Climate as Strategy," on day two.
"It comes down to business intention and time," Patagonia's Fletcher contended. "Our mission is 'We're in business to save our home planet.' And we have to do that now. We're trying to get people to go along with our mission. But we also have to think about the long term."
Fletcher added that while government can set boundaries, businesses and their key decision makers have the greater power to truly move the planet away from its alarming trajectory.
"The change has to happen in the private sector — we can't just depend on the government to do this work," Fletcher stressed. "It behooves the business sector to take this mantle because the government can only do so much. It starts with the conversations we have and bringing those back to the businesses we serve."
A repeated refrain during the conference echoed what many of the world's corporate leaders now believe: Sustainability is good for the planet and good for business. Today's MBAs don't have to choose between the two.
When asked what he considered the single most important thing MBA students need to know, Fletcher replied: "Be intentional in your choices of where you go to work and what your role is. Sustainability is everybody's job. From finance and payroll, to operations, there are ways you can make a difference."
Head of the climate class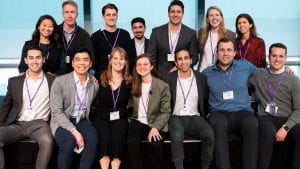 The event was a sold-out success, and Kashner credited the summit's student organizers who worked with unrelenting focus before and during ClimateCAP. "Kellogg's strength lies in its students and in this instance, the students shone," she said. "Our student leadership team of 15 Kellogg students planned and executed this year's ClimateCap conference to a T."
Jessica Matthys '22, one of the student organizers, sounded exuberant as the event unfolded to a response that wasn't just positive, but absolutely electric. Chalk that up in part to the drive to make this ClimateCAP, even while dealing with the pandemic's formidable hurdles, a live event (and of course, a safe one).
"The power of having people in the room, and bringing people together," made a difference, Matthys said. "There's nothing better than having all the right people in one place, and feeling the energy and the passion of this group in particular."
Student organizer Brian Jeng '22 saw ClimateCAP as a forum that facilitated meaningful conversations sure to blossom into proactive steps taken by MBA students such as himself. That made Kellogg a natural host location — and a catalyst that brought together diverse constituencies.
"The sustainability theme runs throughout the Kellogg student body and we have a very close relationship with the Institute for Sustainability and Energy at Northwestern," Jeng said. "Kellogg students can take classes there so they're more equipped with the technical prowess to understand how to combat climate change. That runs through all the educational pieces, so we were really excited to have people from academia and industry here, so hopefully everyone can learn from each other."
And so, the ClimateCAP conference, which traces its roots to a 2018 gathering at Duke University, emerged from its 2022 gathering with an even sharper trajectory. In four short years, climate change has taken on ever-increasing gravity. But in quintessential Kellogg fashion, the spirit of rising to the occasion, breaking barriers and leading where others follow spread to a much wider audience. Even as the event stages were cleared, a different kind of stage was set for creating lasting change.
In a nod to the Kellogg team that made it all possible, the speakers and the MBA students who attended, Weber said: "Everyone sat eye-to-eye and it was a great collaborative effort for something that we know we all have to do together."
Indeed, the challenges posed by climate change aren't going away anytime soon. But neither is the example Kellogg set at ClimateCAP 2022. Kashner summed it up well: "We have set a high bar for the depth of insight, content and networking at this event for years to come."
Learn more about majors and pathways at Kellogg, including dedicated pathways for Energy & Sustainability and Social Impact >