Start of Main Content
Hear My Heart: An App at the Intersection of Healthcare & Technology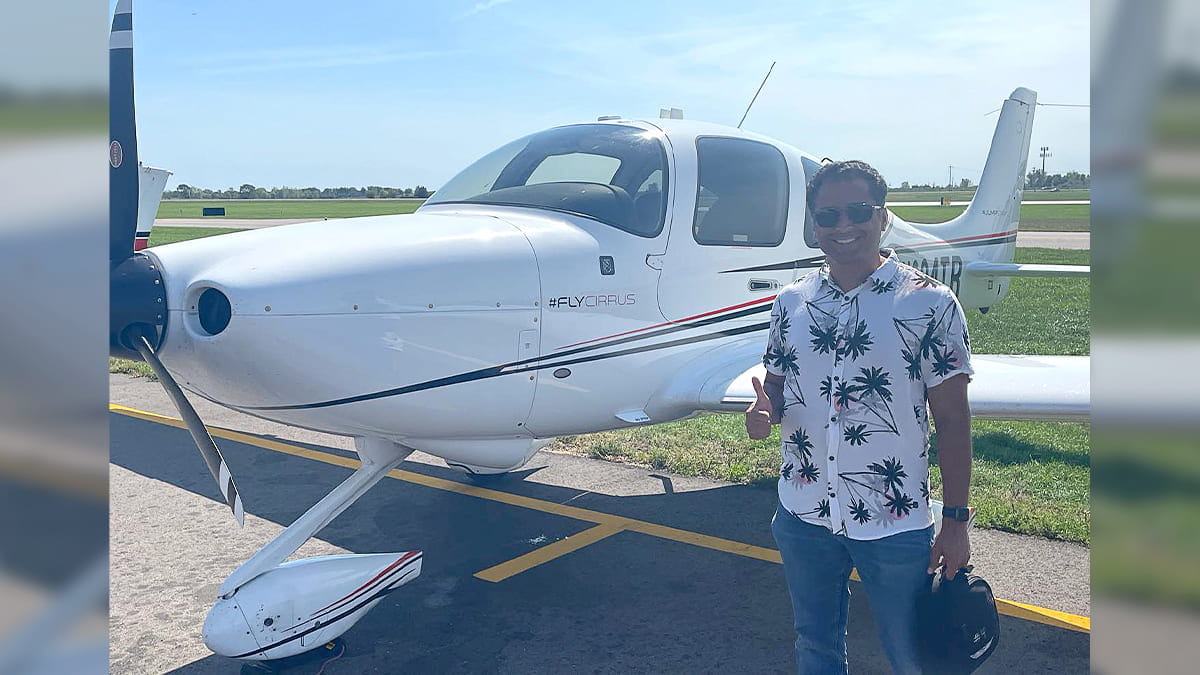 Pranam Shetty '20 shares how his background in engineering and business set him on a path to build innovative apps addressing key needs at the intersection of healthcare and technology.
Tell us about yourself and your app.
My name is Pranam Shetty, and I am a biomedical engineer. I graduated from Kellogg School of Management in 2020. Through my career, I have built various medical devices for over 17 years. I also own four healthcare apps.
In 2012, I lost my job. While looking for a new job, I thought, "Why not build something myself that addresses a significant healthcare need?" Blood pressure, where one in three adults are diagnosed with high blood pressure, was top of mind. While financial independence was a motivator, my number one goal was to build the very best blood pressure management app out there. In June of 2012, I launched SmartBP, a blood pressure management app that allows users to track, analyze and share blood pressure information from a mobile device. Today, we have over five million downloads and over 150,000 active users a month. Every day, I am humbled by user reviews of how much they love my app and how it has helped them. It has been a truly gratifying experience.
After the success of SmartBP, I worked to launch three more apps: (1) Glucobyte, a diabetes management app, (2) Baby Heart Sounds, that helps pregnant mothers hear their baby's heart sounds, and (3) most recently, Hear My Heart.
Hear My Heart is an app that lets you listen to, record, personalize and share heart sounds with just your iPhone. Unlike heart sensors and devices like stethoscopes, which deal with patients and medical diagnoses, Heart My Heart treats the user as a normal person, enabling them to record and share something unique and personal — the sound of their heart. Users can capture a variety of personal memories and moments, from feeling relaxed in the morning to an invigorating workout to a granddaughter sharing her heart sounds with grandparents. Hear my Heart sparks the curiosity of youngsters and opens new ways for a fun, social and personal connection even with adults. My kids love it and ask almost every day to record their heart sounds and share them with their grandparents.
What are your long-term goals for Hear my Heart?
Like video calls that bring loved ones closer, I would like Hear my Heart to alleviate the struggles of personal connections over long distances.
How does tech advance healthcare or solve specific challenges in that space?
We live in a highly connected society that values human connection, which has significantly increased in the pandemic. Consumer technology allows users to connect directly with their caretakers. It creates awareness of their personal health by providing access to knowledge and empowers them to analyze what works and doesn't work for them.
What was your biggest challenge in building and launching the app?
Hear My Heart brings together deep technology, from physiology to advanced signal processing, engineering, and software development. Now, that feels like the easy part. The biggest challenge ahead is to build brand awareness without burning a hole in our pockets.
What specifically from your Kellogg experience has gotten you to where you are today?
I still carry lessons and frameworks taught by Kellogg faculty and apply them to my everyday work. Below are a few highlights:
Professor Eschbach introduced the tool BMC, in his class, New Venture Discovery. It's a great tool, and I recommend it to everyone with a business idea.
I still leverage core marketing frameworks (5Cs, 7Ts) that Professors McTigue and Krishnamurthi taught me, as well as strategies taught from Professor Mazzeo and Bianchi.
I also value the Kellogg community that continues to support me in my business ideas and is willing to test them out.
Any advice to entrepreneurs just starting out?
Here is some advice for entrepreneurs starting out:
Take advice with a grain of salt. Contrary to the belief that most startups fail, that does not mean that YOU can't succeed. While it's good to hear what experts have to say, you must believe in yourself and your idea to make it happen.
Have a relentless focus on doing what's right for your end customer. Solve their problem better than the competition.
Fail fast to succeed, and don't get into analysis paralysis. Make decisions fast even if some of them are bad ones. Remember the 80/20 rule. Don't let perfect be the enemy of good.
Control unnecessary expenses. This also applies when revenue starts pouring in. Be resourceful.
Persevere! As you learn to get outside your comfort zone, don't give up. Selling should become second nature because you are going to be doing it all day every day, so it's important you enjoy doing it. After all, if you don't enjoy selling it, who will?
Finally, remember the people who were with you from the start of this amazing journey and who helped make it possible. I couldn't have done any of this without my family and friends' support.