Start of Main Content
FT and E&W Tech Clubs Team Up for 2021 Kellogg Product Management Challenge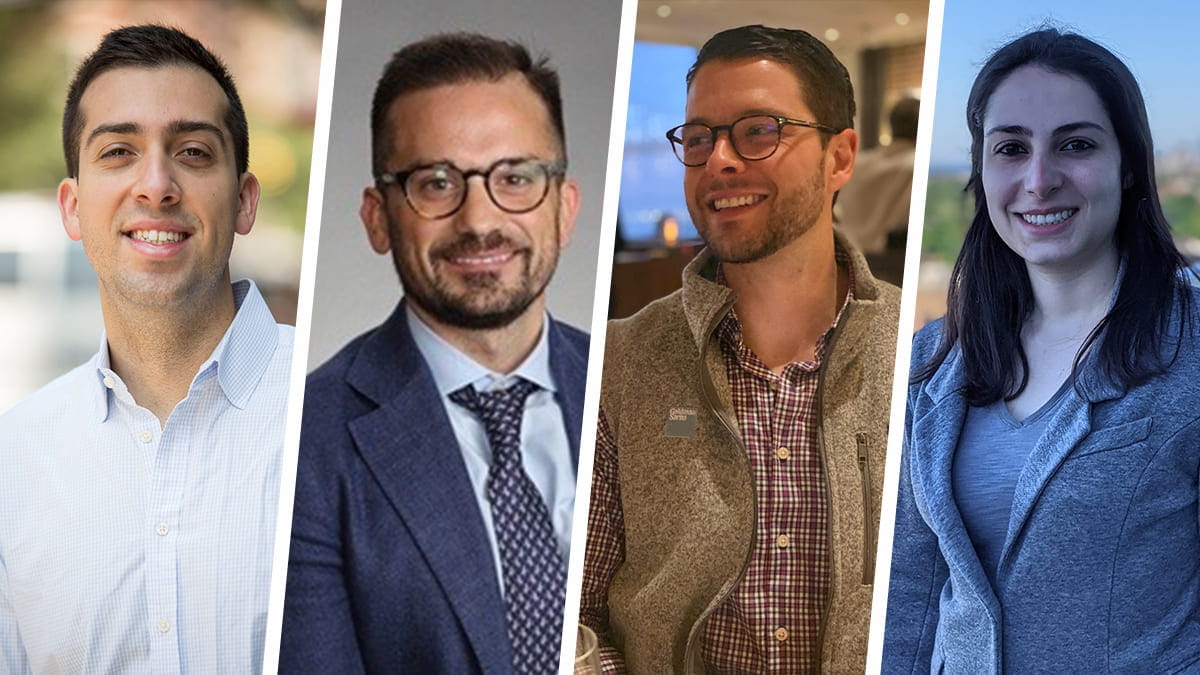 Inside Kellogg recently had the opportunity to connect with Jac Connolly (E&W 2021), Marina Reigado (2Y 2021) and Alex Zimmermann (MMM 2021) — the Exec Team behind the 2021 Kellogg PM Challenge — as well as Jeremy Strickland (2Y 2019), who is a consultant for the event sponsor, Pied Parker, and chief of staff at Google, on what to expect in this year's challenge.
Here's what they had to say!
About 2021 Kellogg PM Challenge
This year's challenge will ask students across all Kellogg programs to help Pied Parker identify solutions for "unconnected" customers who park in a Pied facility. Participants will work in teams of 4-6 and be responsible for explaining the underlying drivers of consumer behavior, define a set of alternatives, establish evaluation criteria, and make a recommendation on which alternative Pied Parker should pursue and why. The 2021 PM Challenge, hosted by Kellogg's Full-Time and Evening & Weekend Tech Clubs, is a multi-week event that kicks off at 10:00am CST on February 17 with a presentation from the executive team at Pied, followed by a prototyping workshop led by Professor Birju Shah, and concluding with a customer journeys and personas workshop led by Professors Julie Hennessy and Jim Lecinski.
Tell us about our 2021 Sponsor, Pied Parker.
Jeremy:  Pied's next generation license plate reader (LPR) and computer vision-based parking technology allows vehicles to contactlessly and seamlessly enter and exit any parking lot or deck WITHOUT having to pay, take a ticket or even slow down. Our technology allows parking lot providers to remotely operate garages, limiting risk and exposure while installing the infrastructure to operate successfully in an AV environment.
In addition to our machine learning and Blockchain-powered technology, Pied's solutions are 99.98% reliable and have virtually no downtime. Our solutions push the boundaries of parking innovation  in both AV and non-AV environments.
Over the last six months, we've experienced exponential growth in every aspect of our business. We've signed contracts with some of the largest parking lot providers in the U.S., including several major universities. In addition to becoming profitable, our valuation has increased more than 10x from when I started in November 2020, and we're well on our way to unicorn value.
What part(s) of the 2021 PM Challenge are you most excited about?
Jac: I'm really excited about the level of interest shown by the participants — students are eager to collaborate with their peers, apply Kellogg insights to solve a real business problem and provide actionable recommendations to further Pied's growth. I'm certain the workshops led by Professors Birju Shah, Julie Hennessy and Jim Lecinski will not only be highlights of the event but also greatly enhance the solutions recommended by the teams. Finally, it's been fantastic to partner with the Full-Time KTech and work with friend and Kellogg alumnus, Jeremy, to leverage the Kellogg network and identify our 2021 sponsor, Pied Parker.
Jeremy:  The growth experienced at Pied has been great, but it has left us spread extremely thin. As such, we haven't been able to "circle back" to some of the edge cases that we want to tackle. Specifically, we need to better understand who our "unconnected" users are and how we can better service their needs. We view this case competition with Kellogg as an opportunity to partner with one of the top business schools in the world to provide real world experience and thought leadership that will be immediately considered and potentially adopted by Pied.
What's been the most challenging part of setting up an event like this?
Jeremy:  As you may expect, the hardest aspect is finding time with the CEO and CTO. With fewer than 30 employees, we run extremely lean, and we don't have the time and resources to devote to overseeing every step of planning this case competition. We've been slow to respond to emails, late to meetings, and more. Simply put, we must ruthlessly prioritize our CEO's time, and that has meant taking customer meetings over meetings w/ the Kellogg team.
We've been extremely fortunate to work with a great cadre of full-time and part-time students who have driven many of the logistics, communications, and all the white space in between. A special thank you to Jac, Marina, and Alex.
Alex: Juggling all the moving pieces and getting everyone's calendar aligned! Running an event like this takes a great deal of flexibility on everyone's behalf. We appreciate how busy the team at Pied is as well as Professors Shah, Hennessey and Lecinski. Therefore, clear communication and attention to details have been paramount. We're doing our best to anticipate student needs and potential obstacles before they arise while continuing to manage our life, schoolwork, interviews, etc. We've had our challenges but we're having a lot of fun along the way.
What skills have you had to utilize creating the PM Challenge?
Marina: Adapting to a virtual world. Kellogg, more than other business schools, understands that brave leaders rapidly respond to change. While in-person learning is certainly our preferred choice, COVID forced us to quickly pivot and identify the next best alternative: a virtual PM Challenge. The virtual environment has uncovered news ways to collaborate and has allowed us to conduct meetings across time zones and even continents — did I mention I am currently seven hours ahead in Paris, France? Zoom has been our best friend!
Jeremy: Navigating ambiguity. When we first entered into conversations about the PM challenge, we weren't sure what problem we wanted the students to address, but we knew that we wanted to give the students something meaty that would be challenging for them and meaningful for us. Over time, we decided that working with our "unconnected" users presented the right challenge for both ends.
What are some of the takeaways that you'd like students to have following the challenge?
Jac: First and foremost, I hope students leave the PM Challenge feeling more connected to the Kellogg community and their peers. This is a great way for FT and E&W students to put their hard and soft skills to the test and forge some meaningful relationships. I also hope participants leverage this applicable PM experience in their next interview or role. Finally, for our 1st-place winners, I know they'll be happy to takeaway that $2,000 1st-place prize money! Overall, I'm incredibly excited for the Challenge and what's to come.
Alex: We want students to leave the challenge with a deeper understanding of (1) how to leverage new technology and (2) how to troubleshoot and solve for industries that could benefit from disrupting the current industry operating model. Ultimately, we hope participants learn to rethink the end-to-end customer experience and to design a solution that has the potential to deliver meaningful value for both sides of the market. We're also excited to get our first years some hands-on PM experience and prepare them for their upcoming internship interviews as recruiting season heats up.