Start of Main Content
Kellogg School Super Bowl Ad Review: Rating the Ads From an MBA Perspective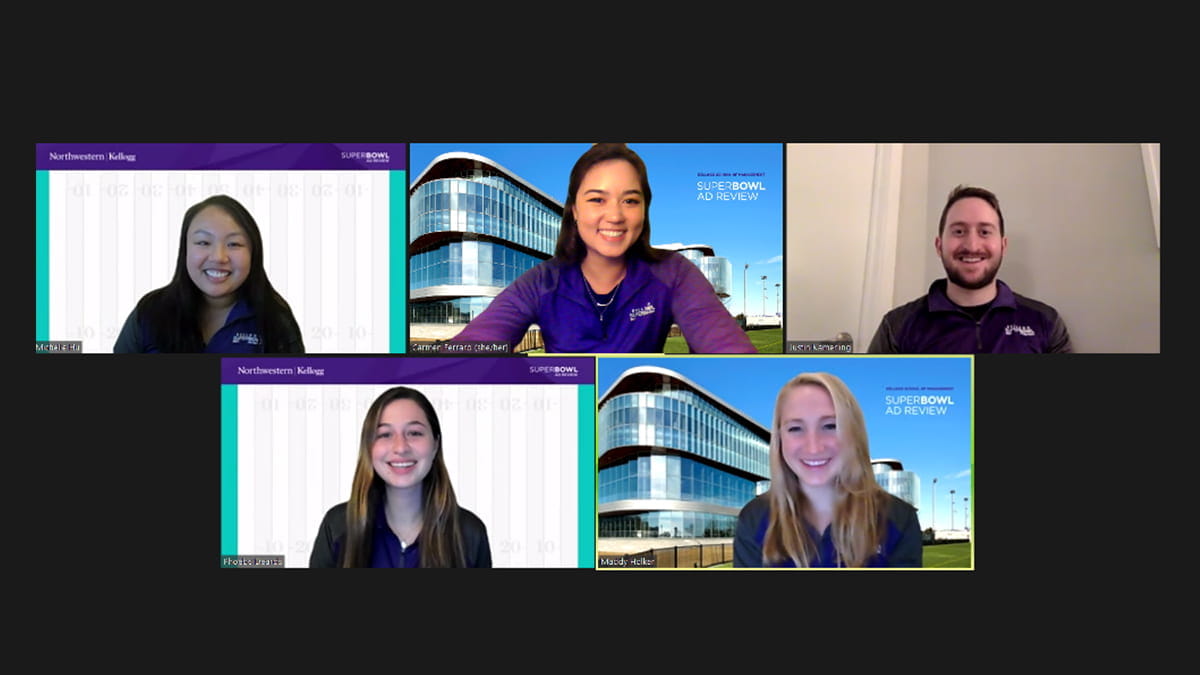 This content was originally published in Poets & Quants.
By Michelle Hu and Carmen Ferraro (both 2021)
For brand marketers, the Super Bowl is, and always has been, about the ads. The game itself is just an opportunity to grab some snacks and debrief the last batch of ads. Our entire careers have been focused on analyzing best-in-class advertising: in our pre-Kellogg roles at Kraft Heinz, where we both worked, we were surrounded by colleagues who created some of the most well-known spots for Super Bowl (the Heinz wiener dogs, Mr. Peanut's funeral, etc.) or attended Cannes to learn best practices that were shared out to the rest of the marketing organization.
Naturally, we knew we had to take Advertising Strategy in our time at Kellogg, which we did last spring with Professor Derek Rucker. Not only did we formalize our strategic understanding through the ADPLAN framework, but we also had the opportunity to meet and interact with the creators of legendary campaigns, like Old Spice's "I'm On a Horse" and Modelo's "Fighting Spirit." These creators represented an elite group of Kellogg alumni that we aspire to be in one day: managers of Super Bowl brands. But even if our campaigns don't make it to the Super Bowl, Ad Strat taught us exactly how to craft the perfect briefs for ads of any size. 
We knew this year's Super Bowl Ad Review would look different. Instead of being with 65 of our classmates and the professors in one room with snacks and apps to last the night, we would be gathering together from our individual homes over Zoom for the event's 17th year. Luckily, we already had experience adapting major student events to a virtual environment. Last fall, we ran the 25th Annual Kellogg Marketing Competition (AKMC), an event that traditionally culminates in 1st-year student teams selling real products from corporate sponsors to their classmates and the Kellogg community. Naturally, this couldn't happen during the pandemic, so we utilized our love of advertising to pivot into an ad competition instead, and enlisted the Advertising Strategy professors to help us emcee the event. Say it with us — we're just here for the ads!
So what exactly is the Kellogg School's Super Bowl Ad Review?
Since 2005, Kellogg students have come together during the Super Bowl to rate every single ad (all ~70 of them!) on an A-F scale according to the strategic academic framework known as  ADPLAN. The acronym, developed by Kellogg professors, helps students rate each ad on its Attention, Distinction, Positioning, Linkage, Amplification, and Net Equity. The students' ratings are then compiled and analyzed to produce each year's final rankings. Unlike many other Super Bowl ad rankings, ours aren't based on popularity — in fact, the more popular a brand is, the higher expectations we might have for it under the ADPLAN framework. Our ratings are based on the quality of the ad in relation to the brand/product itself, rather than relying on how well-known the brand already is.
How did this year compare to the past 16 years?
Live Commentary
Though we lost out on in-person chat breaks, the live Zoom chat was on fire with questions for Professors Tim Calkins and Derek Rucker, personal opinions, and reactions. Some of our personal favorite comments: 
freaking out over Reddit's 5s ad (did you all just see that? Was r/wallstreetbets behind it?) 

@guywithsign promoting Bud Light Seltzer (did Bud Light pay for that camera pan?)

questions about what exactly WeatherTech makes & how they can afford multiple Super Bowl ads

whether Jeep's political commentary would stand out or lose steam due to post-election fatigue 

why Anheuser-Busch (& associated brands) was airing so many ads while "sitting out" in lieu of donations
What were the results?
For the final rankings, you can check out the Super Bowl Ad Review website. 
In the meantime, here is our list of Winners/Losers within each level of the ADPLAN framework:
Attention: Winner – Reddit. Despite the shortest ad buy of the entire game (5 seconds), Reddit's glitchy, hacker-y ad grabbed everyone's attention immediately and had all of us talking. Word on the street is that reddit also crashed briefly? 
Distinction: Winner – Oatly. Whether you liked this ad or not, you can't deny the spot was different from all others. We probably spent more time arguing over Oatly in the live chat than any other brand!
Positioning: Winner – Indeed. In an age of non-stop "unprecedented times" and "the new normal," Indeed's spot easily could have been drowned out. But we thought it did a great job featuring its benefit (easy to use, especially on mobile devices) and delivered a heartfelt, universal human truth to a wide audience: that we all seek a better life for ourselves and our loved ones. 
Linkage: Loser – Toyota. Don't get us wrong – this was an incredibly touching and inspiring ad, but we felt there was no linkage to the car brand. Many students didn't remember what the brand was, but remembered the ad itself. Perhaps if the Tokyo Olympics had actually happened, there would have been linkage established, but we had no idea why Toyota should be connected to this particular ad unless you knew they sponsored Team USA.
Amplification: Loser – Robinhood. Given the current events of the GameStop short squeeze and subsequent rampant backlash on Robinhood for limiting individual traders' actions, we were surprised to see the brand seemingly ignoring what was happening in its own app. To us, talking the talk in the Super Bowl but walking the opposite walk was likely to negatively amplify the brand.
Net Equity: Winner – Cheetos. Ignoring Ashton's lack of a musical career, we thought this ad built perfectly on Cheetos brand attributes and long-term equity: an irresistible snack that sells you out with its distinctively neon orange evidence.
About Carmen & Michelle
Carmen is a Second-Year at Kellogg majoring in Marketing. Prior to Kellogg, she worked in sales, e-commerce and brand management at Kraft Heinz. She spent this past summer at LinkedIn, working on their brand strategy team.
Michelle is a Second-Year at Kellogg majoring in Marketing & Strategy. Prior to Kellogg, she worked in brand at Kraft Heinz (innovation and foodservice) and on Sears' former house brands (Kenmore, Craftsman, & DieHard). Last summer, she interned with the global marketing team at Visa.