Kellogg Magazine
|
Departments
Headlines
Brave Thinkers
Passion Project
Connections

Kellogg welcomes three new AI faculty
In our last issue, we updated you on the artificial intelligence research currently being undertaken by Kellogg faculty. Kellogg is pleased to share three new faculty members who will be joining this group in studying the business applications of AI.
Last summer, we saw the additions of Hatim Rahman and Artem Timoshenko. Rahman came to Kellogg from Stanford, and he will continue his deep research into how AI is impacting the nature of work and employment relationships in organizations and labor markets as part of the MORS department. Timoshenko joined our marketing department last summer from MIT, where he focused his work on developing quantitative methods to improve marketing practice and product development.
Sebastien Martin will be joining us from MIT in the summer of 2020. He will join the operations department, after finishing a one-year postdoctoral fellowship at Lyft. His research covers optimization and machine learning, with applications in transportation and public policy.
---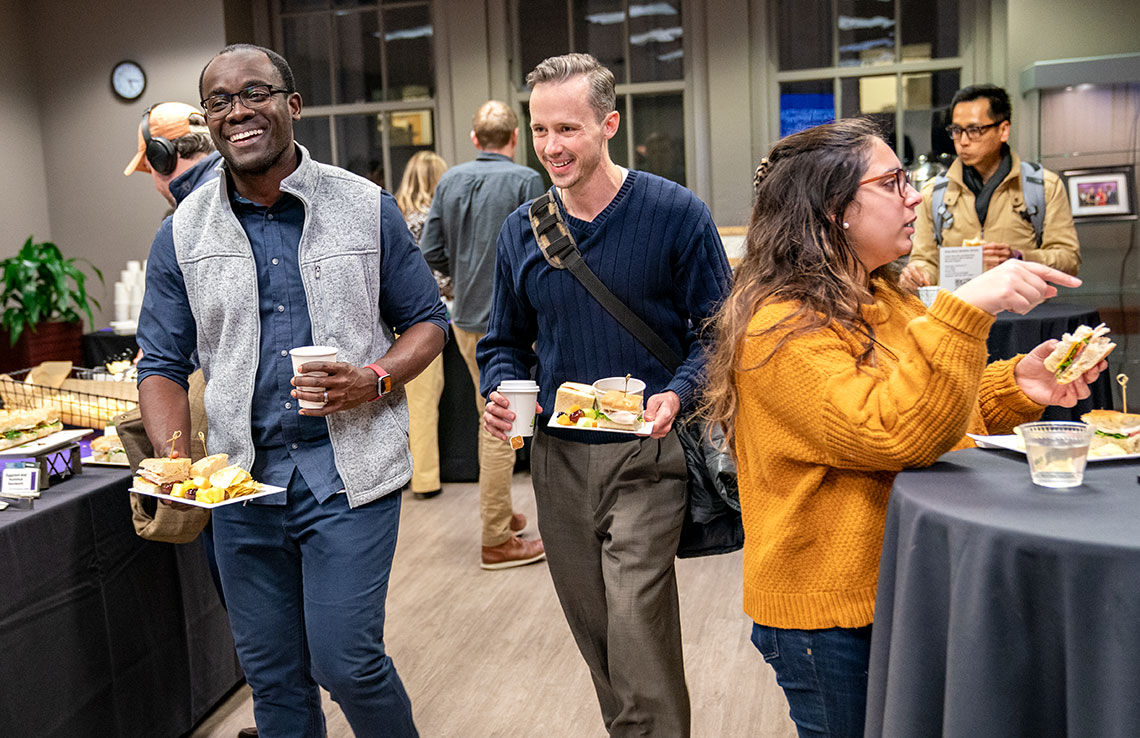 Kellogg Table nourishes the E&W community
A few years ago — when Kellogg staff brainstormed ways to support Evening & Weekend students — one idea gave them serious food for thought. Why not nourish the body and spirit of students by offering complimentary meals?
"Our Evening & Weekend students, in particular, have a lot to balance and need one less thing on their to-do lists," says Megan Byrne Krueger '90, assistant dean of student life for the Evening & Weekend Program. "Providing snacks during finals, we noticed that students not only stopped to eat but also enjoyed hanging out. We expanded on that concept by launching Kellogg Table — an initiative to help everyone better connect."
Located in Wieboldt Hall, Kellogg Table serves dinner one hour before evening classes start Monday through Friday and breakfast and lunch on Saturdays. The free meal deal features a buffet that rotates six different themed menus throughout the academic year. High-top tables provide students with a place to nosh and socialize. And faculty and staff often drop by to visit.
"It's comforting to see friendly faces and grab some food before class," says Kayla Silverstein '21. "It's a great way to transition from the busy workday to school." At Kellogg Table, Silverstein networks with her fellow cohort members as well as incoming students. "We often give advice on classes to take."
About 70% of students enjoy the offerings of Kellogg Table on any given class night. Says Krueger, "We may have as many as 300 people."

Jared Fruland '20 specifically arrives earlier to class from his job at Ernst & Young because of Kellogg Table. "It shows that the school truly has its students' interest in mind," he says.
---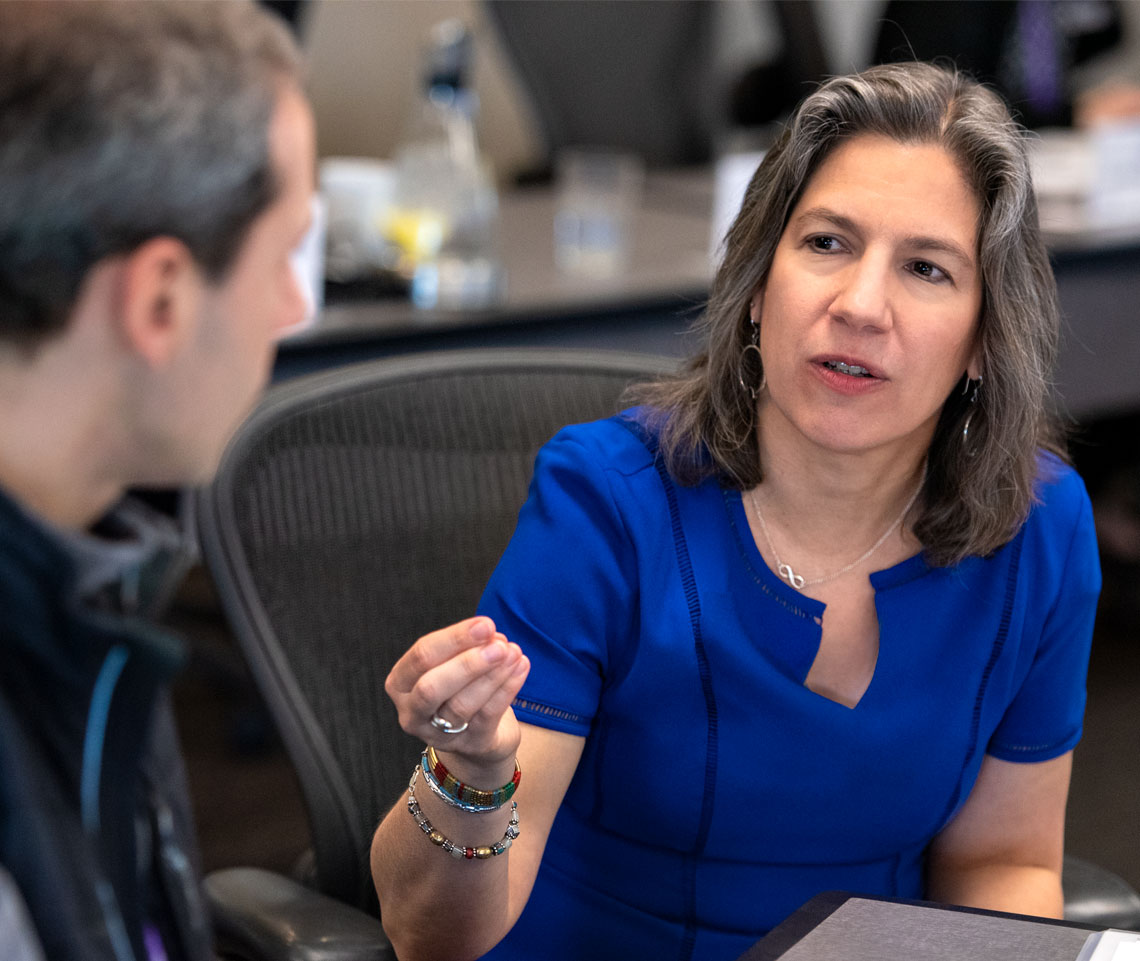 Two decades of progress
This year, Kellogg's Center for Nonprofit Management is celebrating its 20th anniversary.
"We think it's a major accomplishment that we have grown Kellogg's commitment to the nonprofit sector to such a significant level," says Liz Livingston Howard '93, the center's executive director.
The center began modestly; at the end of its first year, it offered four executive programs and served fewer than 100 people. "Now we have 27 open enrollment programs and we serve over 700 people in those programs," Howard says. The center has also developed a thriving custom business to provide leadership development and management education to executives, pairing with organizations like Ronald McDonald Charities and Chicago Public Schools. The center offers 12 online modules for emerging leaders in the nonprofit sector, teaching the fundamentals of management for free.
Partnerships like one with the Chauncey and Marion Deering McCormick Foundation also boosted the center's nonprofit governance education over the last two years. In 2020, Howard says, "We'll be taking our show on the road and will be doing governance education in Miami and San Francisco."
"We want to thank the people who believed in us and invested in us and look ahead to upcoming initiatives like programs on data analytics and leading with equity," Howard says. "We want to continue to push the frontiers of knowledge of what is important to the nonprofit sector and the ways that leadership and management education can support nonprofit."