Kellogg Magazine
|
Departments
Passion Project
Brave Thinkers
Passion Project
Connections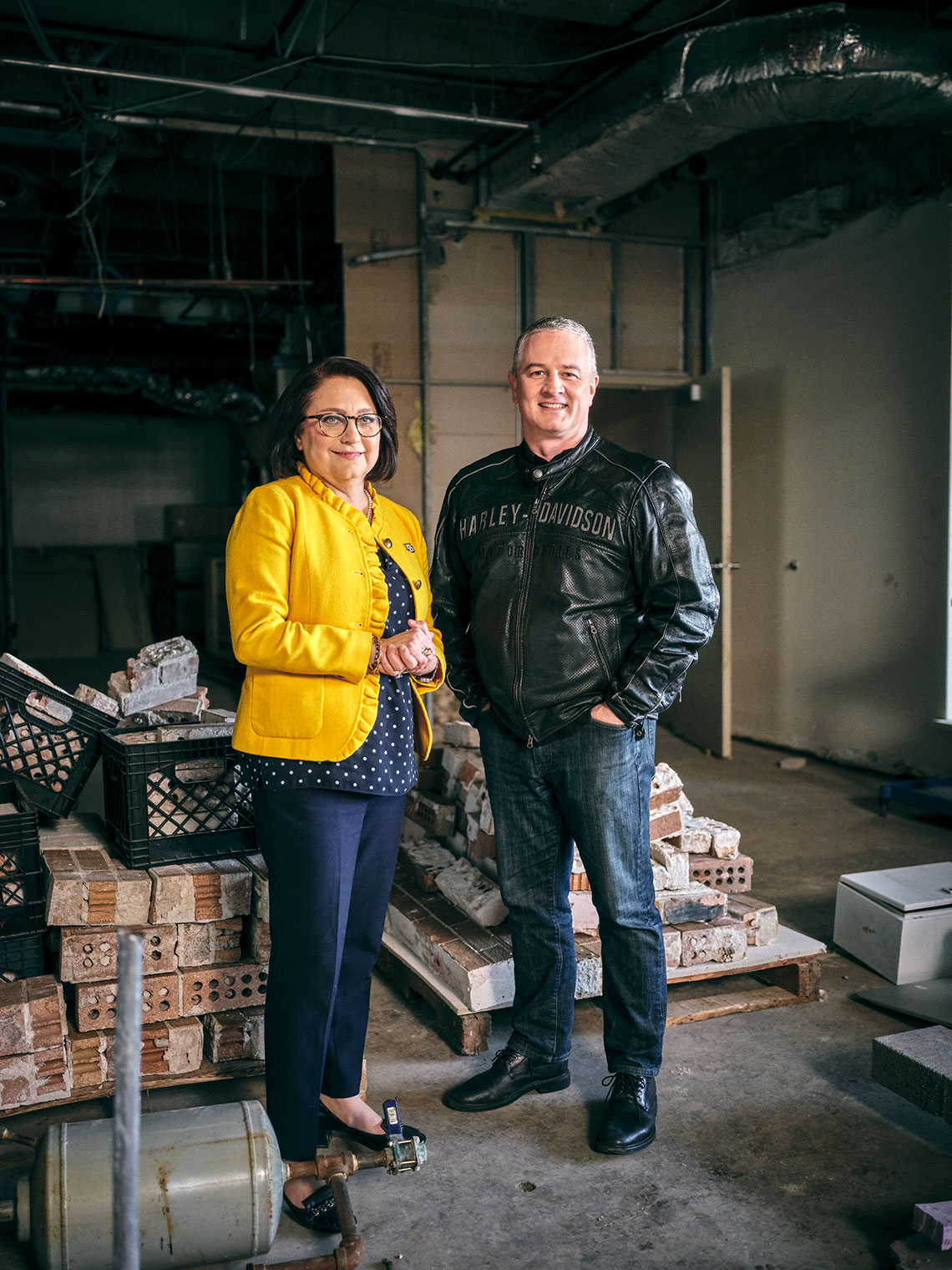 Revitalizing a neighborhood, one win at a time
On a warm day at the end of May 2014, leaders from Milwaukee's Harley-Davidson Motor Company gathered in a third-floor conference room to interview a candidate for the position of crisis manager. As the interview transpired, those in the room saw and felt the evidence of a different sort of crisis than those they sought to prevent within the company. A stray bullet sailed through one of the conference room windows, shattering the glass and sending everyone to the floor.
This was a symbol of the violence that had for too long characterized Milwaukee's Near West Side, where Harley-Davidson had been headquartered since 1903 along with other of Milwaukee's foremost businesses, such as MillerCoors.
Paul J. Jones '11, who at the time of the incident was Harley-Davidson's vice president and general counsel, knew that something had to change on the Near West Side. He saw two options. "We either build a stronger and taller fence," he said, "or we open our doors."
That same spring, just east of Harley-Davidson, another Near West Side pillar, Marquette University, also decided it was time to do something about the neighborhoods west of the city where it was founded almost 150 years ago. Incoming President Michael R. Lovell asked Rana Altenburg '03, the vice president of the university's office of public affairs, what she saw as the largest threat facing the university. Altenburg's response was a single word: "Safety."
Though Jones and Altenburg had worked in the same city for years in leadership roles at two of Milwaukee's most recognizable institutions — and were both Kellogg EMBA alumni — they had never met until that spring, when their mutual interests brought all of Harley-Davidson and Marquette, as well as leaders from MillerCoors, Potawatomi Business Development Corp., Advocate Aurora Health and other local businesses together to form Near West Side Partners.
Though these businesses had been neighbors for decades, they had not been a community. In fact, though Harley-Davidson and MillerCoors have been perfecting their products and branding across the street from each other for more than 100 years, until the formation of NWSP, their current CEOs had never met.
NWSP draws on all of what Jones and Altenburg gathered during their time at Kellogg and since in their careers, "team dynamics and leveraging the strength of each individual," as Jones puts it. The organization has successfully rebranded an area of Milwaukee that comprises seven different and distinct neighborhoods by bringing people together to enact real change. Their goals of improving conditions for businesses, residents, and employees has positively impacted 21 properties and 30 homes — which have been recognized with Beautiful Home Awards — while winning seven major grants on the local and national level.
All of the endeavors that NWSP has undertaken — from Block Build 2017, which resulted in the refurbishing of 10 homes on a single block in the Miller Valley neighborhood, to the annual Rev-Up MKE entrepreneur competition — have required buy-in from its stakeholders. It's not a surprise that one of Altenburg's lasting memories of her time at Kellogg was learning "the importance of team and everyone on the team having a role. Sometimes you carried the team, and sometimes they carried you."
The Rev-Up MKE competition is about entrepreneurship, but it's also about building a team and building up a set of neighborhoods, which is why Jones notes how well it aligns with the overall mission of the NWSP. "It brings people in," he says. Each year, individuals from the Near West Side who seek to start or expand a small business compete in a live pitch event. The winners receive mentorship and resources for their businesses as well as education through Marquette's 707 Hub, an innovative incubator housed in the Kohler Center for Entrepreneurship and Social Innovation. Rev-Up MKE has helped launch and support some of Milwaukee's most popular small businesses, such as Pete's Pops and Hands in Harmony, providing those entrepreneurs and community members with what Rev-Up participants have called "a Marquette education without going to college."
"It isn't a big-bang kind of thing ... but with a number of small wins, people become confident in the bigger idea."
Click to Tweet
After nearly a decade with Harley-Davidson, Jones left his role at the company in November 2019, having helped write the next chapter in the iconic company's legacy. He remains closely engaged with the NWSP efforts and crafting the organization's next five-year strategy. Chairing NWSP's board of directors and steering committee respectively, Altenburg and Jones have already overseen great changes in Milwaukee with more on the horizon. This includes a potential development project along the 27th Street Corridor, one of the most troubled areas on the Near West Side.
Just as important as their tangible work in the community, however, has been their development of a model that they feel is replicable in other cities across the country. PARC, Promoting Assets and Reducing Crime, a $3-million initiative developed by NWSP, is a data-driven, multi-step program for diagnosing issues, defining and implementing intervention strategies, and, perhaps most important for community-building, sharing results.
NWSP's commitment to developing a process that allows stakeholders to feel and understand the benefit of their involvement in NWSP's projects has been key to its success. People need to see all of the victories of the NWSP in order to buy in, Jones notes. "It isn't a big-bang kind of thing" that people can support, he says, "but with a number of small wins, people become confident in the bigger idea."
And that bigger idea is what Altenburg and Jones had in mind all along.