Kellogg Magazine
|
Features
Firm Footing Required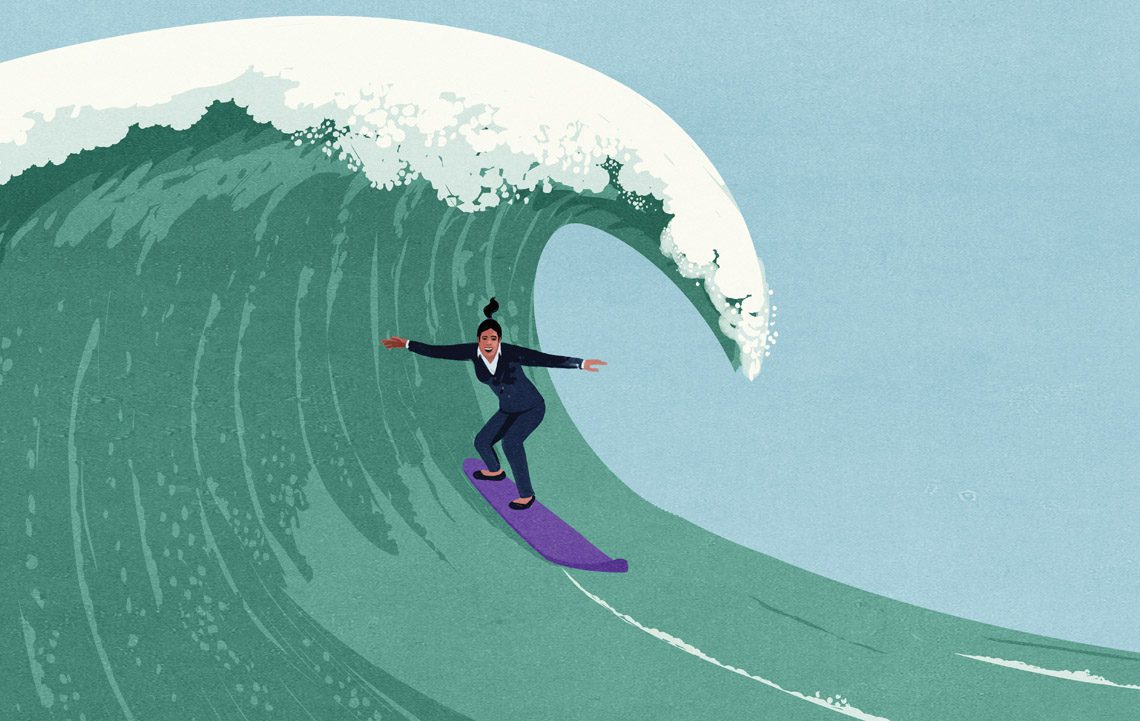 Tomorrow's healthcare leaders face a rapidly changing industry. Kellogg provides students with the foundation they need to thrive.
By Emily Stone | Illustrations by SHOUT
You don't need a Kellogg MBA to know that healthcare is a uniquely complex sector.
There is an interconnected web of public and private insurers, hospitals, pharmaceutical companies, and medical device manufacturers, all operating within layers of government regulation. Some of these players are starting to merge or join forces in new ways. And the industry — which touches virtually every American — can have a profound impact on customers' well-being and longevity.
Yet, for all its complexities, healthcare is still a business — and one that has grown to comprise roughly 20 percent of the U.S. GDP. So now, more than ever before, healthcare organizations need well-trained leaders who understand the general management principles that underlie the industry.
"MBAs are becoming a much more valuable commodity within healthcare," explains Craig Garthwaite, the director of Healthcare at Kellogg and an associate professor of strategy. "There is a demand for people who understand how you create and capture value."
In order to meet this demand, Kellogg has revamped its Healthcare at Kellogg program over the past two years. The school created new experiential courses, is investing in faculty who are generating influential healthcare research, and is engaging with alumni and other practitioners in the field—all with the aim of training business leaders who can thrive within healthcare organizations. The goal is not to create niche leaders who are trained only to work in healthcare.
"We want to train you to be a good manager who understands healthcare, not a healthcare manager," Garthwaite explains.
This means that MBA students in the healthcare pathway primarily take general management courses, which are augmented with healthcare-specific classes that provide a deeper understanding of the intricacies of the field. There are also more opportunities to meet industry leaders through two new speaker series and a bulked-up annual MacEachern Symposium, which convenes thought leaders in the field. And Kellogg's longstanding culture of collaboration is an asset for students entering an industry where a collaborative mindset is particularly needed to break down long-established silos.
"MBAs are becoming a much more valuable commodity within healthcare. There is a demand for people who understand how you create and capture value." — Craig Garthwaite
The school believes this approach will serve this important public–private sector well. And that it will serve its students well.
"We believe very strongly this is how you're going to have a long-term, successful career within healthcare," Garthwaite says, "which is our ultimate goal."
CHALLENGES AND OPPORTUNITIES
Rob Webb '98 left a job in private equity for one in healthcare in 2002 when he joined UnitedHealth Group Ventures. He immediately recognized the need for more general management leaders in the industry. So he called around to his former Kellogg classmates.
"I said, 'Do you want to come into healthcare? We need more business minds to collaborate with these clinical minds, who are eager for change, but have not been trained in the disciplines we've been trained in,'" he recalls. "And the feedback I got was resoundingly negative."
Times have changed. Webb, who is now the president of UHG Ventures, says he gets several calls a week from business people wanting to transition into healthcare.
"There's a growing awareness of the challenges and opportunities in healthcare," he says.
In order to better understand these challenges and opportunities, Kellogg reached out to alumni in the field to learn what skills they look for in up-and-coming leaders. This outreach included founding the Healthcare at Kellogg Advisory Council last year. The group is made up of 18 industry practitioners, who are both alumni and non-alumni.
Garthwaite says the alumni he's talked to have stressed over and over the need to understand the interconnectedness of the healthcare world.
"For example, if you're a payer, you need to understand providers and pharma. If you're in pharma and you're not thinking about how you're going to be compensated for your drug or how that drug is going to get into the hands of patients, then you can't understand the value proposition of what you're creating," he says.
This interconnectedness highlights one way that Kellogg is uniquely positioned to train new leaders in the field, says Webb, who serves on the Advisory Council.
"You have all these different interests, all these different technologies, all these different processes," he says. "How do you start to align them? How do you start to encourage collaboration? One of Kellogg's strengths is teaching students to think collaboratively. That works very well in healthcare — working in a multidisciplinary way."
PROVIDING EDUCATION WITH A "LONG HALF-LIFE"
Kellogg's approach to healthcare differs from that of other top business schools—as well as from that of other educational routes like a masters of public health or of hospital administration—in that students primarily take general management courses. Employers seek out those skills, Garthwaite says, knowing new hires can learn more specialized knowledge once they are on the job, especially since that knowledge, if it's tied to government regulations, is likely to change.
For example, he says, "instead of taking some class that explains to you the arcane regulatory changes within Medicare, you take finance. You take negotiations. You take business-building classes. You shouldn't come here to learn a bunch of terminology. The knowledge you get from a framework-based class is going to have a very long half-life."
This desire among healthcare companies for general management talent is demonstrated in the shifting demographics of Kellogg's Executive MBA students. The number of students coming from a healthcare background doubled between the 2012–13 and 2018–19 academic years, jumping from 9 to 18 percent.
Likewise, more and more healthcare companies are hiring Kellogg MBA students. In 2013, 15 healthcare companies hired students upon graduation. By 2018, that had increased to 27 firms, including AbbVie, Cigna, and Medtronic. Graduates are filling a range of roles, from director of innovation to brand manager to chief of staff.
While companies are looking for general management training, there are still plenty of issues unique to healthcare, which is why Kellogg offers MBA students in the healthcare pathway several specially designed courses.
Garthwaite teaches the Healthcare Strategy course. Compared to students in the general Core Strategy class, the healthcare strategy students spend a lot of time talking about public policy. In his estimation, no other area of the economy, outside of defense contracting, has a more meaningful set of interactions between the public and private sectors.
Students in Healthcare Strategy also learn to evaluate academic papers. "In healthcare, academic research drives policy," Garthwaite says.
Kellogg has also created new healthcare-specific courses. For example, the Healthcare Strategy Lab pairs up small teams of students with organizations to act as consultants on a 10-week project. Past projects have included helping a startup decide whether to sell or take another round of funding, and working with a hospital to differentiate itself based on its higher quality of care.
The course is taught by Paul Campbell, who is director at UnitedHealthcare. One of his priorities is to ensures that the different teams get to learn from each other's projects.
"They begin to see the interdependency within the healthcare system," he says, "so they see how these concepts impact everyone, whether you're a payer or a provider, a device company, a pharmacy company, etc."
Students also hear from healthcare practitioners and researchers in two new speaker series that began in the past two years. And growing numbers of students have been attending the annual MacEachern Symposium, where speakers have included Julian Harris, president of Cigna's CareAllies, and James Weinstein, former CEO of Dartmouth-Hitchcock Health and now a clinical professor at Kellogg. Additionally, the student Healthcare Club organizes its own lectures and seminars for its 400-plus members.
A GROWING ROSTER OF TOP SCHOLARS
In the classroom, students learn from some of the top healthcare scholars in the world.
Healthcare delivery is increasingly evidence-based, which gives academics — and academic research — a critical role in ensuring that changes to the industry benefit all parties, including patients and taxpayers.
Kellogg has long had an impressive roster of healthcare economists on its faculty. Additionally, the school has prioritized hiring more healthcare-focused faculty in the past couple years.
For example, Amanda Starc, an associate professor of strategy, came to Kellogg in 2016. Her research focuses in large part on insurance markets.
One recent study, which she conducted along with strategy professor David Dranove and research assistant professor of strategy Christopher Ody, found that shifting the administration of Medicaid drug benefits to private insurers reduced spending by 22.4 percent, with no decrease in quality of care.
"Rather than sitting in a proverbial ivory tower, Kellogg's faculty are interested in interacting with and understanding how firms in healthcare create and capture value." — Craig Garthwaite
"We know that, in general, private firms, including health insurers, can create value. The trick in healthcare is figuring out how public policy affects firm incentives and market outcomes," Starc says. "We also know that government payers don't always purchase healthcare services in efficient ways. Within the context of Medicaid, we found that private insurers can do a much better job buying drugs."
Kellogg faculty are regularly sought out as experts on a variety of healthcare topics. Dranove, for example, is often cited as a thought leader on healthcare antitrust work. And Garthwaite appears frequently in the media discussing a variety of pressing health issues, including health policy, mergers and acquisitions, and drug prices.
"Ultimately, the strength of Healthcare at Kellogg rests on a foundation of academic research that is focused on understanding how the business of healthcare works," explains Garthwaite. "Rather than sitting in a proverbial ivory tower, Kellogg's faculty are interested in interacting with and understanding how firms in healthcare create and capture value. This interest pervades every aspect of the curricular and extracurricular activities for our students and alumni." —
---
The Healthcare at Kellogg Advisory Council
The Healthcare at Kellogg Advisory Council was formed last year to help advance the school's strategic vision for training students to be business leaders who can create and capture value within the healthcare industry.
Its 18 members come from a wide range of organizations—from hospitals to biotech, insurers to medical device manufacturers. Most are Kellogg alumni, though the council includes non-alumni to ensure it has viewpoints from the entire healthcare spectrum.
"They are people to talk to about coursework, about speakers, about emerging trends," says Craig Garthwaite, the director of Healthcare at Kellogg and an associate professor of strategy. "They're people who are invested in the growth of healthcare overall, and particularly at Kellogg."
Here are a couple of the members:
SUZANNE BLAUG '83
Former Senior Vice President of Global Marketing at Amgen, now a Senior Advisor at McKinsey & Co.
"Healthcare is undergoing massive changes due to many factors —advances in both technology and science, the financial implications of these advances, and the growing importance of 'patient-centricity' in an industry that has not always focused on putting the patient at the center. Training students at Kellogg in business first ensures that they have the fundamental skills needed to understand, connect dots, and help shape a changing industry."
KENT HAWRYLUK '07
Cofounder and Chief Business Officer at Avidity Biosciences
"Kellogg's approach to training leaders is the right one. There's a real need for leaders to take biotech companies through from invention to business model to a realized business success. I had a great experience in the Evening & Weekend Program at Kellogg. I'm hoping I can be useful to the council by using my network and experience and commitment to Kellogg. Plus, in some way, the council is a startup. And startups are fun."