Kellogg Magazine
|
Features
A Taste of the Startup Scene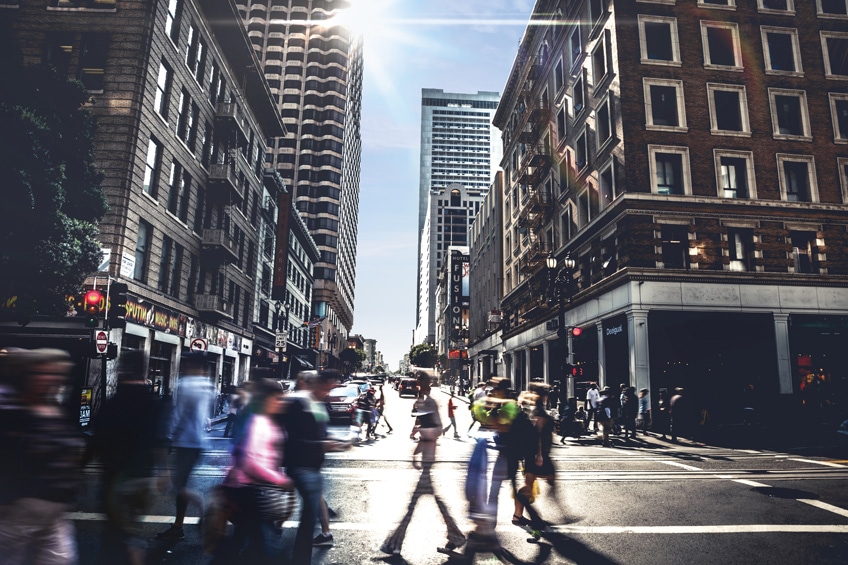 The San Francisco Immersion Program offers students a crash course in tech entrepreneurship and a chance to grow their professional network in the Bay Area.
It took just two weeks in San Francisco for Kellogg student Patrick Firlik '19 to be living the life of a Silicon Valley venture capitalist: he was meeting with entrepreneurs looking for funding, putting together summaries for his employer's investment committee, and building his own network in the startup world.
Firlik, along with 25 of his Kellogg classmates, was taking full advantage of a unique experience: a two-and-a-half-month trial period to live, work, learn, and play in one of the most exciting startup scenes in the world.
In its third year, the Kellogg Innovation and Entrepreneurship Initiative San Francisco Immersion Quarter provides students with a crash course in the Silicon Valley VC and startup scene, while allowing them to build a professional network that will last long past graduation. Students take classes two days a week and intern the other three days, all while being expected to network with both Kellogg alumni and other industry insiders in the area. The popular program has already doubled in size.
"These students have a passion to be part of growth-stage companies," says Linda Darragh, the Larry Levy Executive Director of the Kellogg Innovation and Entrepreneurship Initiative who conceived of the quarter. "This program has been a real opportunity for them to get their foot in the door and to build their network."
Firlik, who spent the quarter interning at a VC company called iRobot Ventures, said he applied to Kellogg in part because he was drawn to this program.
"Your network, the people you meet, the connections you build while you're out here are invaluable," he says. "In this space, it's hard to get that anywhere else than the Bay Area."
"These students have a passion to be part of growth-stage companies. This program has been a real opportunity for them to get their foot in the door and to build their network." —Linda Darragh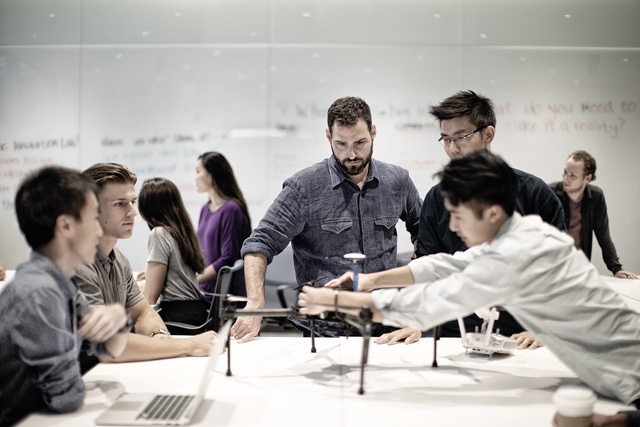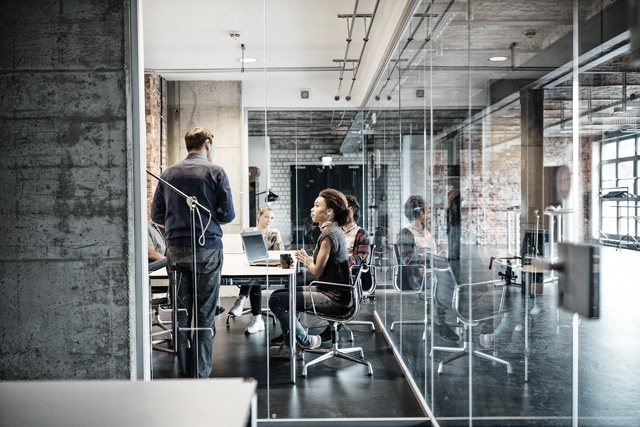 A "STUDY ABROAD" PROGRAM
Though Kellogg had always provided classes and resources for students interested in venture capital and startups, Darragh had often thought about how the school could offer more.
Year after year, she watched as many Kellogg students spent their winter quarter abroad through experiential learning courses. Though those experiences were invaluable, many of the students she taught and mentored wanted to be part of startup tech companies and craved a career-focused experiential experience.
Students looking to join startups also face a unique hurdle: unlike big tech companies, growth-stage companies don't recruit on campus. They hire as needed.
This created a challenge for students eager to join that world. Darragh came up with a solution in 2016 when Northwestern opened its San Francisco space on 44 Montgomery Street. What if, she thought, Kellogg created a "study abroad" program at the epicenter of the tech startup ecosystem?
"So much of getting a career opportunity in San Francisco is really being part of the network—knowing who is there, what is happening," she says. In addition to wanting to address students' career goals, Darragh knew that Kellogg alumni who had already become part of that network—more than 3,500 currently live in the Bay Area—wanted a more formal way to connect with the school. "Our alumni kept saying, 'Where is Kellogg in the Bay Area?' We are a business school that is preparing entrepreneurial leaders for the future, so we had to be out there."
The program was greenlighted in the fall of 2016, and Darragh worked to recruit students and faculty for the program's first round, which was just a few months away. She tapped Mike Xenakis '98 to run it. She had recently met Xenakis when he had visited campus to deliver a talk and had mentioned that he was transitioning out of a 16-year career with Open Table and moving back to the Bay Area.
"I loved my experience at Kellogg," he says, "and every time I've reached out to someone from Kellogg to ask for advice or to get together for a coffee, people were always willing to help. It's kind of in our DNA. So I was happy to help out and join the team."
LEARNING TO WORK WITH UNKNOWN UNKNOWNS
Their first goal was to recruit students, who must have, above all, the ability to hustle, Darragh says. "When we interview students for the program, we say, give us some examples of how you've made things happen," Darragh says. "Those are the type of people we want out there, who will succeed out there."
That means that once students are accepted, they must work to find their own internship and housing. For Li Qiao '18, who enrolled in the program in 2018, that meant tapping the Kellogg alumni network to secure an internship at Chronicled, a growth-stage enterprise software company. Though she had previously worked as an analyst, she was interested in becoming a product manager at a growing startup.
From day one, she was involved in the business's product strategy and development, crafting business requirements and conducting competitive analyses.
"In a bigger company, you have established processes, but in a growing startup, because things move so fast, there are a lot of unknown unknowns," she says. "You need to be agile. To me it's extremely exciting, and it confirmed that I want to stay in an entrepreneurial environment and be a product manager."
Xenakis was initially worried that the internship format—three days a week in the middle of winter—would be frustrating for employers. But "what we actually heard was, 'this is fantastic, the students were great, and I got a ton out of them,'" he says. "Companies came back and said, 'I'm in again.'"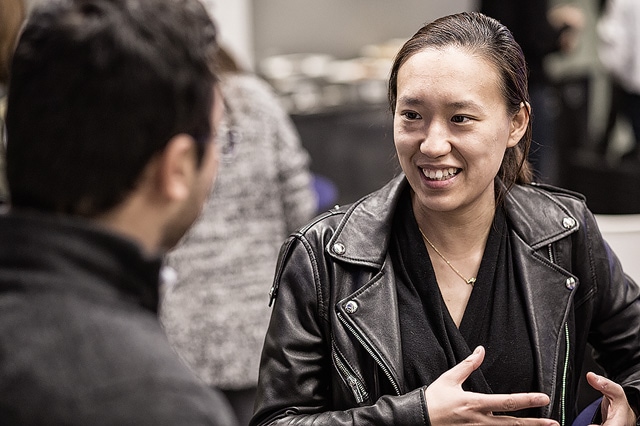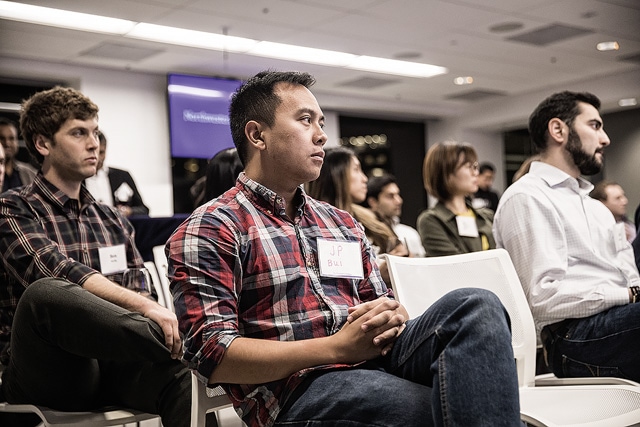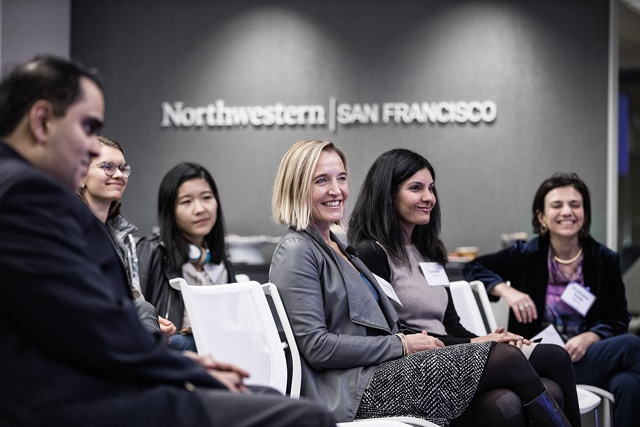 BUILDING A NETWORK
That success has helped the program grow—from 13 students the first year to 23 the second year and 26 students this year. Supplementing the internship are entrepreneurship and VC courses, taught by Kellogg faculty on Thursdays and Fridays. These classes often include visits from local entrepreneurs and VCs who offer advice on how to best navigate the scene.
Additionally, the cohort takes field trips to both established and startup tech companies, and students are also assigned official mentors, whom they must take the initiative to connect with several times throughout the quarter. Students are graded on their networking outside of class—how many cold calls they made, how many coffee meetings they set up. "They need to be thinking about their post-Kellogg options, because internships are not necessarily a line to full-time jobs," Xenakis said.
Which is why students, like Qiao, spend their time outside of their internship and classwork taking advantage of that close proximity to the startup scene.
"I reached out to not just Kellogg alums, but anyone in the space," she says. "People here have a great culture of building connections that way."
On nights and weekends, Xenakis organizes outings to wineries or local attractions. The bond created among the group is important for post-Kellogg life, when many students move to San Francisco. When Qiao graduated last year, she was offered a job as a product manager at Chronicled, the company for which she interned. Several of her classmates ended up in the Bay Area, and they often get together for brunch. "It's a huge support group," she says.
"I'm really curious to see what 10 years of us funneling students from this program into this area will look like. Kellogg will have a much larger presence in this space." —Mike Xenakis
STARTUP AMBASSADORS
That sort of tight-knit alumni cohort is key to building a Kellogg presence in the Bay Area, Darragh says, especially as interest in tech continues to grow. The class of 2018 had a record 33 percent of graduates moving to the West Coast, with 28 percent—also a record—finding jobs in tech. "Our alumni group is becoming even more strong and vibrant," Darragh says.
Xenakis has found joy mentoring the students and helping them grow—he regularly receives texts and emails from program alumni, filling him in on their latest news. Seeing this alumni network grow has been extremely satisfying.
"I'm really curious to see what 10 years of us funneling students from this program into this area will look like," he says. "Kellogg will have a much larger presence in this space."
Darragh thinks this model of working and learning in the entrepreneurship space could potentially be replicated in other cities, like New York and Hong Kong. "We want students to have an opportunity to build networks, launch successful careers, and ultimately be ambassadors for Kellogg around the world," she says.