Kellogg Magazine
|
Departments
Connections
Gathering & Celebrations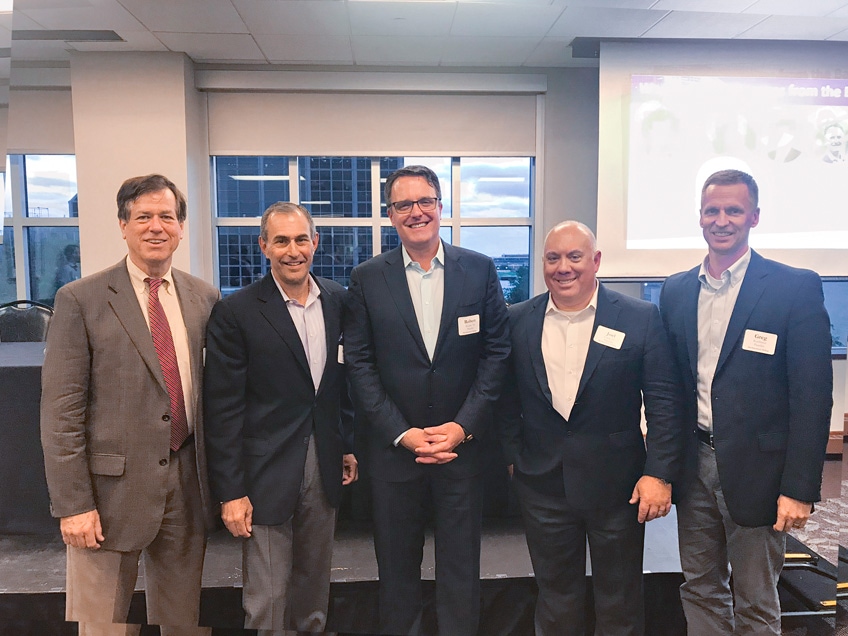 The Chicago Alumni Club focuses on M&A
A distinguished group of Kellogg alumni shared their mergers and acquisitions expertise during a panel discussion sponsored by the Kellogg Alumni Club of Chicago in October. The sold-out "World of M&A: Lessons from the Battlefield" featured four experts who spoke to 150 people about what makes a successful merger — and what can cause it to fail. Former Dr Pepper Snapple Group CFO Martin Ellen '87, Sysco CFO Joel Grade '07, L.E.K. Managing Director and President of the Americas Robert Rourke '96 and Greg Koehrsen, VP and general manager of Bimbo Bakeries USA's Sweet Baked Goods division, spoke at the event. Moderator Harry Kraemer '79 says the event was the best one yet.
Mergers and acquisitions could fail if the entities don't think ahead about what happens after the deal, says Rourke. "If you have an integration plan that's poorly informed, doesn't have a dedicated team to integrate or has people doing it in a part-time capacity, things can get away from you," he says.
That was one of Rourke's messages during the event. "If you are a student, being able to see the practical applications of what you learn in the classroom is very valuable," says Rourke, who was recently elected president of L.E.K. Consulting in the Americas.
The lessons were particularly timely, as M&A deal volume has been in an upcycle, Rourke says. That means executives must closely follow deal discussion rather than look to advisers or consultants. "They can be helpful, but if you throw them the keys, it's not going to work," he says.
When Grade was a student, he learned as much at events as he did in the classroom. "Some of the speakers I saw there had so much impact on me," he says. "I have tremendous memories of my great colleagues. These were some of the most meaningful people for me." That's what inspired him to attend and offer the same during the event.
Grade, who has been an executive vice president and chief financial officer at Sysco since 2015, started with the company in 1996. He says he gets why it can be tough to pass on a deal. "It's easy to fall into the trap of wanting to chase the shiny object," he says. "You can get hung up on chasing deals. But the devil is in the details both in planning as well as integration and diligence."
That means making assumptions and tracking if they are met. "Be crystal clear on this point," he says. "Make your assumptions and then track whether they are accurate. That's a critical part of this thing."
When two businesses discuss merging, the buzz inevitably travels quickly through an office.
So leaders must keep a constant flow of information moving to employees, says Ellen. "The water cooler is going to be boiling over," he says. "Right away, you have to work on communication."
Ellen should know: He has been the chief financial officer at six companies that were sold.
This has helped him craft his expertise on M&A, which he says must be led by company leaders.
"You can't just outsource the whole integration," he says. "It's an abdication of responsibilities."
Another major aspect of a merger is deciding who will stay after the new business is formed. Once that's done, those people must be brought into the process almost immediately, says Ellen: "You want to reach out and say, 'Glad to meet you, I have heard good things about you.' You don't want them getting worried and jumping ship."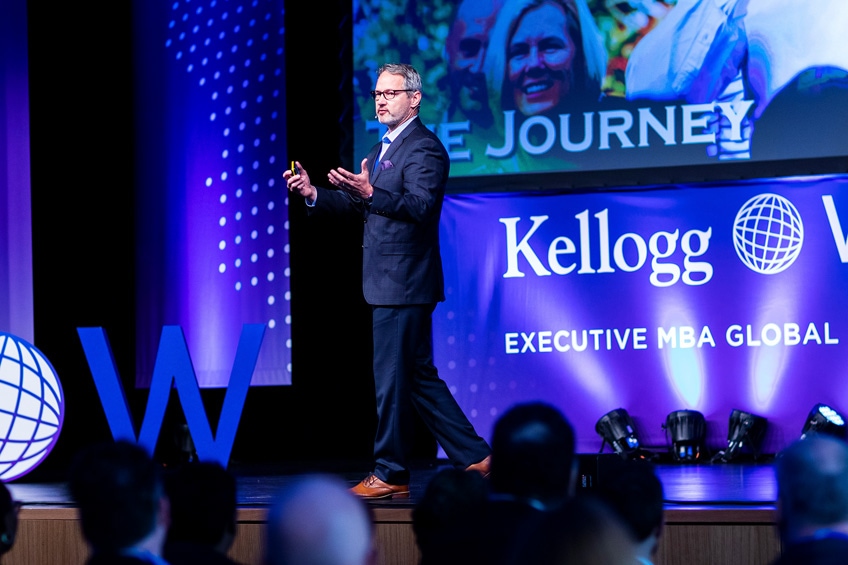 Celebrating 20 years of WHU partnership
Hundreds of alumni from the Kellogg School's partner WHU-Otto Beisheim School of Management in Germany helped the program celebrate 20 years in the business of educating professionals from around the world.
The October event, held in the town of Vallendar just northwest of Frankfurt, featured business talks, master classes and an inspirational lecture from the former heavy metal singer turned motivational speaker, Bruce Dickinson.
Dickinson was the front man for the 1980s band Iron Maiden and expressed to those in attendance the importance of turning customers into fans.
All 21 cohorts were represented at the event, Program Manager Hanne Mai says.
"The alumni networks are the most important ones you can get because you have people who have gone through some struggles to succeed," she explains. "They all want to support each other. That's why it's amazing."
The celebration connected the school with about 300 alumni.
That number represents more than 30 percent of the nearly 1,000 students who have graduated from the program.
"It was a fantastic event with great speakers, food and fun," says Frank Hoe '15, chief information officer for L'Oréal. "It will certainly stand out as a very special day in my memories."
Kellogg's EMBA partnerships span the world, encompassing joint programs with schools in Hong Kong, Tel Aviv, Toronto and Beijing in addition to WHU.
"Having this many people back on campus was amazing," says Nina Besselink, marketing and admissions manager for the Germany program. "They flew in from the U.S. They flew in from different countries in Europe. It's the family appeal, and it's why we do it."
But the benefit to the school does not end with the event, Besselink says.
"It helps us know that our alumni are more responsive after this event," she adds. "It's easier for us and our efforts to connect with them."