Kellogg Magazine
|
Departments
Out of Office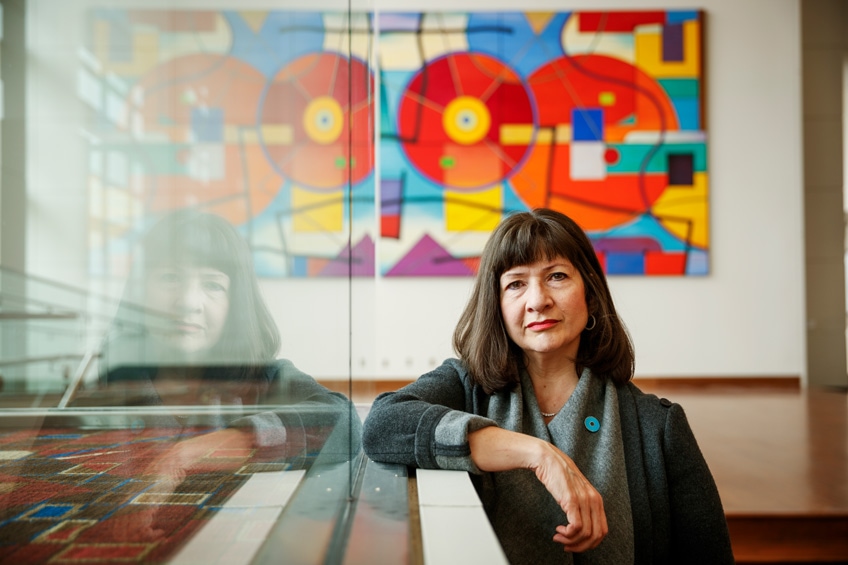 Taking Action How one Kellogg alumna's nonprofit took an innovative approach to ending domestic violence and sexual assault
In 2014, Nadia Ezaldein was working at Nordstrom on Chicago's Magnificent Mile when her ex-boyfriend entered the store and shot her in the back of the head.
Kristie Paskvan '97 remembers it well.
"The story was all over the news. On some level I found the attention frustrating, because I knew there were so many others whose names never make it to the news," she says. "Considering 1 in 3 women and 1 in 7 men experience domestic violence at some point in their lives, it was time to take action."
The start of a movement
In December 2014, Paskvan found herself in a boardroom with a group of executive directors for domestic violence and sexual assault not-for-profits she'd gathered to discuss the imminent launch of Chicago Says No More. The movement was aimed at ending domestic violence and sexual assault by increasing awareness, inspiring action and fueling culture change.
"I remember looking around the table and finding it a little scary how quickly things were moving," she says.
Paskvan and her team considered the accomplishments of individual agencies and explored how to amplify what already was being done. So, in February 2015, Paskvan engaged leaders from the private and public sector to join them.
Then, together, they developed their new collaborative's first program that would reach tens of thousands of people in Illinois who can make a difference for many, many more victims: salon professionals.
"Considering 1 in 3 women and 1 in 7 men experience domestic violence at some point in their lives, it was time to take action."
Leveraging the connections of salon professionals
Salon professionals became the focal point of the first program organized by Chicago Says No More because the relationship between a hairstylist or a nail technician and a client often is quite intimate.
"Salon professionals are caring people. And, their clients definitely confide in them," Paskvan says.
As the first in the nation to tap the power of salon professionals, Chicago Says No More collaborated with Ill. State Sen. Bill Cunningham and Ill. State Rep. Fran Hurley to pass legislation for a mandatory one-hour training course about domestic violence and sexual assault to renew or secure state licensure for salon professionals. "From the beginning, we worked closely with Cosmetologists Chicago. So far, we've trained about 8,000 professionals," explains Paskvan.
"Considering there are 84,000 salon professionals in Illinois," Paskvan says, "we're focused on offering our free course across Illinois starting this year."
Paskvan stressed that salon professionals aren't required to take action should they suspect abuse.
"It's not training for intervention," she says. "Our course, 'Listen. Support. Connect.' teaches how to respond when a client confides in them by referring them to expert counselors and agencies."