Kellogg Magazine
|
Departments
Passion Project
Brave Thinkers
Passion Project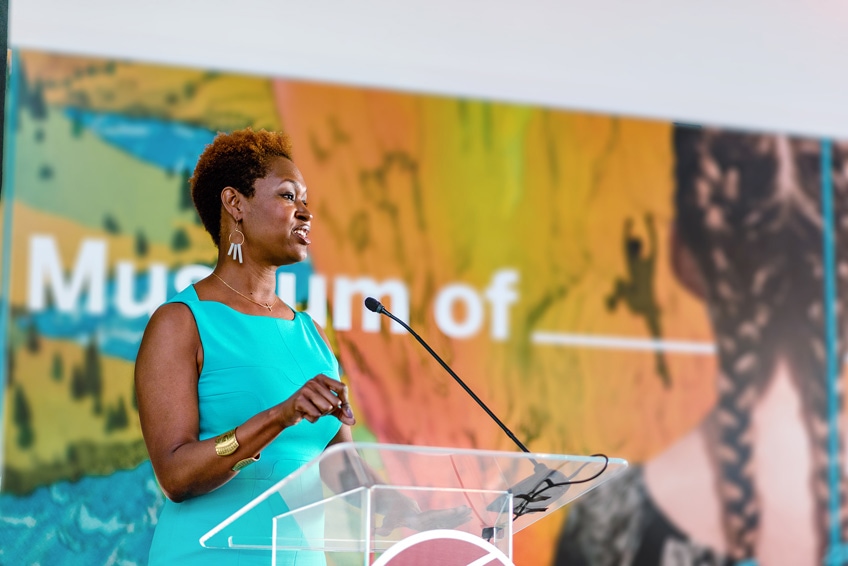 Two alumnae take on initiatives in the education sector
Carmita Semaan '04 calls it her Jerry Maguire moment: She's sitting at her dining room table in 2012, drafting the concept paper for what will become Surge Institute.
"Starting something from nothing is never easy," Semaan tells Kellogg. "All entrepreneurs have to face that. You have a vision that no one else has been given. Being able to paint that picture for others and help them see something that doesn't yet exist is a challenge, but it's a challenge that someone like me thrives on."
Seven years later, Chicago-based Surge Institute is at a critical inflection point, fielding demand from Seattle to Jacksonville. An education leadership accelerator, Surge's mission is to develop and elevate leaders of color who create transformative change for children, families, and communities. Semaan credits "a really amazing network that included folks from Kellogg" with the support she needed to "take this idea that is so much bigger than a program, that is really fueling a movement across the country."
A deep commitment to social justice led Semaan, previously a process engineer at Procter & Gamble, to Kellogg in 2002. "I'd be lying if I said I knew 17 years ago that I was going to found an organization that's doing what Surge is doing, but I was very clear that my purpose was aligned with my personal narrative: I was a person who'd grown up in poverty and got access to an amazing education, which changed my life and my circumstances. I knew that I was supposed to be a part of making that the norm versus an anomaly and wanted to be able to use my experience at Kellogg to do that."
And that's exactly what she did. Faculty like Vicki Medvec opened her eyes to an "unapologetic leaning into your expertise." Part of the Net Impact group, the Social Impact group, the Black Management Association and Kelloggarhythms, at Kellogg Semaan found "a tribe" and "a space that allowed me to dream so much bigger than I ever had."
As Surge continues to grow, Semaan's dreams grow, too. By focusing on her superpower, as she puts it—recognizing people's innate talent—she stands to reshape how leaders are cultivated. "If our aspiration is to benefit from the collective genius of everything that people bring, we have to create environments where people don't have to cover parts of who they are to feel like they are credible and respected."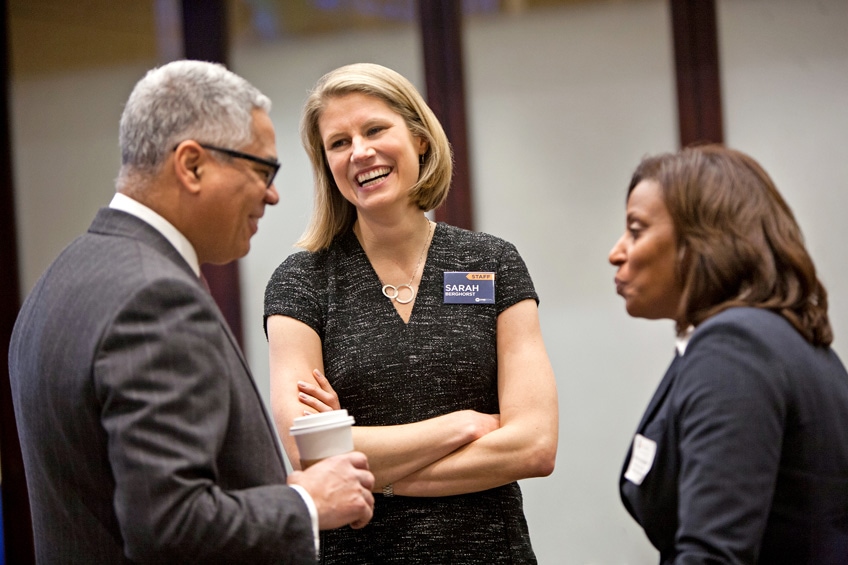 Sarah Berghorst's '10 idea that business school could help a person hone their leadership skills in the social sector began in the Peace Corps, where she was working on women's education in Panama. After returning to Chicago, she landed an executive role at Ashoka, a firm that invests in social entrepreneurs, and, as she tells Kellogg, soon realized that "if I got my MBA and spent a couple of years in management consulting, I could be most impactful in the social impact space."
Today, Berghorst is the executive director of OneGoal in Chicago, an innovative, three-year college persistence program that identifies, trains and supports our nation's most effective teachers to guide historically underserved high school students to achieve their greatest postsecondary aspirations. "The same principles apply to leading all types of organizations," Berghorst says. "At the end of the day, an MBA is so helpful for leading a social impact organization."
That connection to social impact is what drew Berghorst to Kellogg in the first place. "At Kellogg, I was surrounded by people that were curious and passionate about making an impact in the world regardless of what specific career path they would go into," Berghorst says. Traveling to Uganda with Kara Palamountain, auditing Harry Kraemer's '79 values-based leadership class and participating in the Net Impact Club, Berghorst's experiences at Kellogg have been so meaningful that she stays involved as a member of the Kellogg Alumni Council today.
"As alumni," Berghorst points out, "we can help that next generation of leaders. There were so many people who did that for me when I was at Kellogg, and it's still feeding me, too. People look at the alumni network of a business school when they're deciding where to attend. And we have all the ingredients to have the most dynamite, unstoppable alumni network because we have the best people—world-changing people."
Today, Berghorst is one of those world-changing people. Since she's joined OneGoal, the Chicago-born organization has grown into a national entity and that growth is still burgeoning.
Currently in development? A plan to pilot a new model of OneGoal across Chicago Public Schools.
"Our current model is cohorts of 25 students each," Berghorst says. "What would it look like if instead every single junior in an open enrollment CPS high school had OneGoal? What if it was an expectation for all students that part of being in high school is developing a plan for what comes next? That's what OneGoal wants to see: students discussing their postsecondary dreams with a supportive teacher who will walk alongside them on their unique journeys and through some of their most important life decision points. That's something we're working on right now that keeps me up at night in an exciting way."