Kellogg Magazine
|
Departments
Brave Thinkers
Brave Thinkers
Passion Project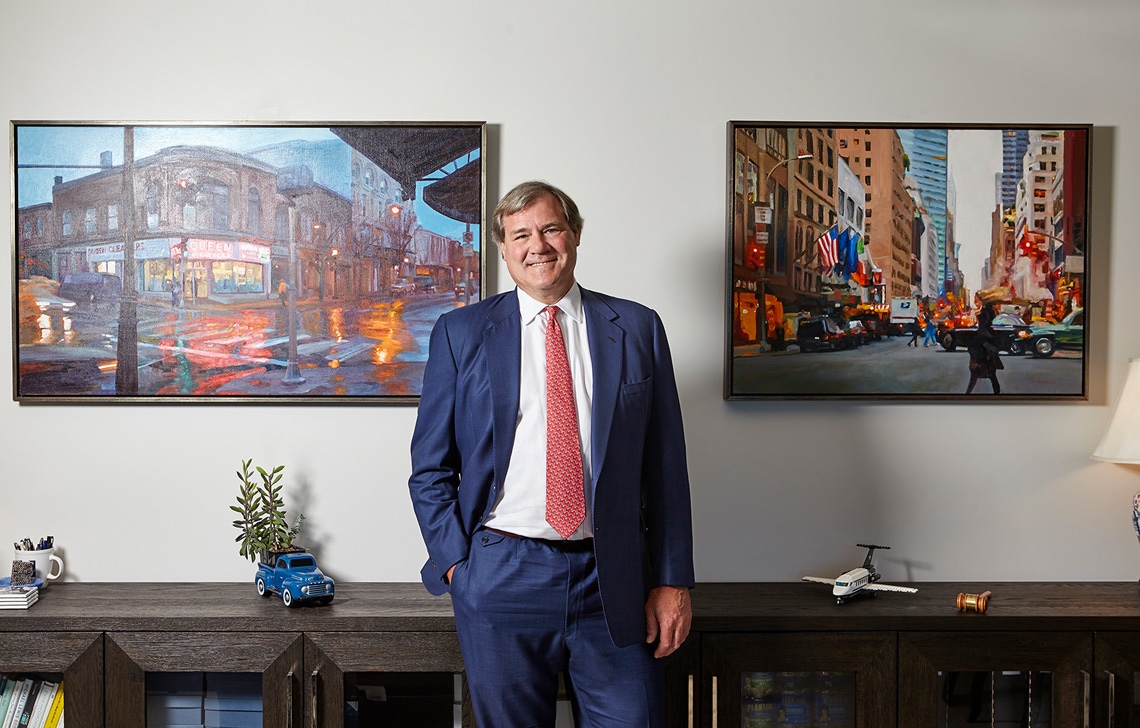 Re-examining the CMO
Tom Trkla '84 has spent his career assessing economic and business cycles in order to inform the investment decisions he makes for Brookwood, the Boston-based private equity real estate company he founded in 1993. Since its founding, the firm has developed a well-earned reputation for acting upon changing economic and market conditions—decisions that were often contrarian, but ones that created tremendous value for the firm's clients.
Trkla's dedication to data-driven decision-making and thorough market research prepared him for the unexpected and places him at the forefront of market innovation.
In its history, Brookwood has acquired more than $3 billion in commercial properties. The firm is one of the few private equity real estate firms that sold its entire portfolio before the crash of 2008. It was at this time that Trkla sought to expand the firm's investment focus, investing in real estate operating businesses that were not correlated to traditional economic cycles. The firm conducted an 18-month study to find the right industry in which to invest. It turned out the convenience store industry had a very fractured ownership structure and Trkla and his team determined that there was a tremendous opportunity to create value by acquiring, improving and rolling up mom-and-pop convenience stores.
Their research showed that merchandise and gasoline sales increased steadily regardless of the relative strength of the economy, interest rates or oil prices. His team visited more than 1,000 convenience stores to determine industry best practices involving foodservice, loyalty and fleet card programs, along with technology platforms, labor models and the optimal merchandising mix. The team then spent another year augmenting their research, challenging assumptions, and refining their investment strategy.
"Our goal was to learn from the best practices of others and incorporate what we learned to become a world-class convenience store retailer," says Trkla. Equipped with these operational best practices, Brookwood created Yesway, which has now grown to more than 150 stores in nine Midwestern states. Yesway plans to grow to more than 600 stores and become one of the largest convenience store operators in the country.
Trkla's latest innovation was to reinvent the CMO role at Yesway by trifurcating it into three distinct positions, each having specific functional responsibility and oversight for a critical marketing function.
This decision was the outcome of careful research that afforded him a comprehensive view of the industry landscape. "The traditional CMO has the shortest tenure of any C-level role," Trkla says. "This is attributed primarily to the increased complexity of the role and to the challenges of creating and implementing sales and marketing plans in an era of digitization, social media and new marketing channels. We believe that the CMO job has become too big and too complex for one person to handle effectively." Instead of hiring one CMO, he hired three experienced marketers to oversee the areas he deemed crucial to marketing at Yesway: merchandising, foodservice, and branding and loyalty. This marketing triumvirate immediately made sense to Trkla, who has always placed great value on cross-functional teams and collaborative decision-making.
It also makes sense for the three individuals currently in these roles.
"A lot of people can say they have managed a brand, but only a few have the opportunity to build a brand from scratch," says Darrin Samaha '20, Yesway's head of loyalty and brand management. Samaha, an EMBA student, makes up one-third of the marketing leadership team, along with Derek Gaskins '98, senior vice president of merchandising and procurement, and Jeff Keune—a Northwestern undergraduate alumnus—who serves as senior vice president of food service and innovation.
"I cannot emphasize enough how terrific it is to work with Derek and Jeff," continues Samaha. "I can walk into either one of their offices and say, 'Hey, I'm thinking about X, Y and Z,' and they will either challenge me, offer me advice or wisdom, or tell me it is a great idea."
Gaskins believe this model also creates tremendous efficiencies and has allowed the team to grow at a pace previously unprecedented to him. "Within six months of being at Yesway, we acquired, remodeled, rebranded, and remerchandised over 70 stores," he says. "And the pace of what we have rolled out in this time frame is incredible. The three of us have accomplished in a few years what it took many more established convenience store retailers to do in 50."
Keune agrees, adding that despite being a young company, Yesway benefits from triple the CMO experience compared to most startups its age. "When you go to an established brand, there are already established processes in place," he explains. "There's a new product development process, a P&L review process, a new store opening process, a merchandising reset process, and a new foodservice product roll-out process. At Yesway, we developed best-in-class programs, promotional plans, and operating processes quickly, because of the experience that each of us brings to the table and the collaborative way in which we all work together."
Trkla did not intend to hire only Kellogg or Northwestern alumni, but he is not surprised that it happened. "When I interviewed Darrin, Derek and Jeff for each of their respective roles, I was impressed with their experience, but also with how they thought about marketing and the process by which they made decisions. I adored my time at Kellogg and value highly the education I received there. I learned a great deal when I was a student, but what resonated with me most, as I advanced in my career, was what we were taught about the value of collaborative decision-making," says Trkla.
"At Kellogg, you realize quickly that you are only as good as the team," adds Gaskins. "To be successful in a highly competitive retail operation requires different disciplines and different groups working together. To be successful in the convenience retailing industry, store ops, marketing, merchandising, foodservice, loyalty, customer service, and branding must work together. Cross-functional collaboration is the key. Kellogg teaches that early."
Keune adds that Trkla's background made the potential adventure with Yesway all the more enticing when he first interviewed for the role. "Tom, in essence, is a highly skilled brand manager," he says. "And, really, a brand manager is a business manager who is always looking at ways in which things can be done differently and better. He is always challenging us to be better, to think creatively, and to challenge industry conventions. It is this elasticity of thinking that he brings to the table that attracted Darrin, Derek and me to the firm. I truly believe that approaching marketing and enterprise management in this way is something that both Northwestern and Kellogg promote, teach, and inculcate culturally."
It is no surprise, either, that Trkla also has tremendous respect for Kellogg—for the high quality of its professors and scholarship, for the depth and breadth of its academic research, and for the high quality of its graduates. "Kellogg provided me with a terrific education. I remain honored and humbled to have had the opportunity to study there and know that Darrin and Derek feel the same way. Yesway is blessed to have such an experienced and intelligent marketing team leading its growth."