Kellogg Magazine
|
Departments
Passion Project
Brave Thinkers
Passion Project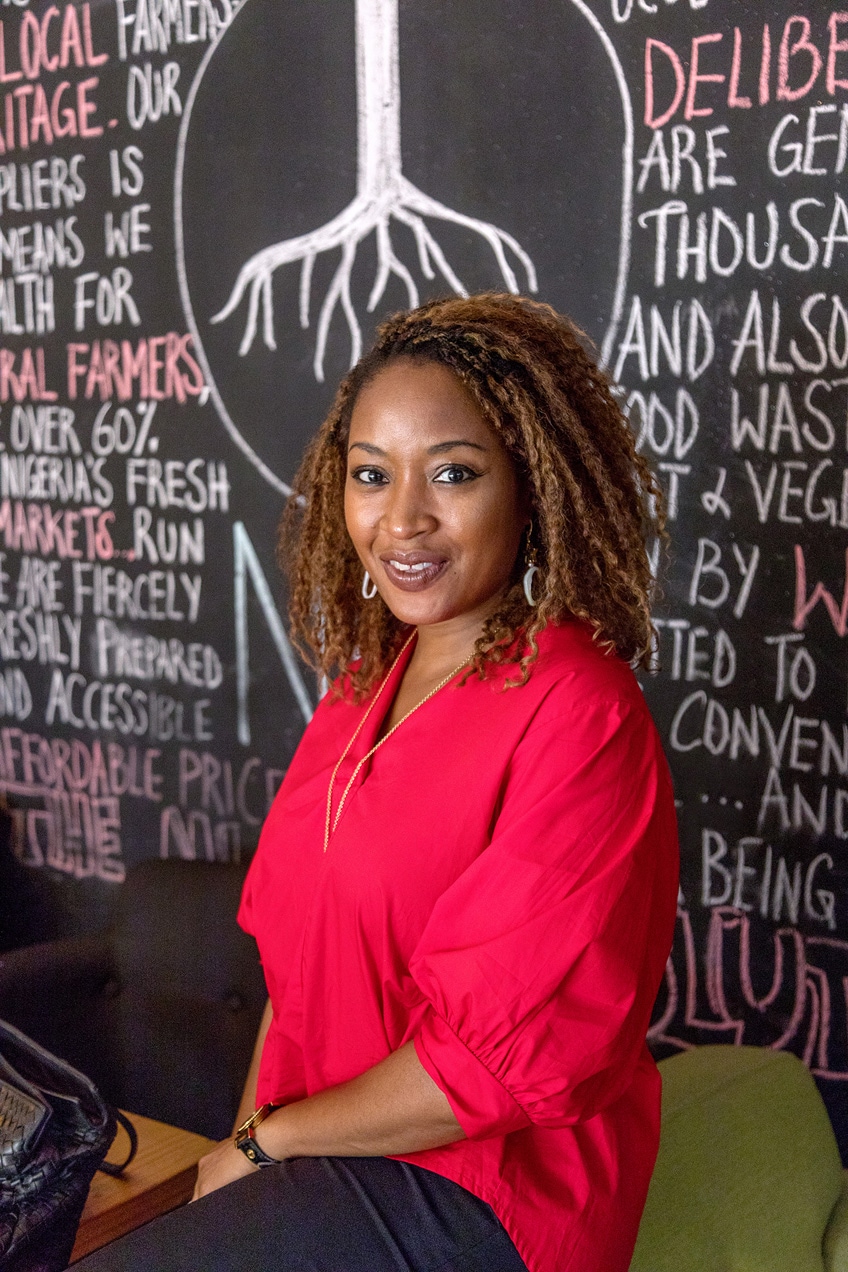 Putting Kellogg's lessons to work in Africa
Nuli Lounge's new flagship store in Lekki, one of the largest and fastest-growing metropolitan communities in Lagos, is a bright, friendly restaurant accented with rustic-chic wooden furniture and blackboard walls. Customers scrawl colorful greetings in chalk after enjoying farm-to-table feisty chicken naan melts, prawn love couscous stir-fry bowls, mouth-watering salads and smoothies. The sounds of food preparation and customer chatter, mixed with jazzy café music bounce off those chalkboard walls, which can make catching up with Nuli founder Ada Osakwe '11, via a call from Evanston a little challenging, as all those sounds pour through a global internet connection. Yet the story of how the former investment banker ended up in that busy restaurant still comes through very clearly.
Osakwe describes managing Nuli as her "day job," one she founded in 2015 with a name derived from Anwuli, which means Joy in Igbo, the language of people from Eastern Nigeria. But it's a mission as well as a job. "In Africa, there's so much food waste at the farm," says Osakwe. "We wanted to change this. I wanted to create something using only locally grown fresh produce," which began with cold-pressed juices but developed into a chain of fast casual restaurants offering healthy dishes using only Nigerian agricultural produce. "I said no to imports," she says, "we can't keep spending over $11 billion importing food items that we can grow right here on our lands." Fresh off opening Nuli's eighth store, she says "Nigeria hardly has any concepts like this. This is all authentic, it's homegrown, it's my idea. I'm quite excited about it."
Nuli is part of Osakwe's portfolio at Agrolay, the agribusiness investment and incubation company she started after her career path led her away from home in Nigeria to the United Kingdom, Tunisia, Evanston, New York and then back to Africa in 2013. After receiving degrees in economics and finance at the University of Hull and University of Warwick in the UK, she started work at BNP Paribas investment bank in London and then the African Development Bank in Tunis. There, one of her mentors encouraged Osakwe to think about how she could apply her skills and education to a bigger purpose, encouraging her to seek an MBA.
At a certain point, Osakwe realized she wanted to better leverage her expertise to do something more meaningful with her business acumen. "I'm in this big institution. I have a cushy job. I'm being paid in dollars. I'm flying everywhere in business class. But I wanted to do more to positively impact my continent, Africa. Africa needs power. Africa needs roads. Africa needs to feed herself."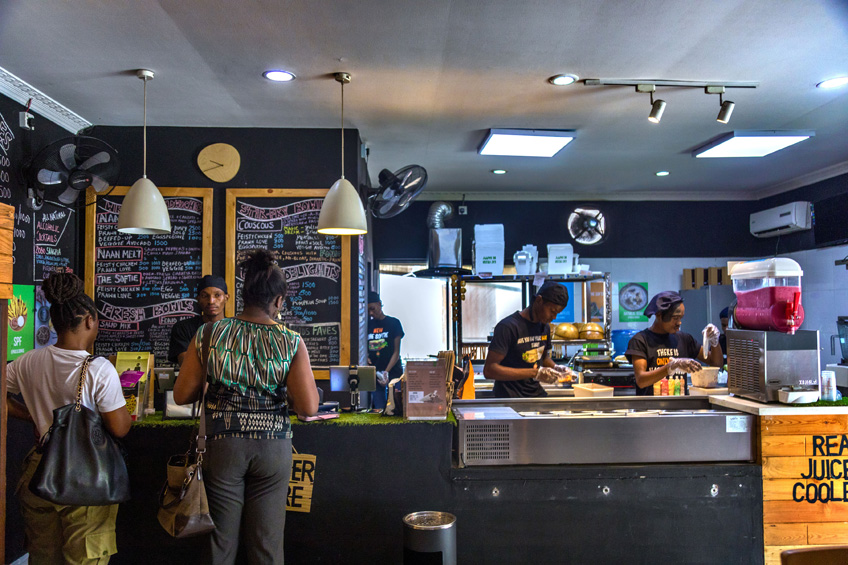 At Kellogg, Osakwe absorbed the transformative power of both capital and collaboration. While interning with the global private equity firm Actis, she got experience investing in Africa's emerging growth markets. At school, she served as the vice president of global affairs in the Kellogg Student Association. Once, she and several of her classmates did a 360-degree evaluation of each other. The feedback from her colleagues was that she should listen to others more, not just hear them. "I thought that was powerful. Then I was thinking of myself as someone who is engaged and listening. Obviously I wasn't. This really changed my approach to leadership."
She keeps that critique in mind now at work, and in all her other responsibilities, including as a governing board member of the One Acre Fund, a nonprofit founded by Kellogg alumnus Andrew Youn '06. "At the end of the day, I'm not the first person to work hard and get impressive grades," she says. It's part of the company culture at Nuli, she says, to train her employees to receive and respond to customer feedback. "Over and above hard work and brilliance, you have to know how to treat people right, know how to engage, motivate, and how to listen."
Osakwe graduated and worked in private equity in New York for a few years at Kuramo Capital, "still looking for things to impact," she says, when an opportunity came about. A new position had arisen as the senior adviser on investments to Dr. Akinwumi Adesina, Nigeria's minister of Agriculture and Rural Development, who was looking to transform agriculture in Nigeria to a profitable business instead of "a charity type of project," as he said. The three-hour interview for the job, she says, was more like a "three-hour fun discussion." She learned that the Federal Government of Nigeria was trying to get more young people involved in food and agriculture. "I'd never done agriculture, talk less of working in the public sector," she says. "I was just excited that someone who was a cabinet minister was thinking about transformational impact with a private investment lens. This was really my thing. I think I can do this."
She got the job. For the next four years, Osakwe advised the minister on all agriculture investment-related activities involving private sector investors, and led investment policy and financing initiatives. She led the development and launch of the $100 million Fund for Agricultural Financing in Nigeria, an innovative private equity fund investing in small and medium agribusiness companies. "It was fantastic," she says. She loved pitching the opportunities in transforming Nigeria's vast amounts of agricultural produce like pineapples and tomatoes, to products like fruit juice and tomato paste. "It was more than just the money, I saw the potential for job creation in a country where the majority of our youth are unemployed."
By the end of her term in government, she knew she had found her calling to provide early-stage investments and mentorship to young startup founders committed to transforming food systems in Africa. This was because during her time with the minister, she had been approached by many young people also interested in also working in food and agriculture, but, she says, "were disappointed by the lack of access to financing to get their businesses off the ground or to the next level." With her background in private equity investing, and having worked for nearly four years driving investments into Nigeria's food and agribusiness sector, she says, "I knew I was well-placed to help fill this gap."
In 2015 she founded Agrolay Ventures, identifying investments in agri-food companies like Reelfruits, a manufacturer of dried snacks using locally sourced fruits and vegetables, and ACE, a food logistics company. A year later, she founded Nuli in order to get hands-on experience managing and growing an agribusiness, but also to fight the tide of unhealthy fast food franchises popping up in Nigeria.
"It was more than just the money, I saw the potential for job creation in a country where the majority of our youth are unemployed."
"These companies look at Africa's multi-billion dollar restaurant industry as a last-frontier opportunity for new markets. They're like, 'Wow, that's where we need to be.' Suddenly franchises are popping up everywhere—KFC, McDonald's. I'm like, 'No, we need to be on top of this.' We need to build our own restaurant chains, and provide cleaner food options that are local, freshly prepared, affordable, and that use ingredients from farms across the country." More importantly she says, "We need to take our indigenous food brands global." At Nuli, Osakwe now employs over 60 young, talented Nigerians who are part of this mission.
In addition to running Nuli and Agrolay, Osakwe works on cultivating the Nigerian business network, driving the establishment of the Kellogg Alumni Club of Nigeria, which she says is over 70 members strong in Lagos, many representing tech startups, private equity firms and large agro-processing companies. She aspires to formalize a team to host regular business and social networking events for alumni and prospective students. At West African Kellogg events, she says "Everyone is relaxed and down-to-earth and incredibly authentic. There are always lots of laughs and incredibly deep, thought-provoking conversations on topics of the day."
In April 2019, Osakwe visited the Global Hub where she spoke with the Kellogg Africa Business Club to give advice, dispel myths and evangelize about business in West Africa, using herself as an example. "We are creating jobs. We are building a brand." In the next five years she wants to expand to the U.S., looking to establish Nuli outposts in university towns like Washington D.C., Boston, and Evanston—so soon, American diners can get to try Nuli's popular hibiscus-pineapple juices and Naanini wraps, as well as get to leave their own #NuliNotes on the chalkboard walls.