Start of Main Content
Finding my inspiration: Distilling the history of rum, from sugarcane to spirit
The immersive Levy Inspiration Grant Program champions a spirit of "go see for yourself." Learn more about two students' Caribbean excursion to explore rum culture as they plan the launch of their own spirits brand.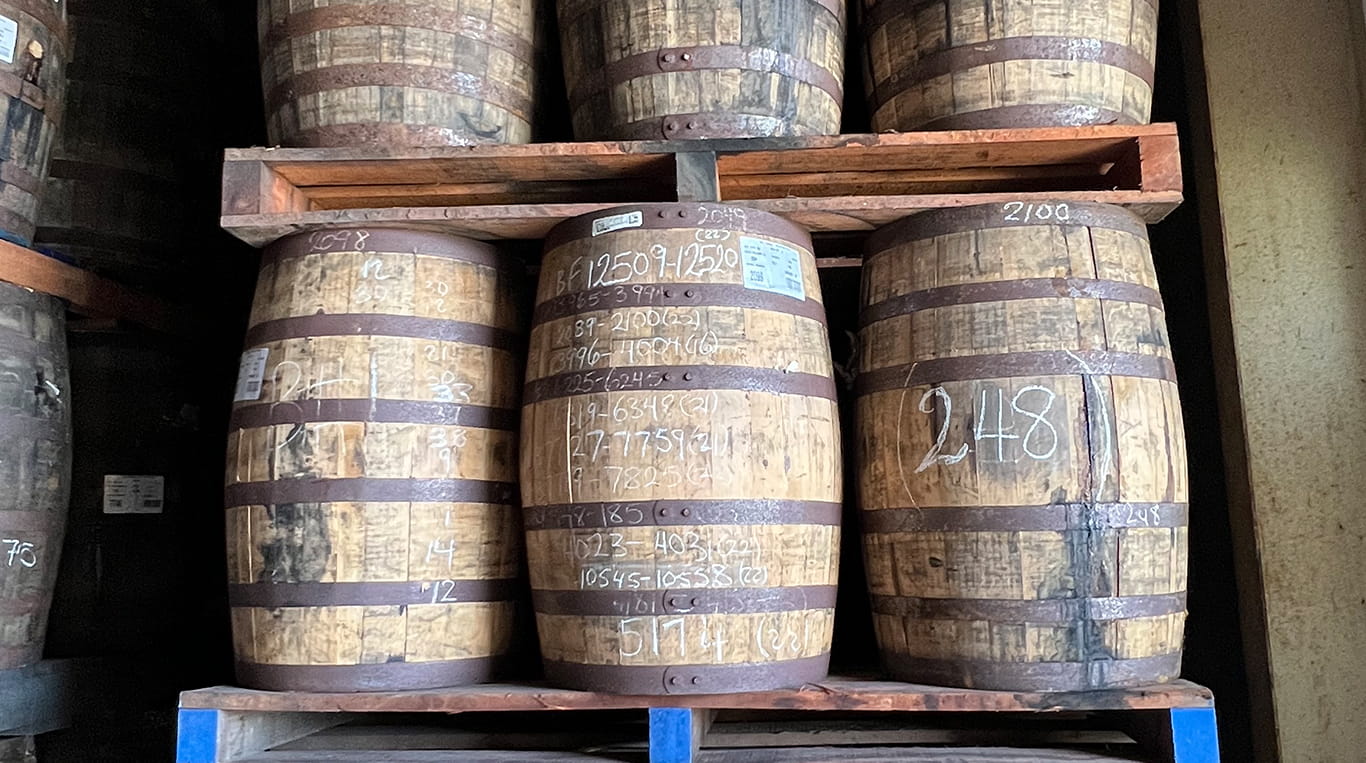 No problem is out of reach for Kellogg entrepreneurs. Supported by a generous gift from Larry Levy '66 BBA, '67 MBA and Carol Levy, the Levy Inspiration Grant Program gives students who want to build a startup the opportunity to travel anywhere in the world to witness their target market firsthand and learn about the challenges they can help solve.
At the helm of their own experiences, participating students chart their own course prior to embarking on the journey. Their schedules can include a wide array of on-the-ground observations as well as hands-on experiences, such as meeting with founders, clients and government officials. They return home with new knowledge and in-person learnings to help inform their entrepreneurial path.
In the third installment of our three-part series spotlighting recipients of the Levy Inspiration Grant, we sat down with Kimberley Charles '24 and Kiyan Savar '24, students in the JD-MBA Program, to learn more about their entrepreneurial journey in building Cane Cutter's Rum, a Guyanese-made rum that honors the history and legacy of the rum industry and the people who made it. They share what they learned about rum, from the distilling process to the opinions and habits of rum-drinking locals, during their travels through Guyana, Barbados and Martinique.
Stepping out of the classroom: A glass full of culture
Food and drink are ways people share their culture, and culinary traditions are rooted in history and reflect cultural heritage. Even though Charles grew up in the United States, she has strong ties to her Guyanese culture where rum is at the center of many social gatherings. For Charles, introducing friends to good rum has become a way for her to share a part of her identity at Kellogg. "Rum is a really common gift that we give on holidays to our friends, so it's been in the atmosphere of my life for a long time," says Charles. "When moving to Chicago, it was a way for me to introduce myself to people, and it's also become a big part of my friendship with Kiyan."
There's more to rum than its sweet and complex flavor. While it is a big part of the history of Guayana, much of its story goes untold, and this is partly what motivates Charles in pursuing an entrepreneurial endeavor in this space.
"While the outlawing of slavery in the colonies is a very celebrated fact, what is not so talked about is that to fill the vacuum of labor in the Caribbean, Indian and Chinese people were forcibly removed from their homelands and taken to the Caribbean," explains Charles. "My great-grandparents and my great-great-grandparents were a part of that wave, and it is a history that's not very well known. A lot of rums are named after the plantations from which they come, but there's a lack of understanding of the people who contributed — and the people that still do — to the making of it."
As Charles and her classmate Savar thought about where to experience their immersive learning, they set out with very clear objectives. "We were hoping to learn how people drink rum, what the local perceptions of the major rum brands were and how to better understand the culture," says Charles. With this in mind, they set out to visit Barbados, the birthplace of rum, as well as other Caribbean countries.
Getting on the ground: Guyana, Barbados and Martinique
Their first stop was Guayana, where they met with Komal Samaroo, a chairman of Demerara Distillers, one of the leading manufacturing companies with an extensive portfolio of local and international spirits and beverage brands. Having previously met Samaroo, Charles was looking forward to using this trip as a "check-in" with him to discuss business development for what Charles and Savar were hoping to be the start of their own product line of rum.
Charles explains that the goal of the trip to Barbados, home to one of the oldest distilleries in the world, was to see how different distilleries interacted with one another and how the locals also think about Barbadian or Bajan rum.
"You never really know what a good learning opportunity will be because they are pretty much everywhere — and then also sometimes not in the places you'd expect," says Savar. "A lot of what we learned or observed were not necessarily at the points or places we expected them to happen." As the duo traversed the Caribbean and spoke with both officials and locals, they realized that people will go with what they know.
"One of our hypotheses for our on-the-ground research was thinking that folks in the Caribbean would be less keen to drink a rum that donned something like a pirate or a plantation, and instead would gravitate toward a rum that had more of a heritage or culture component to it," explains Savar. "Kim and I were at a beach stand in Barbados talking to the person serving us drinks and his buddy. We asked them what their favorite rum brand from Barbados was, and without hesitation, he says Old Brigand — which is just a ubiquitous brand that has a pirate with one eye on the bottle. Quality speaks for itself. They don't necessarily treasure the story that much, but that doesn't necessarily detract from the importance of the story."

The last leg of their trip was to Martinique, and they were intentional with how they approached this research component because of the distinctive fashion in how Martinique treats its rum and rum culture due to its blend of French and West Indian heritage influences. This trip marked Charles' first visit to the French Caribbean where she learned more about "rhum agricole" also known as agricultural rum.
Applying newfound knowledge

"As of this trip, we are officially in product development with Demerara Distillers, which we're really excited about. Samaroo continues to be a significant mentor to us and a partner on this venture," Charles says.
Adding to the excitement of seeing their business venture come to fruition, Savar notes that the immersive experience reminded them that in addition to knowing your product's history, having a good product is key — there's no substitution for the real thing. Quality is quality.
"We're hoping by the time we graduate that we have a product that we can start selling, but one step at a time," explains Charles. "To this point, it's been lesson after lesson, pivoting, establishing a presence and figuring out what story we want to tell as a brand now that we know all of this information."
Charles also acknowledges the support she's received from faculty at Kellogg as she and Savar walk the entrepreneurship path during their MBA experience. "It's been nice to have so many professors at Kellogg who have been really, really supportive," she says. "A lot of times we'll have an idea and then just go run it past a professor, hear what they think and see if they have any connections — which has also been really lovely from a networking perspective."
Going into the trip Charles knew that rum is a very complicated spirit, but her travels helped her learn even more. "I was very focused on the story and the storytelling around it, and I think that is going to be a significant part of the brand. But there's no way to capture all the nuances of the Caribbean all at once," says Charles. "I think coming out of this trip, it's more of a focus on good quality rum — that's what resonated with drinkers. Having rum that they enjoy, can share with their families and that can be centerpiece of an occasion. The other parts, whether it's being a female-founded brand, whether the story is correct, whether the packaging is up to snuff — all of those things are good details. But at the end of the day, we want to make a rum that's really good and that people enjoy."
Considering a path with Kellogg?
Charles encourages a spirit of exploration. "To future Kellogg students, I would say do what excites you and see what happens," she says. "I think there's a lot of focus on being perfect. We're from a generation of perfectionists. We like to talk about opportunity, costs, weighing big questions about life, how we're going to navigate these questions, how we're going to do recruiting, how we'll balance our other interests — all of these things. In navigating decision points, I very much just kept working on things I thought were interesting. And a lot of people ask me, 'Are you going to do law, or are you going do business?' And those are really big questions, and my answer is always, 'When the time comes to make that decision, I'll make that decision.'"
In the meantime, Charles plans to knock on every door possible and learn as much as she can. "There are so many times when you can think you're doing all the right things to build a business, and then all of it goes to nothing or all of it becomes something else. And I think those pivot moments are the important ones."
This article is adapted from Charles and Savar's appearance on the Levy Inspiration Grant Program podcast. Listen to the full episode below and explore the entire series to hear more stories from aspiring entrepreneurs.

Read previous series installments:
Finding my inspiration: Advancing food equity and sustainability

Finding my inspiration: Innovations for agribusiness