Start of Main Content
How B-school shaped my climate journey
An MBA graduate shares what helped his professional development for pursuing a career within climate-tech.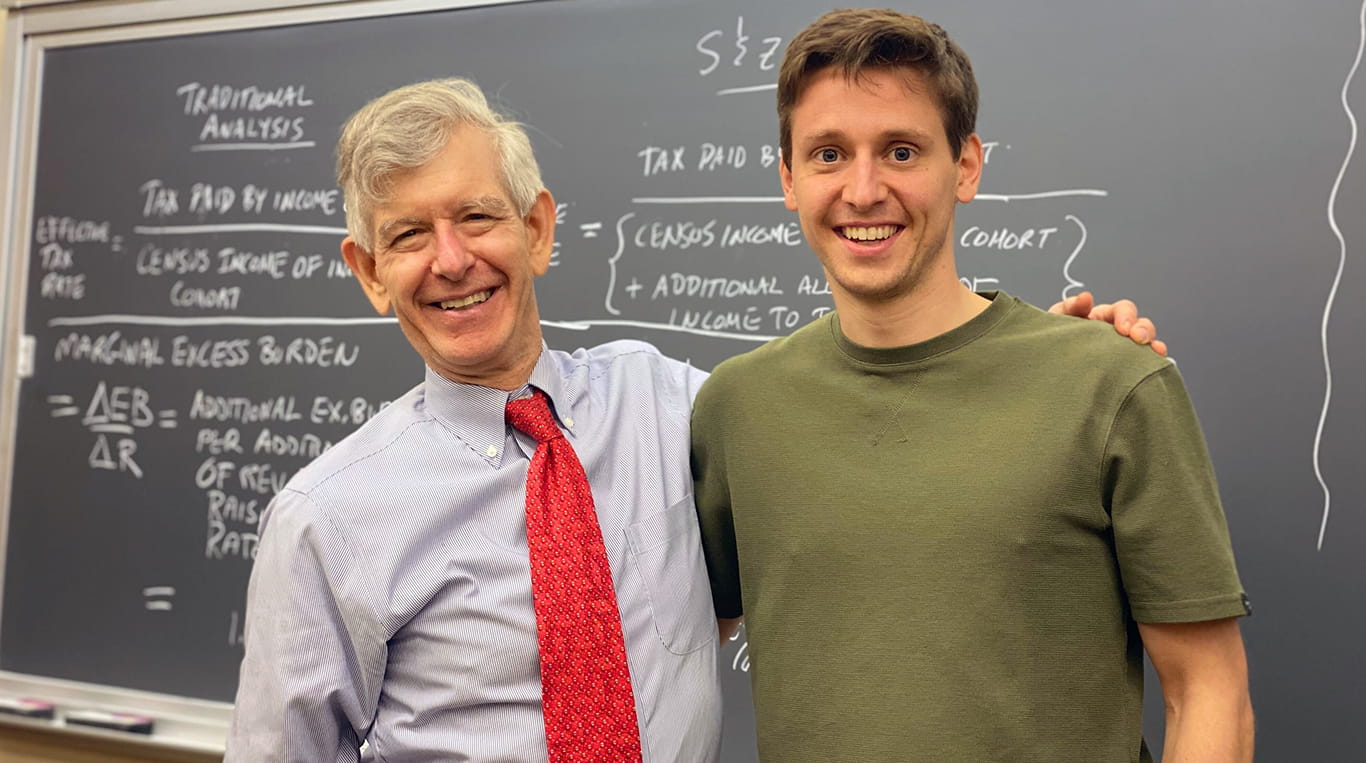 By Björn De Groote '23 MBA
Two-Year MBA Program

When I started at Kellogg, I had an inkling of what I wanted to do post-MBA — work on the climate transition — but hadn't really fleshed that out much further. Sure, if you read my Kellogg application, it comes off clear that I wanted to work in renewables, but in reality, I didn't fully know what working in climate could mean. I just knew that I wanted to make an impact on our climate transition — whatever that may look like.
The first time I knew sustainability excited me was during college. During my master's program, I wrote my thesis on characterizing materials for nuclear fusion reactors, and realized that sustainability could be more than "reduce, reuse, recycle." Transitioning into business after graduate school, I gradually learned more about our climate transition. I co-founded a sustainability education team at P&G and dove into books such as "Drawdown: The Most Comprehensive Plan Ever Proposed to Reverse Global Warming" and "How to Avoid a Climate Disaster." When COVID broke out, I started realizing I wanted to do more and decided to apply to business schools to become part of the solution.
Getting accepted into Kellogg was one of the best days of my life! Through the program, I managed to learn more about sustainability, found myself in a climate community and set myself up for success through practical experiences. Now, I'm proud to call myself a Co-Founder of a carbon removal startup!
Here are some things that I found most helpful in my climate journey at Kellogg:
Prioritizing my time
The abundance of resources and activities at Kellogg can be overwhelming. Between academics, recruiting, extracurriculars and social life, it can get tough to see the forest through the trees. While being open-minded is great, it helped me enormously to have a North Star — transitioning into climate was my compass.
While I'll highlight my extracurriculars and internships, prioritizing my curriculum played a major role in my transition into climate-tech. Not only did I take courses from Kellogg that integrate sustainability with business, but I was also able to take advantage of the sustainability-focused classes at the Institute of Sustainability & Energy at Northwestern (ISEN).
Here are three of my favorite courses that still help me today in my work at startups:
Carbon Capture, Removal and Use (ISEN)

This course has been instrumental in better understanding the carbon removal landscape. Dr. Wil Burns — who is on every well-known carbon removal podcast — guides students through the economics, policies and technology behind this burgeoning field within climate-tech. From direct air capture to soil carbon to ocean-based carbon removal, he gives a holistic picture of the challenges and opportunities that carbon removal faces. Having the broader fundamentals within carbon removal has proven very helpful in the conversations I have today with potential customers and investors to differentiate ourselves from competitors.
Economics of Energy Markets and the environment (Kellogg)
Our transition to low-carbon energy is by far the most impactful lever we have to pull in the climate transition. Unfortunately, it is also one of the most complex. This course does a great picture at painting the economics of energy markets, how renewables impact these markets and what kind of technologies are on the horizon.
Through cases and contemporary articles, the professor built a lively discussion in the classroom on topics ranging from supply and demand curves to pipelines. The latter part of the course goes into detail on what levers companies are pulling in the climate transition. It helped me get a better understanding of what sustainability managers - our potential future customers - actually care about.
Public Economics for Business Leaders: Federal Policy (Kellogg)

This policy course showed me how subsidies and taxes can level the playing field when it comes to externalities such as greenhouse gas emissions. Through cases such as the extension of the production tax credits, we learned how the federal government can help deploy new climate technologies at scale.
While I'm not pursuing a career in policy-making post-Kellogg, this knowledge has proven valuable in designing the go-to-market for the carbon removal startup I'm working on. Through tax credits, such as 45Q (a subsidy per ton of CO2 removed), we can potentially improve the economics for our early deployments.
2) Building a community
As with any career transition, building your network around your interests makes a major difference. While I'm not a fan of the forced connotation networking sometimes has, I do think it's valuable to build a community with like-minded people. And Kellogg offers tons of opportunities to build those spontaneous connections!
The community that made the biggest difference for me is the one I built through the Kellogg Energy and Sustainability Club. The club brings together climate-passionate people to organize tons of activities for the broader Kellogg student body.
Some of my favorite events were:
Kellogg Climate Week
Every year during the week of Earth Day, the school is focused on climate events and activities, ranging from interactive climate simulations to panels with chief sustainability officers. While you're normally working within your own subgroup (e.g., educational events for me), during this week the whole club works together across team boundaries.
Co-organizing panels on carbon markets and sustainability in the CPG sector, I was able to know new people from the club better. It was a really intense week with quite a lot of work to prepare, but in the end, I really felt it brought everyone at the club closer together.

Team-building weekend
One of my favorite experiences at Kellogg was the first team-building weekend we had with the Energy and Sustainability Club. Imagine, you're only a few months into your MBA and are still integrating into the community — even still wondering a bit what you're doing there. This weekend, which involved hiking and games, gave me a first sense of belonging.
Hiking through the Indiana Sand Dunes gave me an opportunity to meet my team members (see picture below) in a fun and exciting way. It is one of the main reasons I continued being so active in the club and finally decided to take up the role as one of its co-presidents.
Every quarter, the Kellogg Energy and Sustainability Club organizes small group dinners. These can be centered around a central topic such as carbon removal or be more general ones. What they all had in common is that you meet people who come from different angles of sustainability. I have met people who worked on sustainability in consulting projects, others who have worked in the non-profit sector and then others who are trying to make a difference in legacy industries such as oil and gas. It leads to exciting conversations, intriguing discussions and always new connections.
I stay in touch with many of my friends from the school's climate community. We keep one another apprised of our career journeys, share climate memes (yes, we're sometimes that dorky on climate) or articles, and help each other out. (Writing this, I just got an invite for a Kellogg x Climate drinks during NY Climate Week, hosted by some of that community!)
Get out there
What likely made the biggest difference in my climate journey is trying things out in the real world. One of the things that seems quite unique to Kellogg is the opportunity to dip your toes out in the real world in many different ways. As someone who was pivoting into a new field, I took full advantage of those many opportunities including:
Venture Lab: Elemental Excelerator
Venture Lab was a game-changer for my pivot into the climate-tech industry. Accepted students work 15-20 hours with a VC firm or early-stage startup. I applied for all the climate-tech VC firms and got accepted at Elemental Excelerator, an accelerator that invests in startups at the intersection of climate and social equity. And I loved working with this team!
I was immediately included in the due diligence process, screening ~20 startup applications daily and reviewing which ones could make it to the next round of due diligence. While I did not have any former VC experience, the team immediately valued the business perspective I brought to the table during our daily due diligence calls.
I helped them narrow the list down to 19 companies including Vesta: a startup that has paved the way for ocean-based carbon removal and also made it finally into the cohort! This experience was of tremendous value to have on my resume for further recruiting and taught me things about fundraising that I still use to date.
Summer internship: Living Carbon
As with any MBA program, I also recruited for a summer internship. The experience with Elemental Excelerator gave me an edge on some other MBA candidates and helped me land offers at carbon removal startups and venture capital companies. I ultimately accepted an offer at Living Carbon, a carbon removal startup that uses biotech to enhance nature's ability to sequester carbon.
This was my first experience at a startup, and it immediately opened my eyes to the ambiguity you deal with on a daily basis at an early-stage startup. Having only previously worked at a big multinational corporation, I was used to structure and clear guidelines, but now I was thrown to the lions — but in the best of ways.
My job was twofold: to help the team build out a strong customer pipeline (demand) and to design a strategy to recruit more landowners to forest projects (supply). Learning from their talented team how to do so with minimal resources has been instrumental in my entrepreneurial development.
San Francisco Immersion: Ebb Carbon
Many Kellogg students end up in the Bay Area working at startups or in the venture capital space. For that reason, Kellogg offers an opportunity for students to relocate for a quarter to San Francisco, take entrepreneurship classes at the local campus and intern at a startup or VC firm. That is exactly what I did.
I ended up at Ebb Carbon, an ocean-based carbon removal startup. I was working on developing a go-to-market strategy for co-locating their technology with desalination plants. My experience included market research, engaging with consultants, defining a value proposition, developing a financial model and working closely with the engineering department on integrating the technology. It has really helped me close the gap between complex technology and practical business constraints in my current role working with two co-founder engineers.
Field Study: Sandbox Carbon
In my final quarter at Kellogg, I had the opportunity to apply what I had learned to date in the very early stages of a startup called Sandbox Carbon. For a few months, I had been in touch with the founder, who was looking for someone to support the development of the go-to-market strategy for a carbon removal technology he had been working on. With the course "Field Study," which allows students to work on an independent study with a company, I found a professor that allowed me to work on understanding the go-to-market options for carbon removal technologies.
The experience I had gained across my previous internships and curriculum came together nicely during this internship. Through what I learned in the courses, I helped to differentiate the startup from competitors, think through policy instruments and understand the customers.
My previous startup adventures prepared me for working independently instead of the protected cocoon I used to work in. It led me to define the go-to-market strategy and refine the startup's vision. I am still with them today as one of the founding team now, working full-time on de-risking an early-stage technology and hopefully bringing it to market some day!
Read next: Taking control of his career through entrepreneurship through acquisition