Start of Main Content
An executive leader finds his next adventure in the Executive MBA Program
Volkan Emre, an executive vice president and CFO, helped expand entrepreneurial programming for his classmates and took an unforgettable class trip to explore India's tech ecosystem.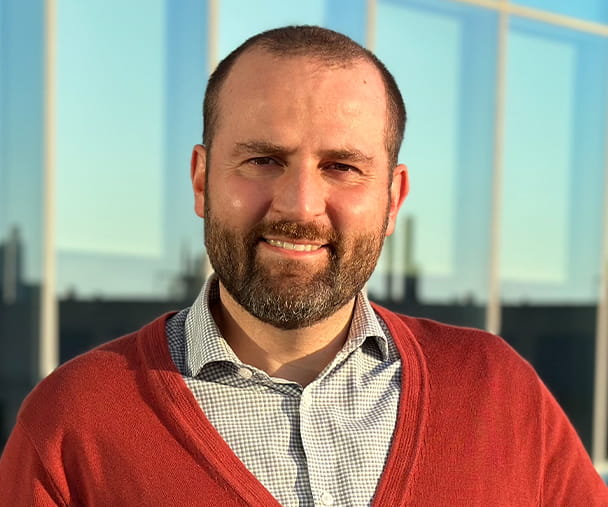 Our students are drawn together by their commitment to learn, grow and create a positive impact at work and in their communities. Concluding our three-part series, we're introducing you to some of our Executive MBA (EMBA) students and graduates who each come from very different backgrounds and professions, yet all saw an opportunity to cultivate this sense of purpose at Kellogg.

Meet avid adventurer Volkan Emre '23 MBA who has always thrived on the excitement of new challenges and opportunity to push his limits. Whether he's delving into the depths of the world's deepest cave as part of a professional cave research team or pursuing an EMBA to broaden his horizons, his eagerness to reach new heights is steadfast.

Currently residing in Minnesota, Emre serves as the executive vice president and chief financial officer at Tayse and also volunteers at a San Francisco-based non-profit organization that assists immigrants and refugees with international credentials to restart their careers in the United States.

Learn more about one of his most proud achievements, a Kellogg professor that left an impact and why he chose Kellogg to pursue his EMBA.
Kellogg: Which academic or extracurricular achievement are you most proud of during business school?

Emre: Since joining Kellogg, I have worked diligently to unite both sides of the entrepreneurial equation within the EMBA community: entrepreneurs pursuing disruptive ideas and investors seeking high-return, high-impact, and sustainable investment opportunities. This effort led to the creation of the Kellogg EMBA Entrepreneur & Investor Initiative in collaboration with cohort member Kostas Poulakidas '23 MBA.

We have hosted various workshops, pitch sessions, speaker events, panel discussions and developed a unique pitch competition unlike any other MBA or EMBA program. The competition called "LEHI Executive Pitch Competition" stands for "Low Ego - High Impact" and reflects one of the school's core principles.

This innovative, interactive pitch competition enabled Kellogg Executive MBA students to showcase their entrepreneurial ideas to the school's global network in a manner unparalleled by any other MBA or EMBA program. Each of the Kellogg EMBA campuses was represented by current students pitching their entrepreneurial ventures to a live, global online audience.

Kellogg: Who was your favorite professor?

Emre: Professor Mohanbir Sawhney was my favorite professor. His Tech Venture India elective was the crown jewel of my Kellogg EMBA experience opening doors to India — a country with arguably the most exciting entrepreneurship and VC investing scenes in the near future.

Thanks to Professor Sawhney, I connected with brilliant Kellogg Leaders during a 10-day immersion in Delhi and Bangalore to discover India's unique tech ecosystem. Together, we visited inspiring founders in various industries who not only built impressive unicorn companies but also transformed the lives of millions of Indians by significantly improving their quality of life and addressing crucial issues.

We were privileged to visit India's most impactful technology giants at their campus locations and learned more about the future of generative AI. We also spent considerable time with VC investors and had the unique opportunity to meet the Minister of Technology who shared valuable insights about tech infrastructure and ecosystem development in India.
Kellogg: Why did you choose the Kellogg Executive MBA program?

Emre: It took me more than two years to select the right program during which I engaged with several top executive MBA programs. The school's "Low Ego - High Impact" mindset evident in the admissions process and was a major factor in choosing the Kellogg EMBA Program. I was impressed with the school's self-confidence and their willingness to connect me with multiple current students and encourage ongoing communication.

Another area where Kellogg stood out was its unique global network of top-ranking partner business schools across the globe. The second-year experience in the Kellogg EMBA Program is largely based on elective classes offered on five different continents. The prospect of learning in a classroom with a diverse and multicultural group of executives from five different Kellogg-affiliated business schools was incredibly exciting for me. The Global Week in Evanston, during which all international students came together, was a highlight of the program, providing me with lifelong connections I would not have had the opportunity to establish elsewhere.

The Kellogg EMBA facilities, particularly the Allen Center, offer a level of ease and convenience unmatched by other EMBA programs. The ability to stay in one place throughout class weekends and intensive weeks was very appealing to me. The Kellogg EMBA program provides excellent classrooms, group study rooms, multiple dining and social venues and accommodations — all in one location. The program's provision of early arrival opportunities for students flying in from different states was another attractive feature. The option to check into the Allen Center the night before class weekends made the experience even more inviting. I have always been a fan of Northwestern University's Evanston Campus, and the Allen Center is located at its heart offering unique opportunities for its students such as sailing.

More in this series:

How the Executive MBA helped this CIO create a bigger impact
'I knew there was only one program I wanted to attend.'