Start of Main Content
From Kellogg MBA to entrepreneur: Launching a business in India
An alumnus leveraged his time and resources at Kellogg to create a business roadmap to launch his startup.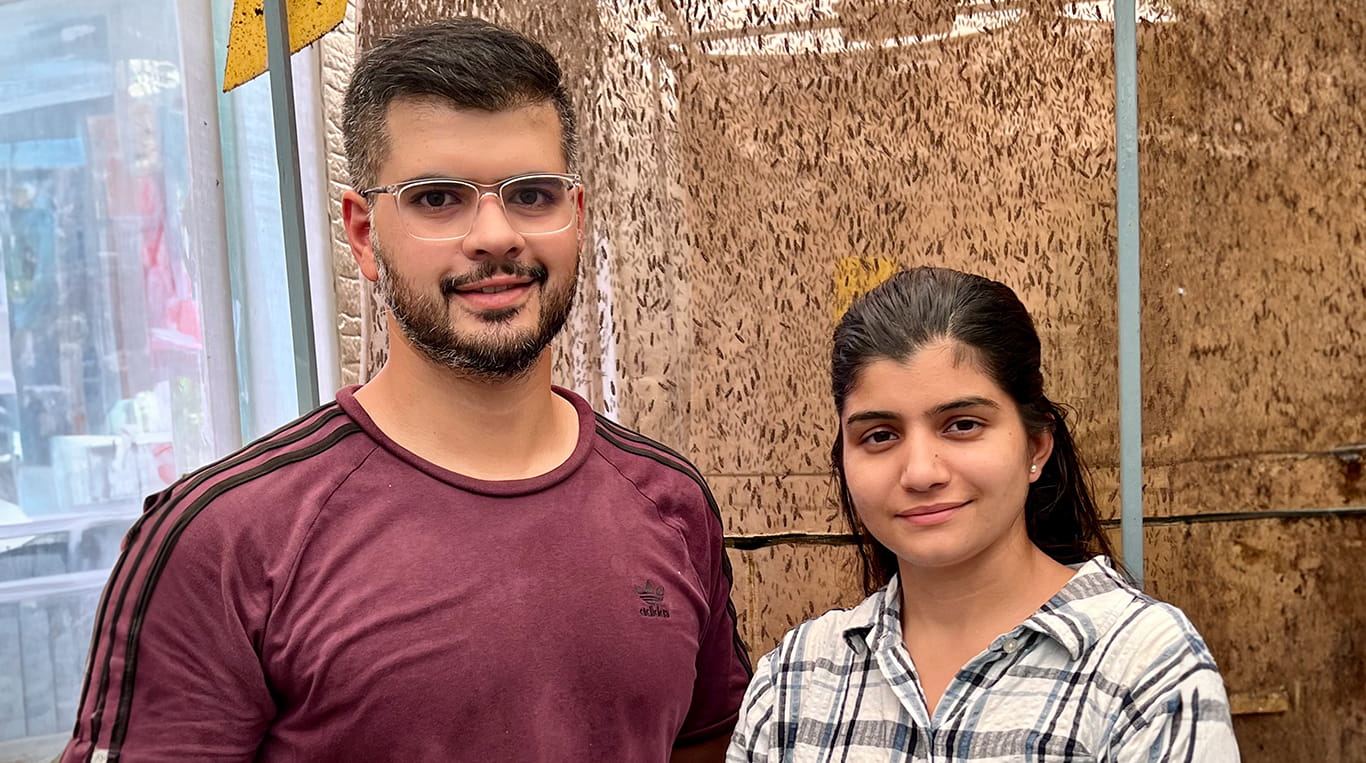 By Siddharth Sharma '22 MBA
If I were to summarize my time at Kellogg in one phrase, it would be "Journey of Self-Discovery." My one year at Kellogg was densely packed with a lifetime of experiences: identifying my core values, overcoming my fears, building my skillsets and top of all developing lifelong friendships.
I entered Kellogg with an important decision to make whether to rejoin my well-established family business in India's booming IT industry or to build my startup from the ground up — the latter being a riskier path.
Armed with a wealth of knowledge and a burning entrepreneurial spirit, I decided to embark on an exciting journey by launching my own business in India. I want to share the considerations, risks and challenges I've encountered along the way, as well as how Kellogg prepared me to be a better business leader and how it supported Shivali's, my spouse, growth. I also dive into the "so what" behind my venture and how I aim to contribute to improving communities.
I'm the co-founder of GreenGrahi, an agri-biotech/climate-tech company creating high-quality insect-based ingredients for animal and plant nutrition using agri-residues. But this is not what we always did. In fact, before Kellogg, we wanted to explore composting as a means to tackle the food wastage challenge. Although, at the core, our principles remain centered around circularity and impact, Kellogg helped me create a viable and scalable business model. This was through a well-designed combination of courses, entrepreneurship focused programs, highly approachable professors and a custom leadership development program.
For first-time founders, entrepreneurship is an unknown journey marked by daily highs and lows and constant firefighting. What I've realized is that it's important to find your North Star and create steps and measurable outcomes to consistently lead you toward it. I used my time at Kellogg to create this personal and professional roadmap.
Honing my professional skills
These are some of my favorite classes that helped me develop both hard and soft skills.
There are so many takeaways from Professor Carter Cast's amazing course called Launching and Leading Your Startup. I really enjoyed evaluating startups and thinking from the lens of a founder through various case studies. Professor Cast is great because he is open in sharing his life lessons with all of us from what has worked to what has not and how we should think about building our career and values.
Through the Venture Lab, I interned at a deep-tech focused Venture Capital (VC) firm that helped me understand this sector and the perspective of a VC. This experience was crucial when I was preparing to raise our pre-seed round for GreenGrahi.
I absolutely loved the Marketing Strategy for Growth and Defense course; especially the team based Markstrat simulation activity. It mimics real-world decision-making required in building brand strategies while maintaining profitability and competition. Professor Tim Calkins brings so much energy and expertise to this class that it's easy to make marketing a core aspect of your startup after this course.
Get curious and explore
Kellogg provides a really good safe space to explore new ideas, learn new skills, meet new people, test one's boundaries and even be vulnerable.

I don't think that I would have explored so many things about myself if I were in any other place. A lot of it was overcoming the fears and hesitance of doing something new and uncertain. Some of the memories which are vivid in my head are: jumping into the Pacific Ocean for turtle watching during KWEST (FYI, I don't know how to swim), selling socks on the streets of Evanston as a part of a challenge to get into the Zell Fellows Program and then doing it again in a completely new country (Israel) and culture, and pitching a very early version of GreenGrahi to multiple investors at VentureCat and winning the social impact track.
Just deciding to venture into the unknown and then giving it your best gives so much confidence and reassurance in your capabilities. I feel that this confidence in navigating through the unknowns and coming out successful is really important for an entrepreneur to keep going. This newfound confidence did play a major role in helping me embrace "startup life."

Leadership
As a part of the Zell Fellows Program, I was fortunate to work with a personal leadership coach who helped me refine my leadership style as per my personality along with future goals and aspirations.
Being vulnerable and actively empathetic are two aspects of leadership I wasn't aware of, but I've found them to be extremely useful while building my core team and trying to understand their dreams and passions. Unlike other manufacturing businesses in India where the majority of blue-collar workers work on a purely commercial basis, we have realized that through active listening, participation and compassion, our team is willing to take an extra step to ensure that we are 100% ready to take the start-up to the next stage.
Apply, test and (re)adjust
GreenGrahi was already in existence in a different form while I was at Kellogg. Fortunately, my co-founder and JV was with me in Evanston. This allowed us to test out all the learnings from the courses and the entrepreneurship programs in real-time. Professor Jeffrey Eschbach's New Venture Creation taught us how to take customer interviews to build and identify the pains, gains and jobs for a business' value proposition. We quickly applied this method to our startup and used the newfound insights to readjust our value proposition.
Similarly, the structure of the Zell Fellows Program and the regular check-ins ensured that we were making progress in the right direction. Supportive faculty members from the program not only helped us think through our strategies and decisions but also pushed back which enabled us to think deeper. These insights and check-ins gave us the courage to make difficult decisions and even make a major pivot to our startup.
Kellogg supported us monetarily which made this process of test and adjusting easier. The social impact team supported us with $20,000 to work on various aspects of our startup. Shout out to Professor Megan Kashner and her amazing team, they have been great supporters from day one and even before stepping into Kellogg.
Similarly, the Zell Fellows program provided up to $15,000 plus access to top-notch business services that turned out to be instrumental for our tests and pilots. Winning the social impact track of VentureCat gave us another $10,000 that was utilized in setting up our pilot facility.
Friendships and mentorships
Your friendships, network and support ecosystem stay with you forever if you set the foundation the right way. Apart from the weekly "TGs" (short for "Thank God It's Friday and a weekly social club), the student body does a great job in ensuring that students can have deeper conversations with each other through coffee chats and small group dinners. I now have so many great friends with whom we celebrate weddings and other special occasions together. Each of them is a leader and an expert in their domain and only a call away when I need a sounding board to validate my ideas.
Life as a JV
In addition to attending classes, Kellogg welcomes spouses to be an active part of the vibrant community. Shivali was encouraged to participate in various social events and networking opportunities organized by the school. These events provided an excellent platform to connect with fellow students, faculty members and professionals from diverse backgrounds.
By engaging in these activities, she expanded her social circle, forged meaningful connections and gained exposure to different industries and career paths. Shivali was so actively involved in the classes and other social activities that for a long time half of the people were confused about who the actual student was.
As a spouse at Kellogg, she was not merely a spectator but an active participant in the vibrant community.
Read next: My journey as a social entrepreneur: Founding before, during & after Kellogg