Start of Main Content
Mobilizing women leaders during Gender Equity Week 2023
Learn more about the events the Women's Business Association at Kellogg hosted to celebrate and activate women leaders at the school and beyond.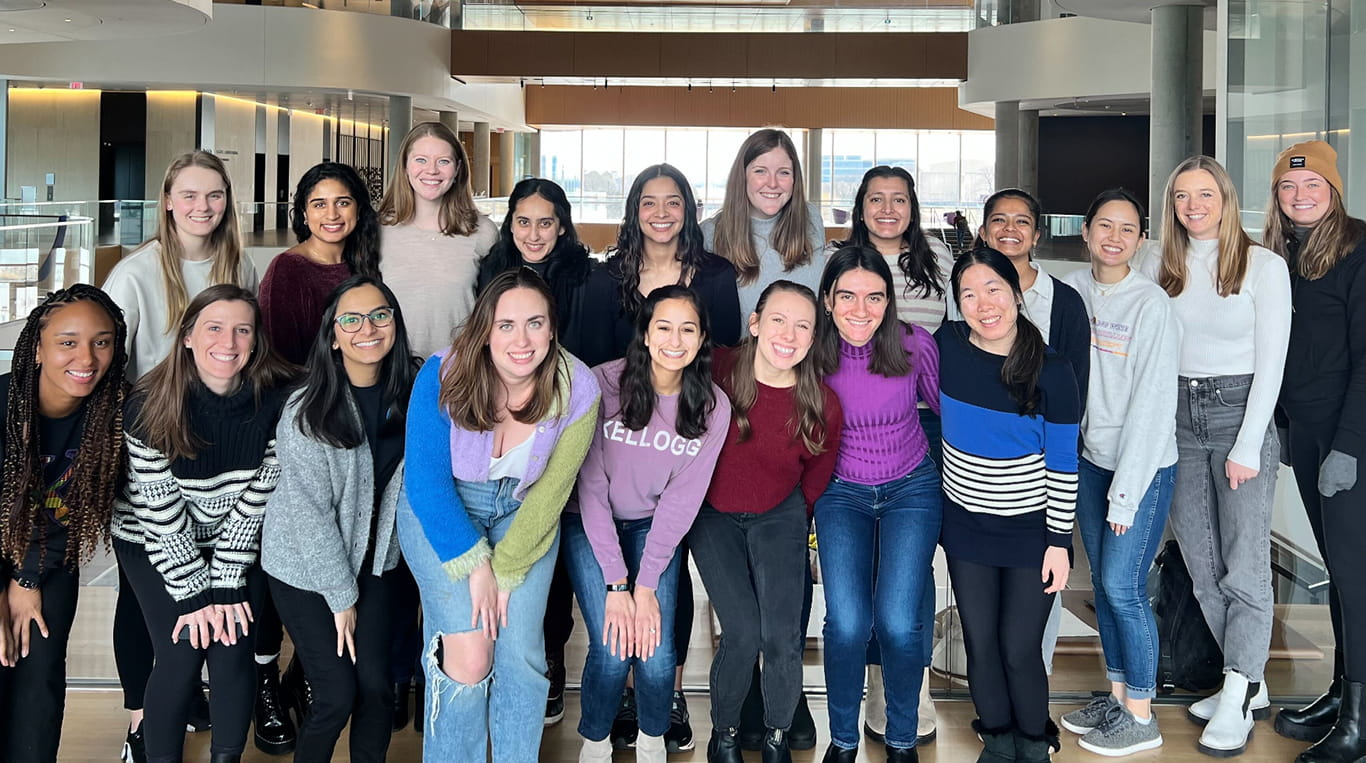 Written by Women's Business Association (WBA)
The theme of this year's Gender Equity Week (GEW) was mobilizing women leaders. Women and other marginalized genders around the world are taking the lead to shape how we all live, work and advocate for ourselves.
In the past year, we've seen women in Iran fight for their civil liberties; women and allies in the United States and around the world advocate for reproductive rights and the right to privacy in the wake of the overturn of Roe v. Wade; women push for what they need in the workplace and more. In 2023, the number of Fortune 500 CEOs identifying as women is at its highest point in history, the United States has its first-ever woman vice president and women now hold a record number of board seats for publicly traded companies. We should celebrate our progress, but there is still so much more work to be done.

More women advocating for themselves in the business world and our global communities will lead to better outcomes for all. When women and other marginalized genders mobilize and bring allies along with them, they are unstoppable.
Trailblazers trivia: Celebrating women of color
In collaboration with the Black Management and Hispanic Management Associations, we hosted a team trivia event to kick off the week. There is nothing MBA students like more than a little healthy competition! The questions covered facts about so many inspiring women like Sonia Sotomayor, Maya Angelou, and Beyoncé. It truly came down to the last question when the third-place team upset the standings and rose to the top!
Hear My Story: Stories of mobilization
The theme of this year's Hear My Story event was "Stories of Mobilization." The event featured three members from the Kellogg community speaking about times when they had felt mobilized (or immobilized), when they helped mobilize their communities and when they were mobilized by women. Our speakers reminded us of the amazing, inspiring and deeply meaningful ways in which every woman has the agency and power to affect change, engender compassion and foster community.
Keynote: How to Be a Gender Equality Superhero with Romy Newman
For this year's keynote, the Kellogg community had the opportunity to hear from Romy Newman '02 MBA, chief revenue officer of Real, a startup working to bring effective, affordable mental health care to more Americans.

Romy shared seven actionable ways to advance women in the workplace including how to make the business case for gender equality, how to advocate for yourself, how to negotiate compensation and how to work with allies to inspire change. She also shared personal stories about challenges and triumphs she has faced in her 20+ years in business leadership at organizations such as the Wall Street Journal and Fairygodboss, a startup and career community for women that she co-founded.
International Women's Day celebration
To celebrate International Women's Day (IWD), we hosted our second annual IWD Celebration at Five & Dime where we were able to experience the artistic talents of six Kellogg women. We featured student leaders who are singers from the Kellogg bands including Captains of Industry and Rocket Pockets and a dancer from Groupwerk. Acts covered songs and dance styles from multiple countries with a shared focus on women artists. Attendees connected over food, drink and fantastic performances.
WBA families pottery painting
Our WBA families program organizes small pods of first and second-year students leaders to help form closer connections and a built in support system. We invited our families to get their creative juices flowing and join us at the Norris Center to paint pottery. At each table, we included questions about women who inspire us to help get the conversation started around examples of mobilizing women leaders. It was super fun to craft together and share stories of women who inspired us as well as mentors who have shaped our lives.
P@k Unpacks: Beyond the binary
In an open conversation over dinner, we unpacked the nuanced topic of gender. Taking from our own experiences and materials we explored together, diving deeper into how gender presentation is malleable and gained a better understanding of trans-phobic feminism. Pride@Kellogg (P@k) was such a great partner for this event and helped participants foster meaningful and illuminating new perspectives.
Her personal finance
In collaboration with our Evening & Weekend Program peers, we invited Eryn Schultz, founder of Her Personal Finance, for a hybrid educational session to learn more about personal investing and common mistakes to avoid. As we look at now and beyond Kellogg, the role our financial decisions will take in enabling our success will increase. Whether we're mobilizing through starting our own businesses or managing towards future financial freedom, sound personal investing could not be more important.
Weeklong GEW campaign: Together we can
Communities do better when they mobilize to lift each other up. Over a weeklong campaign, we asked our Kellogg women to dream audaciously and to trust their community for help achieving their dreams. The bold, unabashed dreams were representative of the diversity Kellogg students have: opening restaurants, throwing the first pitch at a Cubs game, running an Iron Man. We can't wait to see the strength of the Kellogg network in turning those dreams into reality!
Read next: The consequences of underestimating the racial wealth gap