Start of Main Content
Honoring Black History Month 2023 at Kellogg
Learn more about events throughout the month and get to know our community here at Kellogg.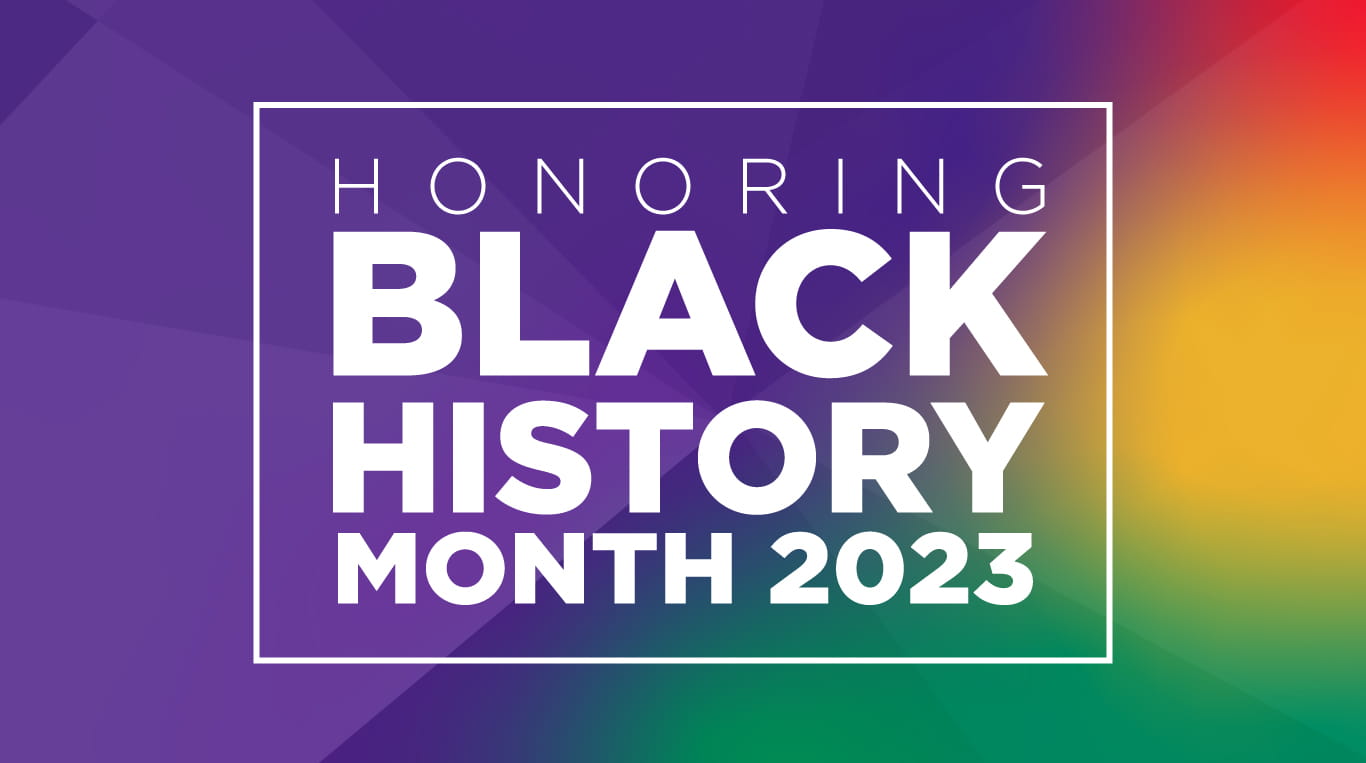 Every day, Kellogg strives to live out our commitment to fostering an inclusive environment as we shape the next generation of extraordinary leaders.

To mark the start of Black History Month 2023, we're proud to present the many contributions of the Kellogg community and share the exciting events they have planned for this month.

The school's Full-Time Black Management Association student group has organized its events around the theme of "SECURE," which stands for "Security Territory: Celebrating Trailblazing Leadership," inspired by the Emmy-nominated TV show "Insecure."

Kicking off its celebration this month, the group writes: "To blaze a trail means to create a path that never existed. It is to reimagine what is possible and create a new standard. This complicated world needs more trailblazers. We want Kellogg to learn about Black Leaders past and present, understand their impact, and leave inspired about how they blaze new trails. We want to leave the Kellogg audience with a charge: What path do you want to secure – will you be that leader?"

Read on to learn about the many ways the Kellogg community will honor Black History Month this February:
Student and employee groups
Meet the student and employee groups committed to advancing Black leaders here at Kellogg.
Black Management Association (Full-Time)
The student-led Full-Time Kellogg Black Management Association strives to develop Black leaders within the community. Through professional and personal initiatives, we work to create a supportive environment, enhance career development and attract top talent.

Visit the club website for more information.
Black Management Association (Evening & Weekend)
The Evening & Weekend Black Management Association group's mission is to create a community that supports, develops and advances Black leaders through their Kellogg journey and beyond. BMA delivers on these goals by leveraging academic and professional resources that provide opportunities for our members to grow via networking, social events and engagement with senior leaders and alumni across varied fields of interest.
Visit the club website for more information.
Kellogg Black / African American Network
KBAN is an employee resource group for staff at Kellogg. KBAN promotes and celebrates an engaged,
visible and empowered community for Blacks/African Americans and Kellogg as a whole.

Visit the Kellogg Staff Intranet for more information.
Events honoring Black History Month 2023
Sign in to Campus Groups or the Kellogg Staff Intranet at the links below, or contact club leads for further information and registration.
February 2 — Fireside Chat with Solidcore CEO Bryan Myers

Join Sports Business Club, Black Management Association, Human Capital Club and P@K for an exciting discussion with Bryan Myers, CEO of a highly popular and quickly growing boutique fitness brand specializing in small group strength training.

February 4 — Kellogg & Booth BHM Mixer

Join Evening and Weekend students from Kellogg & Booth's MBA programs at a Black-owned restaurant in Chicago, for an evening of fun as we celebrate the start of Black History Month. There will be games, trivia, music, drinks and small bites.

February 9 — KBAN Presents: Celebrating Black History Month

Join KBAN for a timely, relevant conversation with Dr. Alvin B. Tillery, Jr., the professor of political science and founding director of the Center for the Study of Diversity and Democracy. This stimulating conversation will build awareness around historical and current policies that negatively impact the Black community, for instance, the current debate on critical race theory and the recent affirmative action cases before the Supreme court and their potential impact on higher education institutions.

February 9 — Fireside Chat with Mielle CEO Monique Rodriguez

Join Entrepreneurship & Venture Capital Club and the Black Management Association for a candid conversation about navigating the journey from ideation to exit with Monique Rodriquez, founder and CEO of Mielle Organics, on the heels of her successful sale of her natural haircare brand to P&G.

February 14 — Keynote Address with Sam Acho, NFL veteran and founder of Athletes for Justice

Lebron James once said that he is more than an athlete, and that's undoubtedly true for Chicago's Sam Acho. Join the Black Management Association in securing brave leadership as Sam Acho recounts stories about his leadership experience during his time in the NFL as both a player and vice president of the National Football Players Association. From bargaining with billionaires, leading his team during Colin Kaepernick's nationwide protest, and developing a relationship with the chairman of the Chicago Bears, Sam inspires us to build bridges instead of walls and lead with courage and grace.

February 16 — Beyonce & Black Feminism Lunch & Learn

Join BMA, WBA, and the Media & Entertainment Club for a moderated discussion on securing justice with Cinnamon Williams, a Ph.D. student in the NU Dept of African American Studies, through exploring the origins of Black Feminism, the implications of feminism on pop culture and what Beyonce's music and her status as an icon can teach us about our own feminisms.

February 17 — Black History Month Alumni Mixer

The Evening & Weekend and Full-Time Black Management Association clubs will join the Kellogg Black Alumni Network (KBAN) for a social mixer in Chicago. Contact club for further details.

February 20-24 — Black Management Association Week

Join the Full-Time BMA for a week of exciting and engaging events around its theme of "SECURE - Securing Territory: Celebrating Trailblazing Leadership." Contact club or check Campus Groups for locations and times.
February 20 — Hear My (Leadership) Story
This leadership-themed Hear My Story will feature first-and second-year BMA students, who will share stories that reflect on leaders that inspire them.
February 21 — Black Jeopardy
Join a trivia game night centered around Black culture, history, current events, music, etc. Sections will compete for first, second and third place. Points will be added to the section competition and the first-place winner will be awarded a free ticket to Night of the Apollo.
February 23 — A Conversation with Dominique Harris '14
KBAN and IGNITE, a staff resource group promoting women's leadership and development, welcomes alumna Dominique Harris '14 to campus. Dominique will share her journey with us from past to present as a partner at Kearney – Chicago.
February 24 — TG: The Pre-Show
Lights, camera, action! This is the pre-show before Night of the Apollo. Students will be interviewed about their Kellogg Black History Month experience. This event will also feature a special performance from a Chicago-based gospel choir.
February 24 — Night at the Apollo: Block Party
Join us for a celebration of Black trailblazing influence on culture in this showcase of student talent, music, art and food. The evening will feature a night of performers, dancing and local Black entrepreneurs. Black Effect Awards will be presented to one current student and one alum.
Week of February 27 — Evening & Weekend BMA Small Group Dinners
Students are invited to join small group dinners this week hosted by Evening & Weekend MBA students Victoria Alao and Sinnard Scott. Contact the club for details.
February 28 — KBAN Presents: Black Jeopardy
Staff are invited to join KBAN for a fun trivia event about Black culture. Check the staff intranet for more details.
Further reading
Learn more about the Black community at Kellogg and our commitment to DEI through this selection of essays and thought leadership articles.
A diversity, equity and inclusion reading list — In Kellogg Insight, faculty share their perspectives on how to build and sustain DEI initiatives.
A professor reflects on the mentors who shaped her — Professor Brenda Ellington Booth writes about the family members and mentors who changed the course of her life and career. Ellington Booth, a clinical professor of management & organizations, also discusses her new course, Leading with Empathy.
An inclusive company culture starts with each of us — Alumnus Yemi Akisanya '19 MBA reflects on how he pushed through moments of self-doubt in his own career and what it takes to create a truly inclusive company culture.
BMAC 2022: Championing a world without ceilings — The Black Management Association Conference, the 36th annual event, returned to the Global Hub last October to explore how leaders are pushing past barriers and claiming their place in a more equitable business world.
Diversity leader and EMBA grad reflects on Black History Month — Crystal Fazal '08 MBA returned to Kellogg in 2021 as Director of Diversity Admissions, after a successful career in sales and marketing with several high-profile brands, including MillerCoors and Coca-Cola. Here, she shares why she feels called to advance DEI efforts at Kellogg.
Podcast: What should DEI work actually look like? — On this episode of The Insightful Leader's "Ask Insight"— where listeners ask questions, and our faculty experts respond — we learn that changing the status quo will take self-reflection and time.
Check back for new posts and follow Kellogg on social (Facebook, LinkedIn, Instagram and Twitter) as we share stories from the Kellogg community all month long.