Start of Main Content
Developing intercultural competence for greater business impact
Having lived in Taiwan, Singapore and the United States, professor Cynthia Wang shares how her multicultural experiences have helped her discover her professional calling.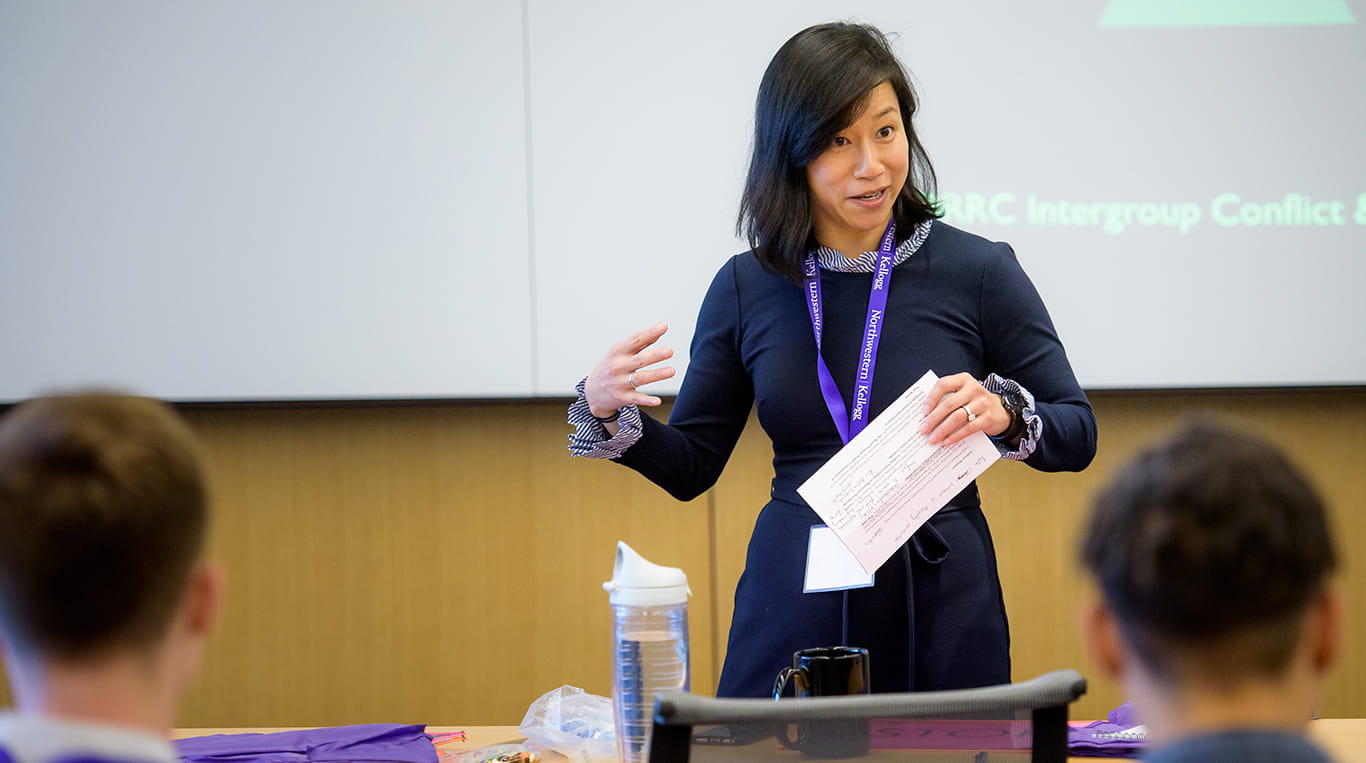 Negotiation skills are a bedrock of business, and their influence varies depending on a wide range of factors, including the environment. Cynthia Wang teaches classes in negotiations at Kellogg as well as organizational behavior, group decision-making, and cross-cultural communications courses at other institutions. Learn more about how she has leveraged the power of understanding people to reach desirable outcomes more effectively and why it is important for leaders to understand the cultural context they are communicating in.
Written by Deborah Ziff
In sixth grade, Cynthia Wang PhD '07 MS '04, and her family moved from Boston, Massachusetts to Champaign-Urbana, Illinois, where her father took a job as a biochemistry professor at the University of Illinois.

"It was a shocking experience, moving from a big city to the cornfields," recalled Wang.

Once the shock wore off, Wang found that her proximity to a major university campus exposed her to a wide variety of people. Wang, whose own parents were immigrants from Taiwan, said that this made her deeply interested in understanding how someone's cultural or racial background can affect their experiences.

Now, as a clinical professor of management and organizations at Kellogg, Wang studies how cultural and social diversity affects dynamics within an organization including how employees negotiate for social change in the workplace.
Wang teaches negotiation fundamentals and advanced negotiation using her expertise to help students think through how they can get the most out of any given negotiation. The key to her success in the classroom, she says, is to "triangulate:" bringing in research, real-life examples, and experiential elements, such as practicing negotiations in the classroom.
"It's such a useful class," she said. "My mindset going in is that how I can provide students tools that they can use throughout their life."
"The heart of my lessons is about the importance of understanding people's psychology, who they are and what they want, so my students can better navigate their relationships with others"," she said.
Wang was recently awarded a fellowship through the Fulbright Scholar Program, the U.S. government's flagship program of international and cultural exchange, to spend six months in Taiwan studying the negotiation tactics used within social movements.
Taiwan is an ideal place for this research, Wang said, because of recent social movements focused on protecting democracy and human rights.
"The Fulbright will allow me to explore how negotiations within social movements are carried out in Asia as compared to how they are carried out in the U.S. such as #MeToo. The way people negotiate could be dramatically different in these two cultures" she said.
She was inspired to apply for the Fulbright after working with Brayden King, Max McGraw Chair in Management and the Environment, and UCLA's Jennifer Whitson, on a paper published in Organization Science on how language affects the reception of social movement-driven policy changes within the workplace.
Wang, who majored in psychology at Yale as an undergraduate before coming to Kellogg for her master's degree and PhD, enthusiastically returned to campus as a faculty member and the executive director of Kellogg's Dispute Resolution and Research Center. There, she leads a team that creates classroom content on negotiations used all over the world. The center also organizes conferences including a conference on Political Sectarianism, co-hosted by the Institute for Policy Research in May.
When Wang goes to Taiwan in January, she'll be working with host institution Academia Sinica to review digitized paraphernalia from social movements – for instance, protest signs – to look at the language and slogans used in social movements. She's noticed social movements in Taiwan tend to use more metaphorical language as they negotiate for change, such as the Sunflower Student Movement or the Wild Strawberries Movement, and she's interested in exploring how language might help mobilize individuals.
Extending her work on perspective-taking, Wang said she hopes the fellowship in Taiwan will allow her to understand U.S. culture better given political issues in both countries.
"I think that's the key to the Fulbright experience," she said. "Without this exchange, you can't even fathom a different perspective of how to approach a problem. We can learn from Taiwan, while also sharing U.S. solutions and cultures that may help with the challenges that they're facing."
Wang said she relishes the opportunity to connect with her Taiwanese heritage.
"Personally, it's going to be an enriching experience," she said. "I was born in the U.S. and haven't had much experience there beyond short visits. It will allow me to connect with my culture a little more."