Start of Main Content
Kellogg Leaders in action: The value of making connections
"We know that leadership is a team sport, not a solo sport," says Alfredo Garcia, VP of strategy and operations at Adobe. Learn about his approach to building a strong network and how Kellogg prepared him to be a collaborative leader.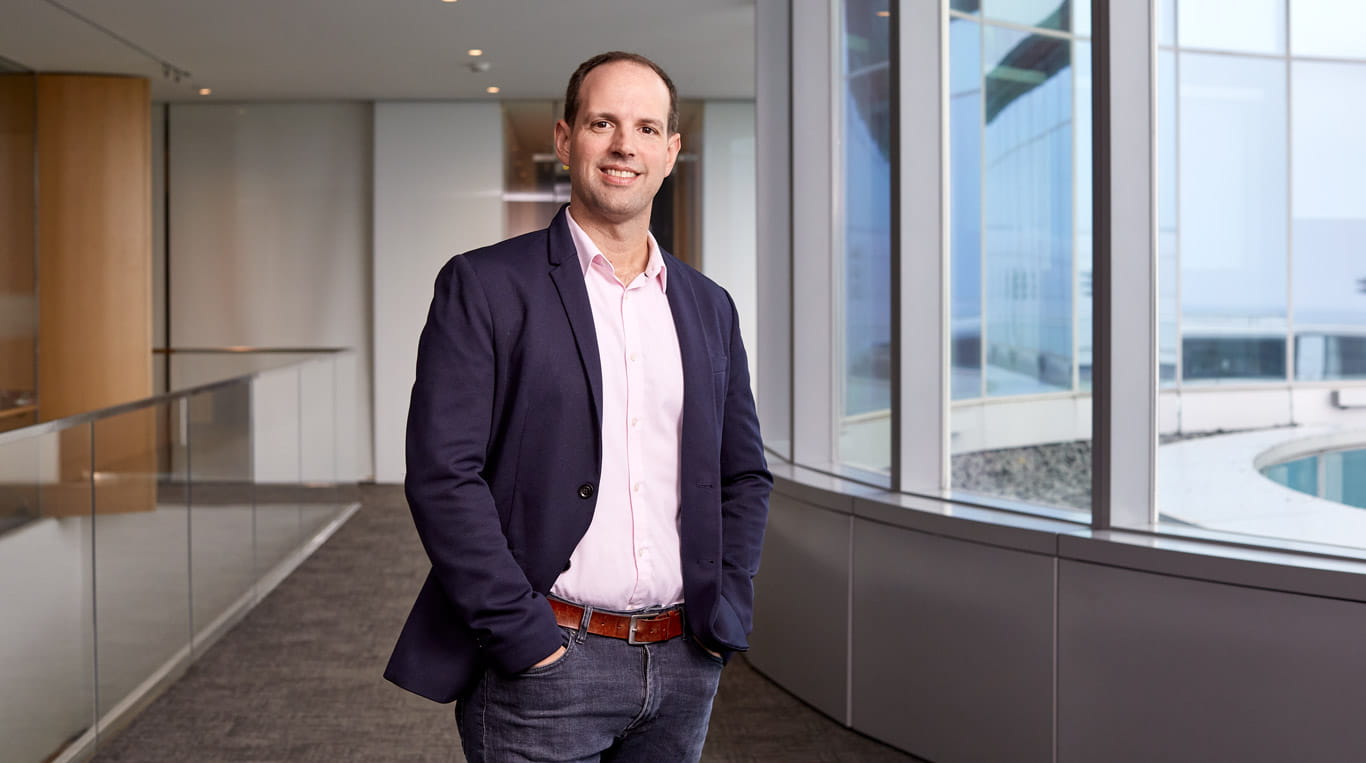 What makes Kellogg unique? In a rapidly changing world, we provide our students with fertile soil for fruitful leadership. Our students are planting seeds to become the leaders of tomorrow, and our community supports and challenges their growth. Whether in the classroom or through global opportunities, our MBA programs sharpen analytical skills while fostering creativity and social intelligence.

Our "Kellogg Leaders in Action" series highlights adaptive, empathetic leaders who are changing the global business landscape.

Meet Alfredo Garcia '12 MBA, VP of strategy and operations at Adobe. Previously, he served as director of product operations and chief of staff at Google Workspace, a role he started just five weeks prior to the COVID-19 pandemic. As the world abruptly shifted to virtual gatherings and remote work, his new role quickly focused on increasing capacity for the billions of users who rely on Gmail, Google Meet and other tools. Alfredo says his Kellogg training helped him navigate such a high-stakes project at a time when the world was changing by the minute. Here, he reflects on what Kellogg alumni have in common.
Why do you think it's so easy to pick Kellogg alumni out of the crowd?

Kellogg Leaders are master connectors. And I think naturally they gravitate to Kellogg because Kellogg provides the right strategy and tactics for learning how to be a better connector. We are trained to understand that you can't succeed alone and so building relationships is a core part of that.

There are two ways to think about building relationships: One is the more transactional approach, which is about, 'I need to extract the most value out of you, so I'm going to sell you and then I'm going to move on.' And then there's the more genuine, more sustainable, durable type of approach to building relationship. You're not focused on, 'Am I going to get something out of you?' Instead, it's having the mindset that I think it's worth connecting and that maybe somewhere down the road, we can learn from each other. That second approach is the one that Kellogg Leaders focus on and that people gravitate toward.
What does it mean to be a Kellogg Leader?

Kellogg Leaders are selfless. We know we are working on something much bigger than ourselves. We know that leadership is a team sport, not a solo sport, and that we win as a team, not as an individual. When you bring all these uniquely Kellogg leadership traits together, it creates this trifecta of bringing people along, asking the right questions and then knowing where you're playing to your strengths and where you're bridging your weaknesses.

Can you share a specific example of how you've used your Kellogg leadership skills in your own career?
In my previous role at Google, I led strategy and operations for Google Workspace, which is the suite of products that has Gmail, Google Calendar, Google Sheets, Google Meet. A lot of these products really took off during the pandemic, and I joined five weeks before the pandemic. I had no idea what was going to be in store — the 40X growth in capacity that we would need to supply, and the huge demand of customers across schools, universities, governments, individuals and businesses large and small.

I was assigned to lead a program thinking about how we grow our products, and how from a capacity standpoint we respond to remote work. It was a huge responsibility, leading an initiative across the organization that affected 25 products and billions of users. But my first approach was self-awareness and thinking about where my strengths are. I understood this part of the business, but I had never scaled a business this fast, nor one with this many products. So, I knew I needed to surround myself with the people who know how to do that and then move to ask the right questions
I always knew this project was much bigger than just me and that was what really excited me. Leading this initiative was never about my time to shine — it was about how the work we did was going to impact so many people. The end result was that we did actually grow double digits from the user base/revenue standpoint over two years. But, the most important thing is that because of that project, schools were able to have continuity. Businesses were able to have continuity. Families were able to connect. I'm really proud of that.
Can you describe a lesson you learned when you were a Kellogg student that you still use in your career today?
I took a class called The Human Element of Private Equity. We used a great book by Robert Cialdini and learned the six 'weapons of influence' he identified. I still refer back to that book, recommend it and give it to all of my teams. Why? Because even CEOs need to influence others, such board members, customers, regulators and governments.

What advice would you give your younger self back when you were considering coming to Kellogg?
I would say take the time to really live the moment and enjoy every step along the way. I feel that sometimes we come and we're always thinking about the end result, and there are so many things thrown at us. We've got the whole FOMO thing. It's easy to think, 'I haven't achieved this yet, I haven't achieved that yet.' And if I would have taken a moment to tell myself, 'I'm going to enjoy this, this finance class, I'm going to enjoy this club event, I'm going to enjoy this trip...' I think I would definitely go back and savor that a little bit more.