Start of Main Content
Celebrating the Class of 2022
Class of 2022, we celebrate you.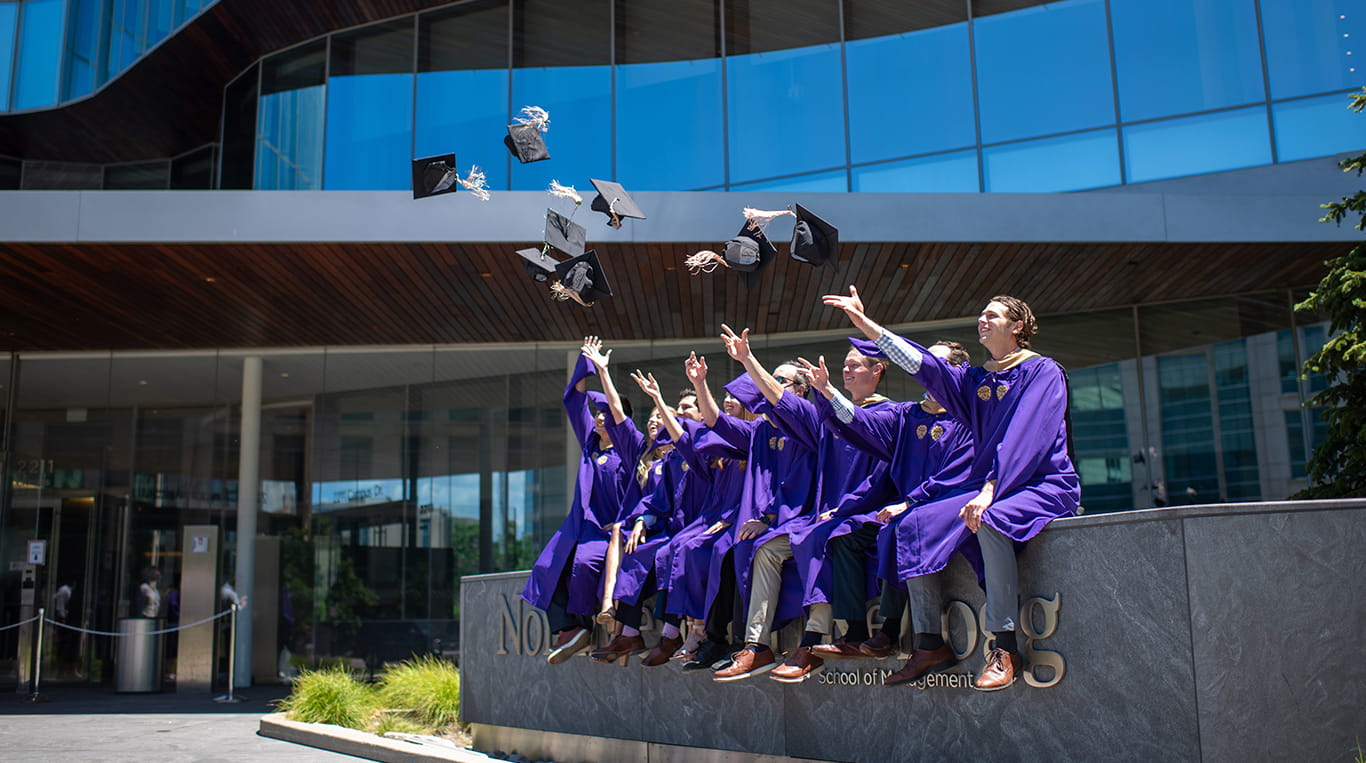 This resilient class embarked on their Kellogg MBA journey at the height of the pandemic, a time when the need for agile, creative and empathetic leadership was more urgent than ever.
Prior to Kellogg, their accomplishments and experiences were impressive:
Justin executed a high-profile counterinsurgency operation in the U.S. Army that reclaimed 25 kilometers of ISIS controlled territory in Afghanistan.

Christianne created a tool that enabled BlackRock's team to increase sales of Active Equity Funds by $58 million.

Kate designed the first Pride-themed can for Bud Light and spearheaded the launch of Bud Light Seltzer.

Alex facilitated Google's Sales Faculty inaugural program launch.
And so much more. This class's commitment to inclusion quickly created lasting impact within the community at Kellogg. We're proud to present here just a few of their stories.

Sammy Goldstein '22 (2Y), president of the Full-Time Kellogg Student Association (KSA), led a platform aiming to spark connection within the student body. Through a commitment to equitable representation on the student leadership team and increased collaboration efforts between Kellogg students and administration, Sammy did just that.
On the receiving end of her team's leadership, Rohan Bhatt '22 (MMM) reflects on the energy the community at Kellogg instilled in him. From hanging out with friends in the MMM program to coffee chats with other students, "those are the moments I'm most grateful for," says Rohan.
When asked to describe his Kellogg experience in three words, Kevin Groll '22 (2Y) summed it up like this:
Evening & Weekend student Alex Tyrell '22 admits her Kellogg experience surprised her in more ways than she anticipated. Having worked in technology her whole career, she never considered a role in software development. That all changed when she took Professor Benjamin Block's software development course. "Professor Block's support and influence was so profound that at this point I'm actively entertaining ways to integrate software development into my future career path," says Alex.
Within the Evening & Weekend MBA program, outgoing KSA President Simona Kovatcheva '22 launched a DEI Task Force in collaboration with the administration and the Kellogg Inclusion Council (KIC), which will serve as a thought leader to promote inclusivity across club programming and other initiatives.
In addition to creating a lasting impact within the community at Kellogg, this class came in with ambitious goals of pivoting their careers and driving impact across all industries. When Christine Cornellier '22 enrolled in the Evening & Weekend MBA Program, her goal was simple. "I wanted to understand how I could pivot my career, leveraging my technology skill set, to serve more of the greater good," she said.
Armed with her newly articulated purpose, Cornellier spent a year interviewing more than 100 leaders in the social impact space. By the end of the interviews, Cornellier found her way forward. She was hired in February 2022 as a senior manager of ESG and corporate responsibility at Target.
Hayley Bohart '22 (2Y), came into Kellogg wanting to pivot from consulting to venture capital. "The best way to break into Venture Capital: do the job before you get the job," reflects Hayley. To get real-life experience in the industry, Hayley joined a Kellogg team and competed in the Venture Capital Investment Competition. She and her teammates made Kellogg history by winning first place, and Hayley walked away with the experience and skillset to break into the industry.

Similarly, Jamie Curran '22 (2Y) came into Kellogg with a clear goal: start her own company. After her acceptance into the Zell Fellows Program, a unique, applied entrepreneurial experience for a select number of Kellogg students, Jamie worked tirelessly to bring her idea to life. This spring she successfully launched her footwear line, Jaes.
With eyes on the future, Tracy Striebich '22 (1Y) reflects on what excites her most about the future.
With exposure to our rigorous curriculum, experiential learning opportunities and global experiences, we have full confidence these Kellogg leaders are prepared to meet the demands of a fast-changing world.
Best of luck to the Class of 2022!