Start of Main Content
A two-year MBA student reflects on her empowering journey 
Full-time student Amber Washington '22 shares how the Kellogg MBA program supported her personal and professional growth.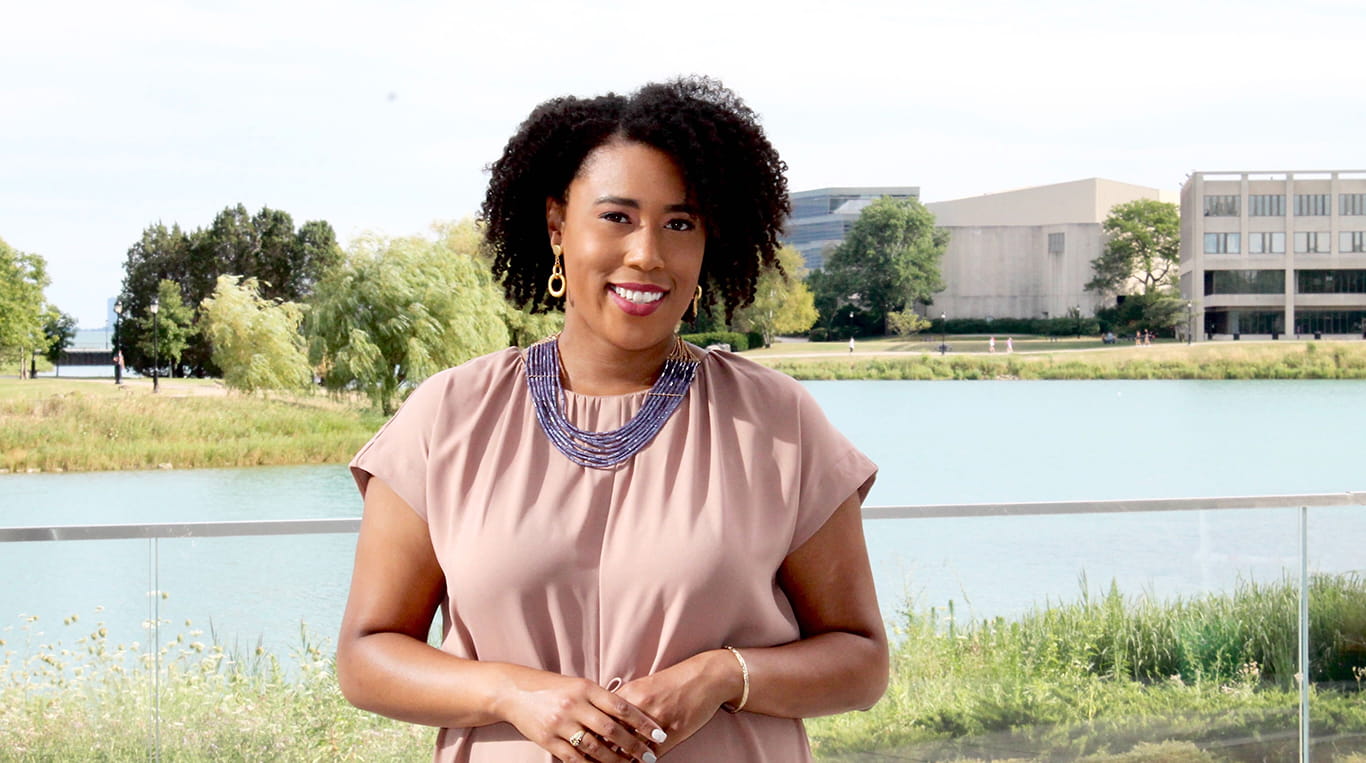 As Kellogg MBA students get ready to wear their cap and gown, Amber Washington '22 (2Y), product management intern at Archer Career, takes a moment to look back on her MBA journey. Here she shares some of the valuable lessons she learned during her time at Kellogg and the community she has built along the way as well as how her Kellogg MBA has prepared her for the future.
How has Kellogg helped you grow as a person and a leader?
Kellogg showed me that having the willingness to take risks and more importantly, the dedication to learn from them, is a desirable skill in life and career. From participating in the Kellogg Design Challenge during my first quarter to starting my own business last year, I have had plenty of opportunities to practice during my time at Kellogg. I feel empowered to take on challenging initiatives, share my time and talents with others graciously, and confident in my abilities to learn new lessons along the way.
What was the most beneficial thing you learned and/or experience you had while at Kellogg?
This past Fall, I served as a member of the Complete Immersion in Management (CIM) Executive Team, which is the core student group who plans and executes the formal programming that welcomes and introduces the incoming class to the Kellogg experience. From January to August, we spent hours reimagining and adapting the CIM experience for the ever-changing COVID era. It was amazing to offer a new CIM experience, resembling its pre-COVID editions with lasting traditions such as the section competition while also adding new but essential sessions centered on self-care and holistic wellness.
What will you miss most about being a Kellogg MBA student?
I'll truly miss the casual interactions with my classmates at the Hub. Whether it was over a fro-yo from Gordon's or lunch at the lakefill, the informal, impromptu chats were essential to building authentic connections with familiar and new people. It was so easy to do so in a place like The Hub, a space that welcomes connections and invites conversations through its openness and nooks.
What was your favorite class you took and why?
This past Fall, I had the pleasure of taking Personal Leadership Insights with Kevin Murane and 15 of my classmates across the full-time programs. I received endless encouragement and support to redefine what it means for me, Amber J. Washington, to lead with authenticity and confidence. I also had the opportunity to join my peers on their leadership journeys in personal and meaningful connections through one-on-one talks, individual coaching sessions, small group activities, and entire class discussions.
What are you most looking forward to regarding your career post-Kellogg?
Given the current climate, I know that I will be facing some challenging work situations such as the five-generation workforce, distributed team culture, and competitive labor market. However, I am looking forward to facing complex business challenges in my career with a renewed outlook on my purpose and leadership, my key learnings from connecting academics to experiences, and the Kellogg community supporting me along the way.
What's one piece of advice you have for incoming Kellogg students?
While your time at Kellogg will be short (two years flies when you're having fun), the magnitude of your impact (time, contributions, and talents) is defined by you. From now until your first day of CIM, spend some time thinking about what your Kellogg legacy will be and know what it entails. With that vision in mind, act accordingly and you'll do great. I'm rooting for you!