Start of Main Content
Part Three: The New Talent in Kellogg's EMBA Program, Fall 2021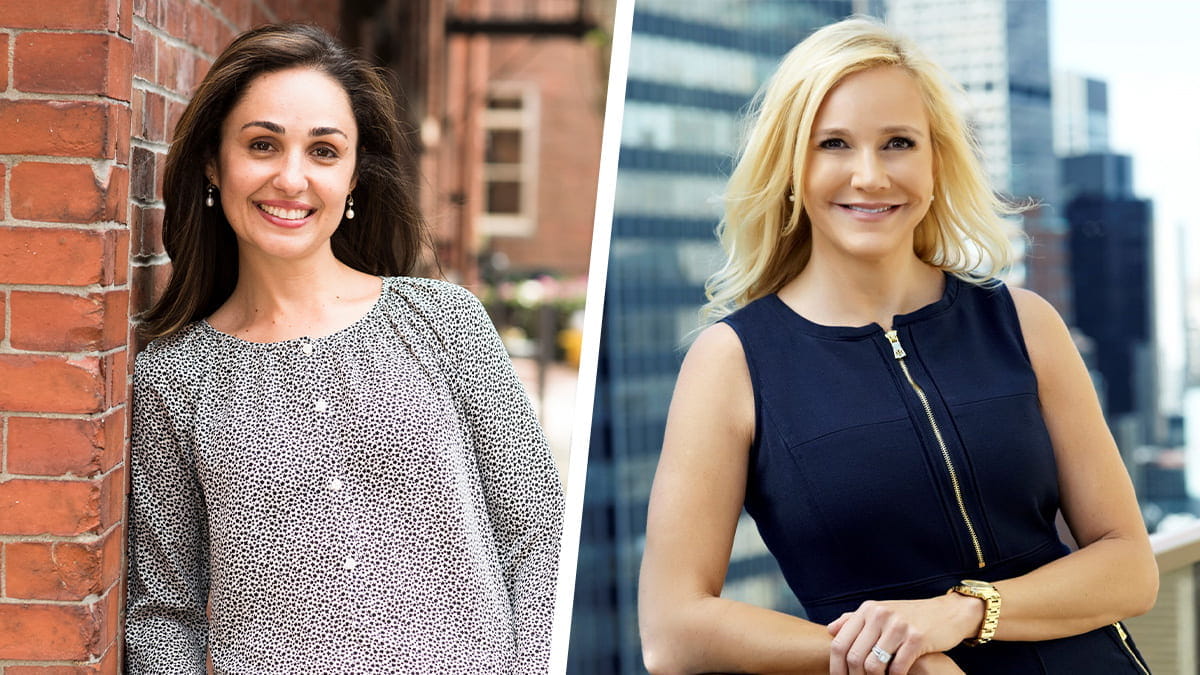 In this series, we celebrate the truly impressive and diverse students who recently joined Kellogg's Executive MBA Program. Today, we're excited to introduce (from left): Patricia Tozzi (Chief Strategy Officer, Tessellati) and Rebecca Tann (Chief Commercial Officer, Reddy Ice).
What are you currently doing from a career perspective?
PATRICIA: I work as chief strategy officer at Tessellati, a Boston-area boutique ad agency with a diverse portfolio of clients in healthcare, technology, finance and academia. Besides supporting the agency's growth through new businesses initiatives, I manage a talented multicultural team of strategists, researchers, creatives and data analysts to develop international research, marketing plans, and campaigns.
REBECCA: I am the executive vice president and chief commercial officer, reporting to the CEO, at Reddy Ice. Reddy Ice is the largest manufacturer and distributor of packaged ice products in the United States. I am responsible for all commercial strategy, sales, marketing, R&D and customer care programs — ultimately tasked with driving profitable growth for the company.
One of my most recent accomplishments that I am proud of is being brought on board two years ago to evolve our go-to-market strategy. This required a total sales transformation and customer segmentation project that included hiring a world-class leadership team and reshaping the sales organization. As a result, we were able to successfully implement a price pack architecture (package/price change) strategy that resulted in double digit EBITDA growth for the company, and provided our customers with a creative solution that will drive incremental sales for them, as well.
As an incredibly accomplished and very busy professional, why was now the right time to get your MBA? Why Kellogg and this program?
PATRICIA: I'm always seeking resources to help me stay on top of my game and be ready for action. As a leader, though, my role is often to ride the bench and watch my team play. Sometimes we do great, other times not so much. How do I help them innovate? What's the best way to leverage my different players and their skills? How do I build trust, motivation and collaboration? How do I make the game challenging and fun for everyone? The global game has changed dramatically, and so have people's behaviors. A successful leader today does not avoid or fight the changes; they surf the waves change creates. I decided to join the EMBA program at Kellogg because I believe it's the path to reinvent myself, be better prepared to address new challenges, and drive higher impact.
REBECCA: My short-term career goal is to continue to excel in my current role at Reddy Ice. My long-term goal is to do at least one more c-suite role in a company that is in hyper-growth mode. Within the next five years, I would like to do board work where I can apply my leadership skills and commercial acumen from a variety of industries. I believe an Executive MBA will help round out my corporate experience and broaden my network to find the right boards. I know in Kellogg's program I will not only be exposed to world-class curriculum and professors, but learning from other students who will share their views and experiences. Kellogg's reputation and culture — especially being known for "high impact, low ego" — was exceptionally appealing to me, and made this program the top of my list.
Why did you choose your specific campus?
PATRICIA: The program schedule and strong connections with the LATAM market were some of the reasons I chose Miami. Also, this campus offers the opportunity to connect with people from all over the world in a location that's enjoyable year-round. As far as the culture, you will find a welcoming, diverse community of global leaders who bring rich business perspectives and are always willing to help one another. Networking happens all the time, everywhere; from coffee dates and council meetings to dance parties and golf, there are many ways to engage with others and get involved in the community. It's a fantastic experience I've enjoyed sharing with talented, humble and fun human beings.
REBECCA: I ultimately chose the Miami campus due to the format of the program being once a month and its "immersion" format – the fact that we all (faculty, students and EMBA team) are onsite and together (learning, studying, eating and socializing) really makes you get a well-rounded experience. After launch week and two weekend classes I already feel bonded with my cohort, and very much a part of this special Kellogg community.
What have been some of your key learnings in the program thus far? Has anything translated to your current role?
PATRICIA: In the EMBA program, our discussions focus on the actual applicability of concepts. Leadership and innovation, for instance, are vital topics at Kellogg and something I'm particularly interested in. Initial insights from Professors Leigh Thompson, Michael Mazzeo, Loran Nordgren, and David Schonthal sparked actionable ideas I'm already implementing to increase my team's collaboration, creativity, and strategic thinking. As a Kellogg alumna once said, "this is a transformational experience." It really is— and from day one!
Any application tips or words of advice?
PATRICIA: Consider exploring how your values and goals align with the school's, as well as the values and goals of the other students in the program. Reflect on how you, as an individual, can contribute to and strengthen Kellogg's community. For that, I would highly recommend connecting with current students and alums who are willing to answer any questions and help prospective students navigate this important decision-making process.
REBECCA: Do your research! What was very helpful during my application process was speaking to as many people as I could — students currently in the EMBA program, Kellogg alumni and staff.  I also found attending a class was extremely helpful — I did this for every EMBA program I was considering and again, seeing the talent of this faculty in action stood out above the rest.