Start of Main Content
Part Two: The New Talent in Kellogg's E&W Program, Fall 2021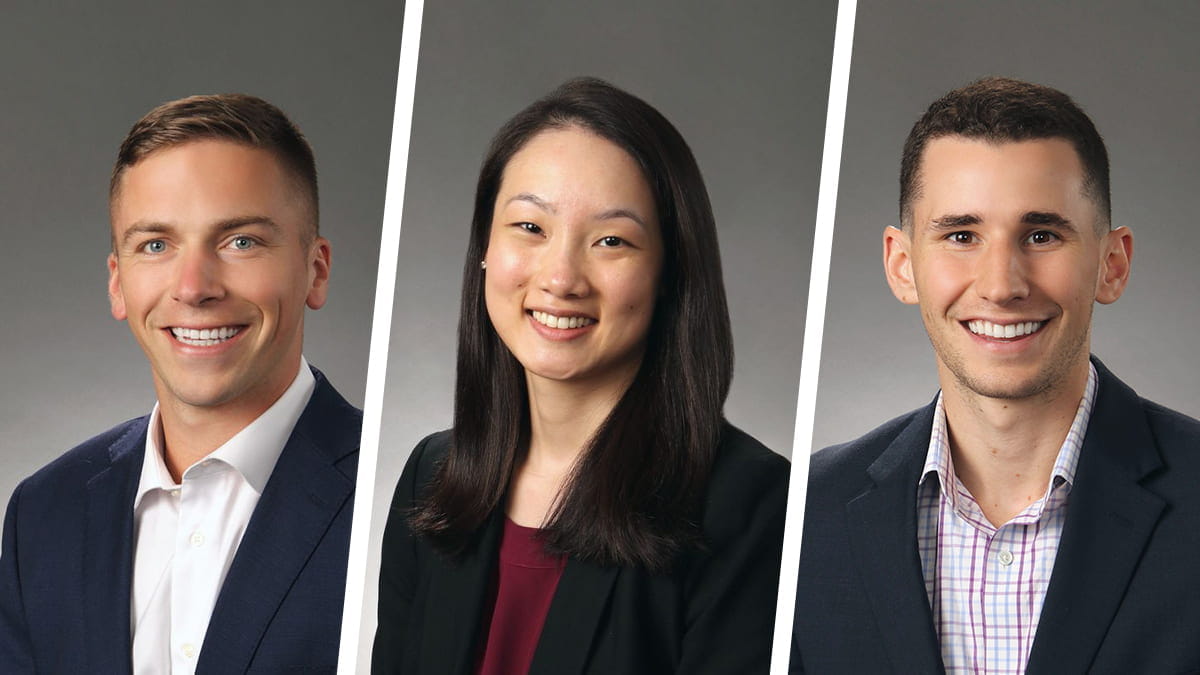 In this series, we celebrate the truly impressive and diverse students who recently joined Kellogg's Evening & Weekend Program. Today, we're excited to introduce (from left): Litton Van Der Werff (Infantry Officer, United States Marine Corps), Rachel Yen (Revenue Cycle Consultant, Epic), and Carlo Fava (Manager, Corporate Financial Planning & Analysis, Grainger).
What are you currently doing from a career perspective?
LITTON: I am an Infantry Officer in the Marine Corps, and currently am the Marine Officer Instructor at Iowa State University. I teach leadership and military history, and mentor and develop 25 students as they begin their careers as Marine and Naval Officers.
RACHEL: I am currently a consultant at Epic Systems, helping our clients optimize their usage of our electronic health record system in the revenue cycle space.
CARLO: I am in corporate finance leading a team in the global corporate FP&A department at Grainger. Prior to joining Grainger, I helped complete a S1 Filing and $850M IPO of a global energy company.
What is your proudest professional achievement?
LITTON: Being selected to be a Company Commander four years ahead of my career progression. This position is one that is usually filled by someone who has been in the Marine Corps for at least eight years, and due to a shortage of personnel, I was afforded the opportunity to fill the position. As the Company Commander, I was responsible for the development and employment of 150 Marines and the well-being of their families. Getting the opportunity to lead and develop those young men and women was a humbling experience.
RACHEL: My proudest professional achievement has been helping hospital organizations prepare for and operate during the pandemic, particularly in the early months when there was a lot of uncertainty around how long and how severe it was going to be. We had to quickly adapt to new information that was coming in every day. It was an incredible opportunity to learn new skills and to step outside my comfort zone.
Why was now the right time to get an MBA?
LITTON: After completing my current tour as a Marine Officer, I am transitioning out of the Marine Corps. At the start of this transition, I knew that I lacked a lot of the technical skills needed to make an effective transition to the business world, and as an Infantry Officer, most of my tangible skills did not transfer to the civilian sector. I also recognized that I needed to refine my soft skills to lead more effectively. I felt that if I waited until after I left the Marine Corps to pursue an MBA, I would be wasting two years when I could have otherwise been bettering myself as a leader and professional.
RACHEL: I was starting to a feel a little too comfortable in my professional life and I wanted to challenge myself to move to the next level. I had been thinking about getting an MBA for a couple of years and finally decided to pull the trigger.
CARLO: I have been fortunate to have a lot of challenging experiences that helped me develop on a fast career path. The Kellogg MBA ensured that I would keep broadening my perspective to support my teammates and the challenges that are placed in front of me. As a first-time manager, I would be able to take my experience from the classroom directly to work the very next day.
Why Kellogg and your specific program?
LITTON: I chose Kellogg because of the culture and the focus on making high-impact, low-ego leaders. I felt that other business schools offered comparable technical development and education, but Kellogg offered a culture of inclusivity and focused on developing soft skills needed to lead an organization effectively.
I ultimately chose Kellogg because of the people I interacted with.  The people in this organization are what give it the competitive edge over other programs. They foster an environment of inclusivity and personal development and dedicate time to developing each individual's personal leadership style through the Kellogg Leadership Journey, which is something that isn't done at other programs.
RACHEL: As someone who wanted to stay in the Midwest and in the healthcare industry, I was drawn to Kellogg for its location and strength in healthcare. I was also attracted to Kellogg's emphasis on "high impact, low ego." The last two years have made us confront some uncomfortable truths about our society, and Kellogg's mission of empathetic leadership really spoke to me. I decided on the Evening & Weekend Program because I liked the idea of being able to apply what I was learning in class immediately to my work.
CARLO: I chose Kellogg because I was able to take advantage of the accelerated option, which allows me to waive some core classes that I have already taken as an undergraduate. This allows me to pursue my interests via elective courses faster. Living in downtown Chicago, it is easy for me to access the downtown location, while also knowing I have opportunities to take courses on the Evanston campus.
As an E&W student, how do you manage your time (between work, family/personal life, class)?
LITTON: Before starting this program, I struggled with time management. Due to the rigors of working full time and taking three classes a quarter, I plan out every hour of each day at the beginning of the week and prioritize my course work and my occupation and try to stick to the schedule I developed.
RACHEL: I would be lying if I said that it was easy. I schedule absolutely everything on my calendar, including downtime. It sounds silly to block off an hour of "relaxation," but I have found that if I deliberately schedule it, I don't feel guilty that I'm not doing something more productive because relaxing is exactly what I'm supposed to be doing at that moment. If you have a partner or family, it's important that you are all on the same page about how much time you will be devoting to school and when you may need some additional support from them in other areas of your life. For me, that means having a shared calendar with my partner so he knows exactly when I'm focusing on school. Lastly, it's okay to say no to certain things. It's impossible to attend every single event or take every opportunity that Kellogg gives you. So, embrace the FOMO.
CARLO: I plan ahead to ensure that I can meet all my commitments — personal and professional. I am also lucky to have a fiancé that is also in school getting her master's in nursing — she is very supportive. Sometimes we ride to class together!
Any application tips or words of advice?
LITTON: If you are interested in developing your soft skills while also developing your business acumen at a top-tier institution, then Kellogg is the place for you. The culture here is something that cannot be replicated at other programs. Attend as many of the admission events as possible to get a feel for the culture. I would also talk to the admissions team and have them put you in touch with enrolled students so you can get a true feel for what it is like here.
RACHEL: Take the time to do some deep introspection about your personal and professional goals. If you find it difficult to share your essays because they feel very personal, then that's a really good sign that you have done the necessary self-reflection to craft the application in your voice. Also, talk to Kellogg students and alumni! I have yet to meet someone who isn't excited about sharing their experience.
CARLO: Take advantage of the resume review opportunities with the admissions office. I received great feedback on what they were looking for. This helped me gauge what areas of my application required more attention.