Start of Main Content
Leadership Development
Through our leadership programming, you will gain the self-awareness necessary to know who you are as a leader, where you want to go and how you're going to get there.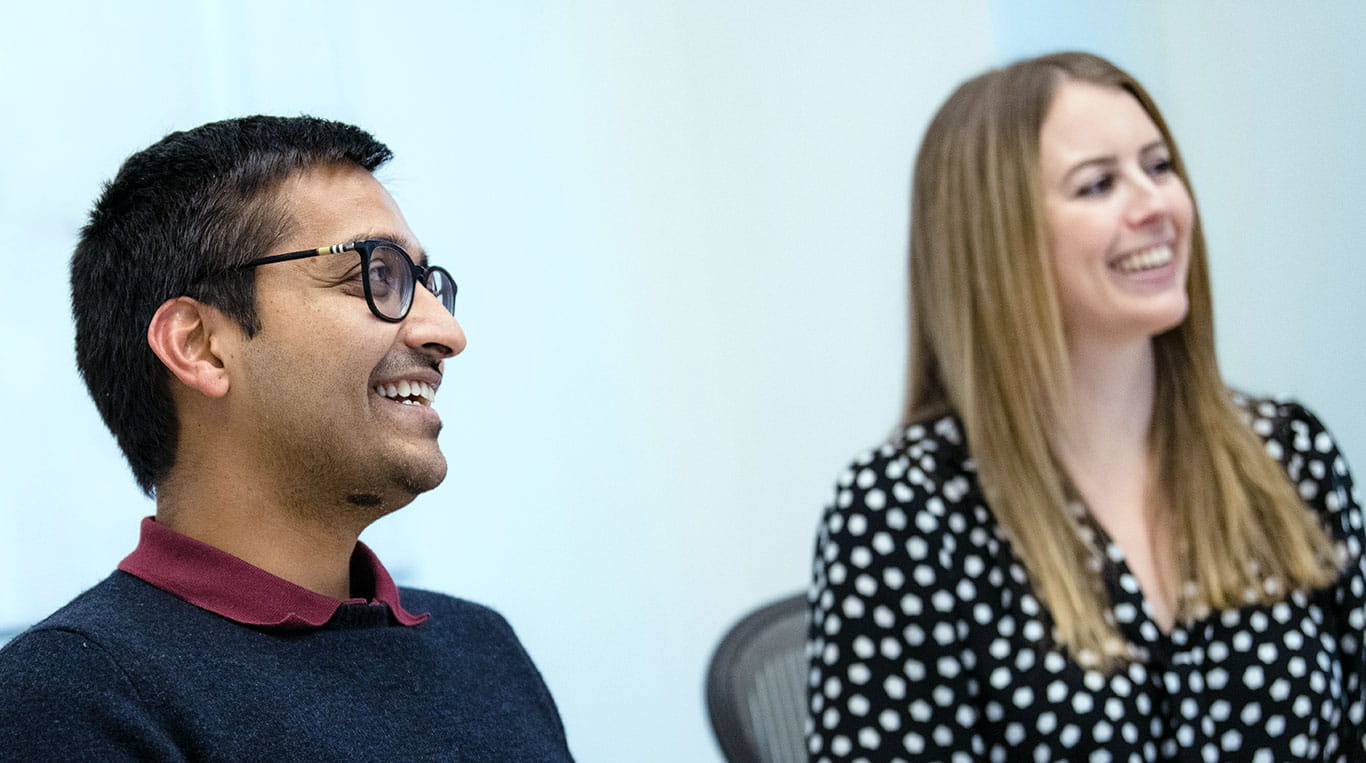 Accelerate your leadership development
Leadership development is holistically integrated into all of our curricular, co-curricular and extracurricular offerings, ensuring that you continually refine your leadership strengths throughout the Evening & Weekend MBA Program. At the same time, our strong curriculum will enable you to lead across functions and industries. You'll grow into a well-rounded leader, ready to influence and inspire change.
Your leadership journey
Led by Kellogg's leadership faculty, the Kellogg Leadership Journey (KLJ) stresses the importance of reflection and accountability. This co-curricular program is designed to accelerate your leadership development in a setting that allows you to embrace new challenges and focus intensely on your personal and career goals.
KLJ occurs in three distinct phases throughout your time at Kellogg: Orientation, Leadership Immersion Retreat and Capstone.
Phase 1: Orientation
KLJ begins with a two-day immersive orientation, where you'll delve into why you are at Kellogg and explore the keys to leadership development, such as readiness, experience, reflection, intentionality and ownership. You will begin to explore who you are as a leader, reflecting upon what transformative events or crucible experiences have formed your leadership foundation.
Orientation also helps prepare you for your academic journey and foster meaningful relationships as you meet and share your experiences with classmates.
Phase 2: Leadership immersion retreat
At the midpoint of your academic experience, you will be invited to participate in the Leadership Immersion Retreat on the Evanston campus. Here, you will dive deeper into leadership by reflecting on your personal journey thus far.
The retreat features several talks by successful leaders as well as deep dives into leadership frameworks from the faculty that focus on the "what" of leadership. Specifically, "What are you committed to doing on behalf of yourself and others?"
You'll strengthen connections with your classmates and learn how you can continue to thrive throughout the remainder of your Kellogg journey.
Phase 3: Capstone
KLJ concludes with a capstone immersion day. As the final phase of the Kellogg-guided program, the capstone's intent is to serve as a launchpad for your lifelong growth as a leader. This is also the point where you'll transition from your journey as a student to a Kellogg alum.
In this session, you will reflect on how to continue building your skills as a leader beyond your time at Kellogg. You'll craft a roadmap for personal and professional growth, and work with faculty and fellow students to create a system of accountability for these goals and an environment for ongoing reflection.
Contact us about the Evening & Weekend MBA program
Evening & Weekend Application Deadlines
Spring 2024: Jan 3, 2024
Summer 2024: March 27, 2024
Fall 2024: June 5, 2024
Winter 2025: Sept 25, 2024